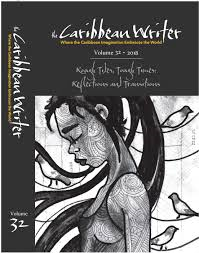 The Caribbean Writer (TCW) is calling for submissions for Volume 35 under the 2020 theme: "Diasporic Rhythms: Interrogating the Past, Imagining a Future." Submissions that explore the ideas resonating within the region and its diaspora are desired. The Caribbean Writer invites submissions that explore this theme in fiction, nonfiction, poetry, essays or one act plays.
The Caribbean Writer is an international literary refereed journal with a Caribbean focus. Therefore, the Caribbean should be central to the work, or the work should reflect a Caribbean heritage, experience or perspective.
Submission Guidelines
Individuals are encouraged to submit poems (five maximum), short stories and personal essays on general topics and also on the theme.  Only previously unpublished work will be considered. (If self-published, give details.) Include brief biographical information and list all contact information plus the title of the manuscript on a separate page. Only the title should appear on the manuscript. The submission deadline is Dec. 31, 2020.
Literary prizes – All submissions are eligible for these annual prizes:
The Canute A. Brodhurst Prize of $400 awarded to a writer for best short fiction. Donated by the St. Croix Avis Newspaper
The Daily News Prize of $500 awarded for fiction or a nonfiction essay to a resident of the U.S. Virgin Islands or the British Virgin Islands.
The Marvin E. Williams Literary Prize of $500 awarded to a new or emerging writer. Donated by Marvin Williams' widow, Dasil Williams, in honor of her late husband who served as the editor of The Caribbean Writer from 2003-2008.
The Cecile de Jongh Literary Prize of $500 awarded to a Caribbean author whose work best expresses the spirit of the Caribbean. Donated by former Gov. John P. de Jongh Jr. in honor of Cecile de Jongh's abiding commitment to literacy in the territory.
The Vincent Cooper Literary Prize of $300 awarded to a Caribbean author for exemplary writing in Caribbean Nation Language (Kamau Brathwaite). Donated by Professor Vincent Cooper Ph.D.