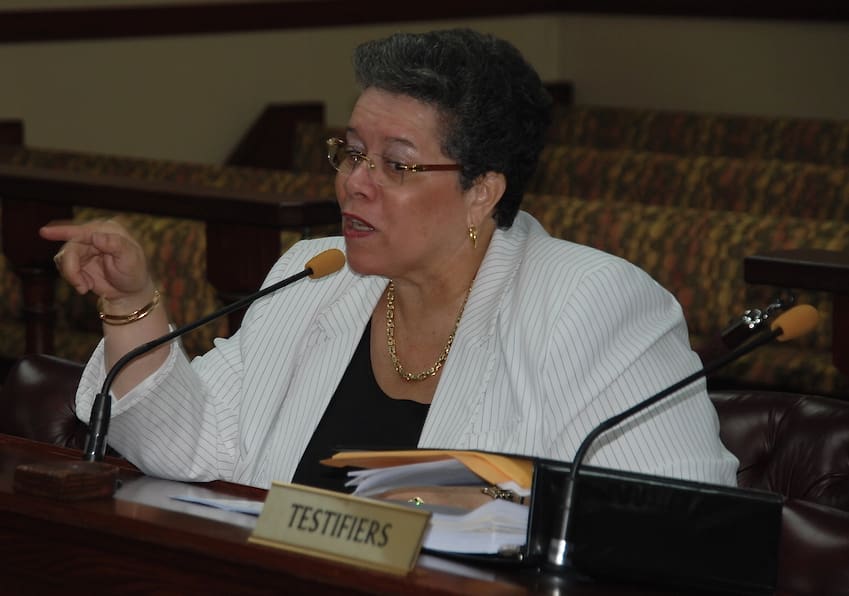 Former Casino Control Commission Chairwoman Violet Ann Golden has admitted to taking $295,503 from the coffers of the agency she headed for ten years. The attorney representing Golden filed a plea agreement in December, which was finalized by federal prosecutors on Jan. 2.
Golden, along with an associate, Stephanie Barnes, was indicted and charged in 2019 with misdirecting commission funds for personal use and failing to report earnings to tax authorities.
According to court documents, Golden pleaded guilty to two counts of a 29-count superseding indictment. In the plea deal the former casino commission chairwoman admits to one count of theft from programs receiving federal government funds and one count of failure to pay income tax.
"Specifically, the government could prove that in the calendar year 2015, the defendant earned income of $105,000 as chairperson of the Virgin Islands Casino Control Commission, a division of the Virgin Islands government, an entity that received more than $10,000 from the federal government, in each year from 2015 to 2018," the plea deal filing states.
In spite of that, Golden did not file a tax return with the Internal Revenue Bureau for the 2015 tax year.
Prosecutors also said they would prove at trial that Golden, "without authorization diverted funds of said commission for her own personal benefit and the benefit of others, including Stephanie Barnes, in an aggregate amount of $295,503. The defendant did this by wiring commission funds, writing and having cashed commission checks for her own personal benefit and by making personal purchases with the commission credit card that were paid down with commission funds."
In exchange for the admission of guilt to counts 4 and 27 in the indictment, prosecutors with the U.S. Attorney's Office agreed to drop the remaining 27 criminal counts, including three additional counts of theft from federal program funds, conspiracy, wire fraud, forgery, conversion of government property, making fraudulent claims upon the government and failure to file income tax returns.
On Wednesday, defense attorney David Cattie – representing Golden – filed a motion to formalize the deal at a change of plea hearing before U.S. Magistrate Ruth Miller. No date has been set for the hearing to take place.
Golden faces a maximum sentence of 10 years in prison and a $250,000 fine on count 4; and one year in prison and a maximum $10,000 fine for count 27.
Sentences in the federal court system are calculated according to several factors and the plea deal includes a provision saying the judge does not have to strictly adhere to the guidelines. But it also says the amount of funds taken by Golden will factor into whatever penalty the court determines. Forfeiture provisions are also included in the deal.