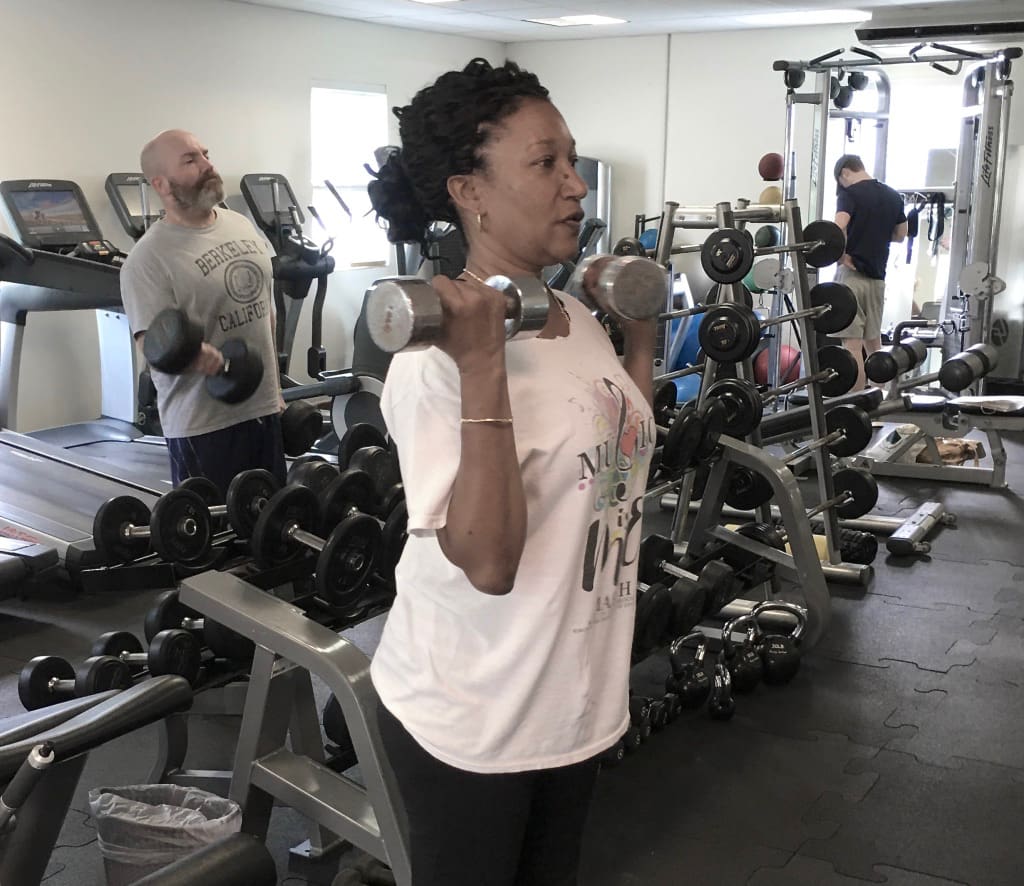 Perhaps one of the most common New Year's resolutions is to get more exercise – to lose weight or "get in shape."
Sybille Sorrentino, one of the owners of St. John Fitness, is doing everything she can to make sure visitors and residents of St. John can keep their resolve by providing a gym that meets their varying needs.
Sorrentino and her husband, Thomas Kelley, quietly opened the gym at Palm Plaza – about a mile from Cruz Bay on the Southshore Road – in October.
"We decided on a soft opening to see what people wanted," she said. "I was there early the first morning, terrified that no one would show up, and as the day went on there were so many people, and they were so patient."
In the past three months, St. John Fitness has attracted a wide variety of customers – from people recovering from surgery and cancer to serious weightlifters and the super-fit.
"We've got teachers and bus drivers, construction workers and cleaning ladies, business owners and doctors," Sorrentino said.
St. John Fitness fills a need that has existed since Hurricane Irma destroyed the island's two gyms in September 2017. (The gym at the Westin has since reopened but only allows guests to use the facility.) All of the equipment at St. John Fitness comes from another hurricane-damaged property – the Ritz-Carlton on St. Thomas.
"Their equipment wasn't damaged," Sorrentino said, "but because [the hotel] was getting a facelift, they wanted everything brand new."
The floors and mirrors came from the fitness center at Caneel Bay, another hurricane-damaged resort, she said.
The equipment at St. John Fitness is made by a top-of-the-line brand, Life Fit. There are five treadmills, two elliptical machines, one cable machine, one stair-stepper, a recliner bike and an upright bike. For weightlifters there are free weights, eight weight machines and a Smith Machine, "where the weight bar is on a track with safety clips, so you can lift heavy weights on your own," Sorrentino said.
The gym is open from 5 a.m. to 10 p.m. Mornings tend to be quieter, but Sorrentino said between 5 p.m. and 7 p.m. is "the lively hour – with loud Spanish music and lots of people lifting weights. People come in and say they like the positive energy."
Users need to be a bit tech-savvy to gain entry to the gym because registration is completed online. Customers can go to the website to choose the type of membership they want and pay by debit or credit card. Plans range from a one-day drop-in pass for $20, to a month of unlimited use for $89 with annual enrollment.
When customers first register, they are sent a link by email. After logging in, they sign two waivers and then go to the gym's homepage where a barcode is displayed. Customers take a snapshot of the barcode on their phone, hold it up to a sensor on the door, and – Voilà! – they're in.
"It may sound complicated, but if you can order something from Amazon, you can operate this system," Sorrentino said. Those who don't have a smartphone, or a credit or debit card can call 340-690-7853 and someone will walk them through the process. Registration directions are available in Spanish as well.
You might wonder why a gym would be so popular in a place like St. John, where there are so many opportunities to stay in shape by hiking, swimming, kayaking and paddle boarding, to name just a few of the popular local activities. Sorrentino said residents want to maintain their fitness during the week so they can enjoy these activities on their days off.
With the loss of the ballfields and surrounding tracks in Cruz Bay following the storms of 2017, many runners prefer to use a treadmill rather than run on roads without sidewalks or on trails where the footing is irregular, she added. Safety is also concern, particularly for runners who work during the day and need to run at night.
"Also, it's a community thing," Sorrentino said. "Some people need the motivation of working out with others. Some people who have equipment in their homes come just to help out others."
Those who need instruction to use the machines properly are invited to bring in a trainer. St. John Fitness offers referrals and does not charge for their presence.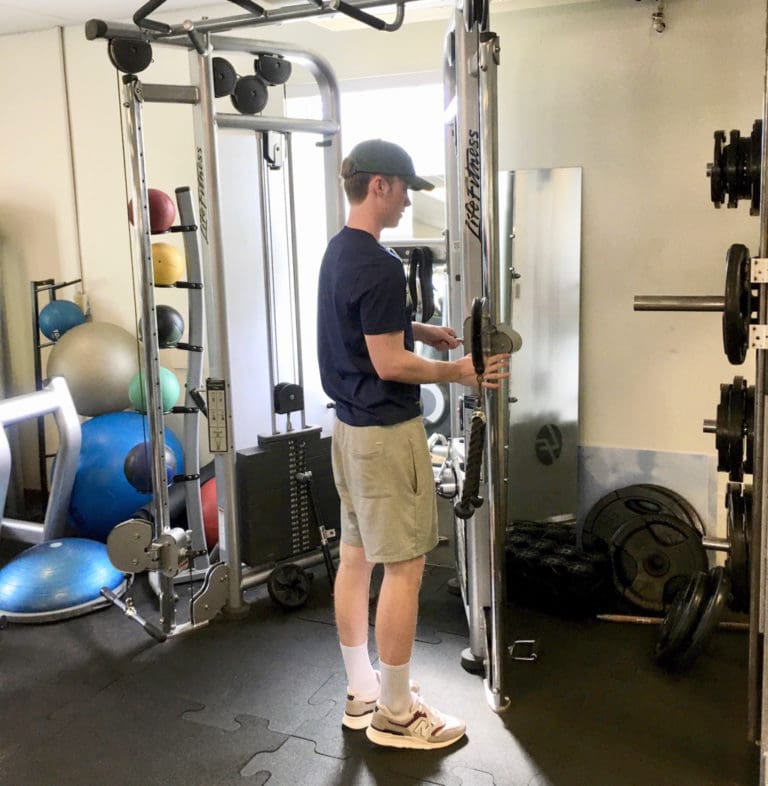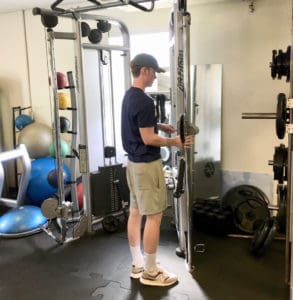 On a quiet weekday morning over the Christmas break, two young women came in to use the treadmill. They put in their earbuds, set the speed on high and were soon rhythmically sprinting in place, ponytails flying.
The next person to enter was Cheyney Lare, a visitor from Maryland.
"I just started working out about a month ago," he said. "It's nice to have a gym on vacation so I don't get out of the habit."
For teacher Miriam Sorhaindo-Otto, committing to a membership is a way of assuring that she'll keep coming back to maintain her regimen. "Once I pay my money, I come and get my money's worth," she said.
Although she's never owned a gym before, Sorrentino has experience providing fitness opportunities for residents and visitors. Since 2002, she's owned V.I. Ecotours, providing kayak trips from the mangrove lagoon on St. Thomas. Fifteen years ago, she expanded by offering kayak tours at Caneel Bay on St. John; 10 years ago, she opened a water sports activities center and snack bar at Honeymoon Bay on the Caneel Bay Resort grounds on St. John. Although she loves getting outdoors, staying fit by using a gym is important to Sorrentino. "The endorphins make you feel great," she said. "Once you feel that, you'll come back on your own."