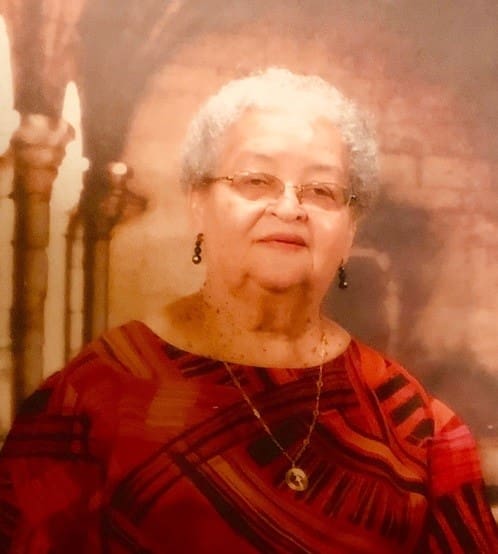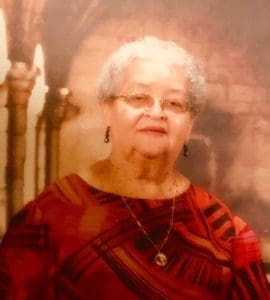 Myrtle Elissa Latimer Richards of Estate Two Williams, Frederiksted, St. Croix, beloved mother, grandma, sister, aunt, cousin, teacher and friend, graciously and courageously entered into eternal peace at MedStar Southern Maryland Hospital Center in Clinton, Md., on Dec. 7, 2019.  She was 85 years old. She was born on Jan 20, 1934.
Myrtle was predeceased by her parents: Rita Alexa Hodge Latimer and Otto Vincent Latimer Sr.; sisters: Norma Jackson and Olive DeChabert; brothers: Vincent Latimer and John Latimer; grandmothers: Emmeline Ramsey Hodge and Hilda Jordan; and grandfathers: Stanley Ivan Hodge and John J. Latimer.
She leaves her loving memories to be cherished by her brother, Otto V. Latimer Jr. (Ann); sister, Phyllis Latimer Vickers; children: Rita "Sheri" Richards, Janine Richards, William "Shambu" Richards III, Patrice Gloster (Vance) and Kenneth Anthony "Kumasi" Richards (Jackie); and grandchildren: Anisha Richards, Danika Richards, Roland "Rojo" Jones, Kumasi Richards, Eboni Joseph, Tynasha Richards, Ashley Jones, Alexa Guerra, Michael Justin Joseph, Safiya Richards, Ameera Richards, Croix Bennett (Greg), Jakeema Richards Hughes, Jumanne Richards, Aaron Cornelius and Jordan Gloster.
She is survived by step-grandchildren: Takeya Savage, Al Pennyfeather, Jay Pennyfeather, Allen Pennyfeather and Marcus Gloster; great-grandchildren: S'Mai Hawkins, Zia Maragh, Zayden Joseph, Zamir Harrison, Liam Joseph, Kevin Gaddy, Isla Jones, Penelope Bennett, Rylee Bennett, Skylar Niles, Timeera Niles, Empress Giddings, Khai Curtis, Jasa Ferguson, Amani Richards, Kissah Richards, Shylah Richards, Kalynda Richards, Alyanna Hughes and Jorel Hughes; and step-great-grandchildren: Enajah Savage, Phoenix Savage, Jahmiah Savage, Alisha Pennyfeather, Adjahni Pennyfeather, Jayden Pennyfeather, Jaiha Pennyfeather, Luke Pennyfeather, Ahren Pennyfeather, Alainah Pennyfeather and Taigan Pennyfeather.
She is also survived by nieces: Angela Cheney (Curtis), Jeanine Latimer Henderson and Trudi Latimer; nephews: Michael Jackson Sr., Evan Russell Jackson, Addison Latimer, Quincy Latimer and Roan Latimer; and cousins: Coleen Hodge, Rosie Mackay, Walter Mackay, Kathleen Mackay, Warren Hodge, Dean Hodge, Ahleen  Rawlins , Iran Hodge, Grace Lindsey, Robert Hodge, Walter Hodge, Leslie Hodge, Trese Hodge, Jennifer Hodge, Ray Hodge, Veda Hodge, Lue Ann Mayfield, Norma Samuel, Nadeene Crowder, Anthony Marshall, Joan Marshall, Stephanie Manning, Carla Watson, Maxine Adams, Angie Espinosa, Pearlena Gibson, Fanny Randall, Neddy Catalero,  Jose Morales, Melvin Petrus, Jimmy Latimer, Hilda Latimer, Freddy Latimer and George Latimer.
Other survivors include godchildren: Analisa Prince, Clairmont "Sonny" Sackey, Michelle LaCross and Nabria Ritter; godsister, Gwendolyn Blake; special friends: Melba Biggs, the Prince family, Edna Thomas, Gwendolyn Lucas, Denise Richards, Paulette Hodge, Ivy Plaskett-John, Antoinette Lenhardt Richards and Ingeborg Bastian McIntosh; and many other very much beloved family, friends and former co-workers too numerous to mention.
Viewing will begin at 9:30 a.m. followed by a funeral service at 10:30 a.m. on Friday, Jan. 17, 2020, at St. Patrick's Church (St. Gerard's Chapel) Frederiksted, St. Croix, U.S. Virgin Islands. Interment will be at Frederiksted Cemetery.
In lieu of flowers, please donate to the National Kidney Foundation.
Arrangements are under the care of James Funeral Home, St. Croix, USVI.