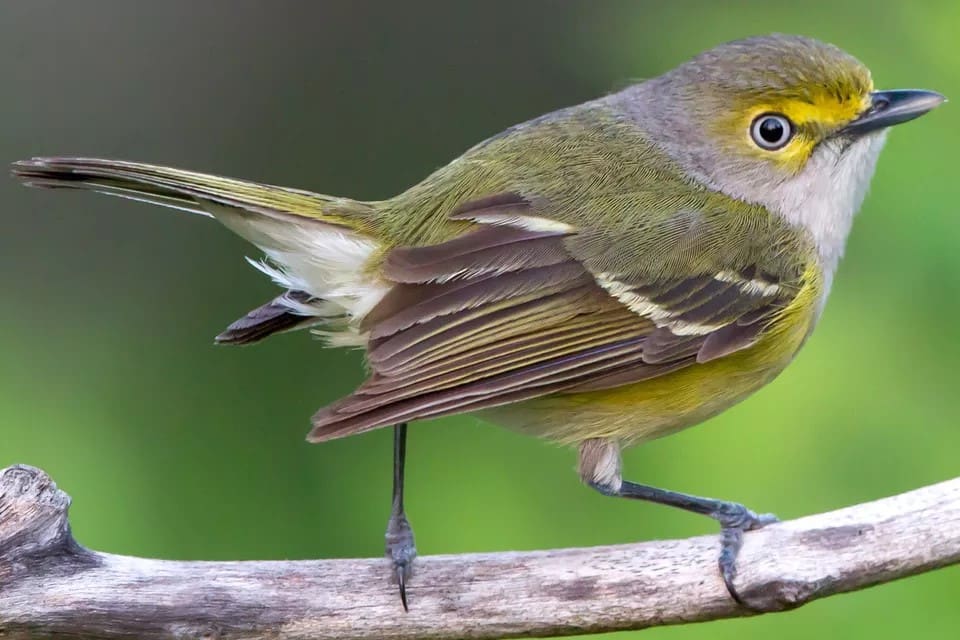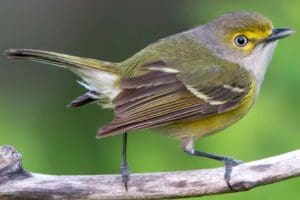 This year's Christmas Bird Count brought two surprise visitors to St. Croix. Three never seen before scarlet ibises took up early winter residence along the far north edge of Southgate Pond and a single white-eyed vireo was spotted along Bethlehem Work Road just east of the National Guard Amory. This species of vireo has been seen on St. Croix before but has not been spotted on Christmas Bird Count Day; therefore, it will be noted along with the ibises in Audubon's database as an "unusual species" in our bird census this year.
The sighting of a scarlet ibis has never been recorded on St. Croix before. The 3 birds, 2 adults and 1 immature arrived on the island sometime during the second week of December and just before the scheduled Christmas Bird Count Sunday, which was held this year on the 15th of the month.
The St. Croix Environmental Association (SEA) serves as stewards of the Southgate Coastal Reserve, which includes the Southgate Salt Pond. Jennifer Valiulis, the director of SEA, said "…the ibises landed here because they found the pond to be a safe and healthy environment, and we want to keep it that way for all birds."
She does not know if they will stay here for any length of time, but if they do stick around, she will be more than happy to arrange guided bird walks along the trail to the pond to see them. She went on to note that if people want to visit the pond on their own, they should be very careful to not disturb the ibises or any of the other birds that make the pond their home. Interested birders can reach Jennifer at the SEA office phone: 773-1989 or email her at info.atsea@gmail.com.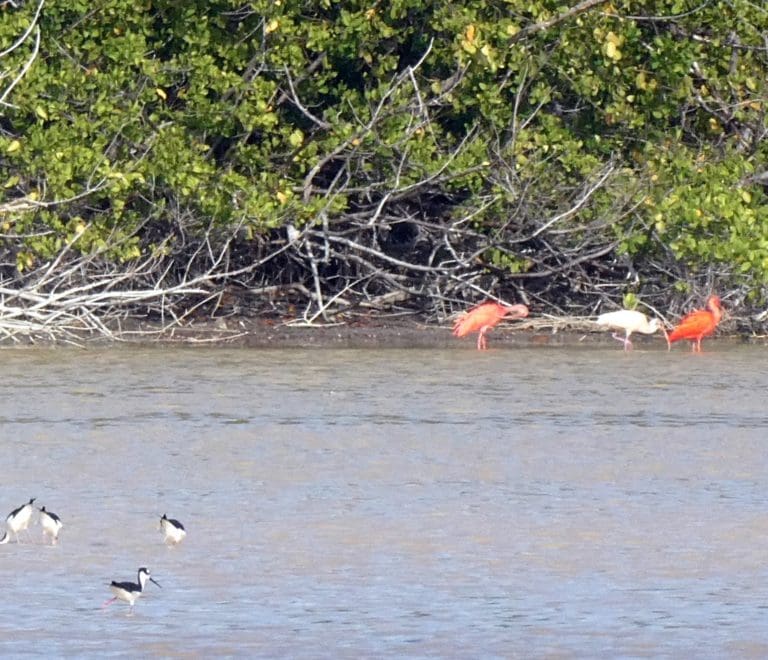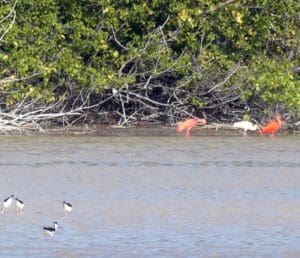 The appearance of scarlet ibises on St. Croix is not only unusual, but it is a significant distance north from their normal range.  One would expect to see these birds in the Caribbean down islands of Trinidad and Tobago. They have always been a common sight there, so much so that the scarlet ibis was declared Trinidad and Tobago's national bird as far back as 1962. The bird appears prominently on that nation's coat of arms. They are also found in great numbers along the coastal regions of Colombia, Venezuela, Guyana, Suriname, French Guiana and Brazil in South America. It is a special event to discover three scarlet ibises this far north of their normal territory.
For the rest of the birds on the island, the annual census showed a decline again from last year – 438 fewer birds were counted and 7 fewer species of birds were seen. Bill Boyton, the Audubon Christmas Bird Count coordinator for St. Croix, said that the lack of rain this fall has left many of the island's fresh water ponds dry or overgrown with vegetation. "Without sufficient open water in these inland ponds, our wintering birds won't stay around," he said.
He went on to say, "The numerous ducks and herons we would expect to this see time of year just weren't there for count day. This year was quite different from last year when we had more open-water fresh water ponds, and we were watching the bird population rebound back from the devastation of the 2017 hurricanes."
Boyton also expressed his thanks to the great team of volunteers who participated in the 2019 Christmas Bird Count. "This was the largest turnout of birders for CBC that we have had. Fifty-two people drove, walked, hiked and counted birds on our designated Sunday, and that included 18 new people who teamed up with us for the first time."
Boyton reported on the top 10 bird species on island from this year's census along with their current count numbers and last year's ranking position (N/R = not ranked):
263         Cattle Egret                           (3rd)
254         Zenaida Dove                       (2nd)
229         Black-necked Stilt                (6th)
186         Brown Pelican                      (8th)
183         Royal Tern                           (N/R)
160         Grey Kingbird                       (1st)
157         Common Moorhen                (10th)
151         Scaly-naped Pigeon              (4th)
97          Bananaquit                           (7th)
90          American Coot                     (N/R)
This year's annual Audubon Christmas Bird Count will be conducted on Sunday, Dec. 20, 2020.
Five-year Comparison Census Report