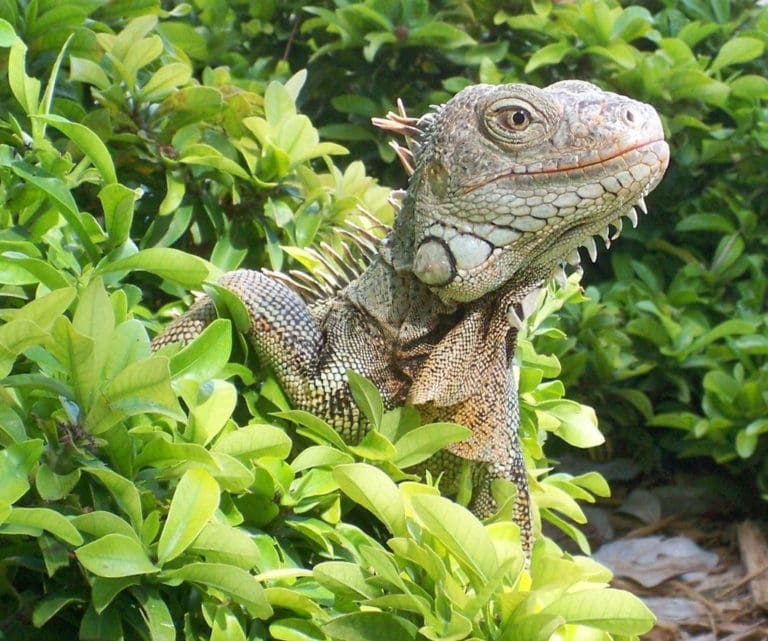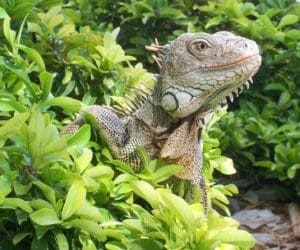 We were a little worried this year as we sought out our now very old friend, Idle the Iguana, long the Source mascot and prophet, to collect his reflections and hopes for the new year. Iguanas can live in the wild up to 20 or so years, but given how people drive on these islands, one worries.
After we'd called and wandered about, searching through the foliage, Idle materialized before us early New Year's morning, moving a little slower than when last we met, but no less willing than ever to share his thoughts on the cusp of a new year.
"After all," he said, "I've been at this for a couple of decades. The least I can do is show up for a chat as we enter the next one."
He credited his longevity to more than luck, attributing it without hesitation to being a herbivore.
"Your version of a vegetarian," he said, sighing.
He admitted frustration at "what you people feed your children." Using local produce in schools and at home could support the local farmers while moving the whole territory toward much greater health, he said.
"If I can find all I need by foraging for it, why can't you start to move toward living on what you can grow locally?" he asked.
Becoming healthier as a people could take some of the pressure off the beleaguered hospitals and health care system, but he got distracted by something shiny in the bush – a soda can caught by a sudden beam of sunlight through the trees.
To tell the truth, our friend Idle did seem a bit more easily unnerved than in the past.
"To make it worse, you serve that junk you feed them on Styrofoam plates and in plastic bottles and cans. Where do you think that stuff goes?" he asked. "Sometimes I get lost and end up at one of your landfills." He looked right into our eyes and asked, "Have you ever been to one?"
Not up close really, some of us admitted.
Lost or not, he was still more aware than most. And aging seemed to make him less concerned about being diplomatic.
"I wonder how you can miss them, given the mountains of junkified terrain they have created," he admonished. "I seem to remember warning you about this a long time ago," he said, recalling for us the many "blown" opportunities, as he called them, to be on the forefront of waste-to-energy generation.
"And now I hear you all complaining about your electric bills. I hate to say I told you so, but …"
Before he could wax prolific on that topic, he was startled by a noise behind him. He froze, ever wary of all the things that could bring about his end.
"People who don't slow down or even seem to understand the simplest rules of the road – like stop signs," he muttered – to himself mostly. "Dogs that roam the islands, apparently homeless…"
Shaking off his momentary alarm, he turned back to us with a sigh of relief, "A good diet can't protect me from everything."
To get him off the depressing talk of mortality, we tried changing the subject. "What do you think about the new administration and senators elected since last we met?"
"Too soon to tell," he said. "But I do wonder if any of them intend to deal with the laws that the old ones promulgated. The plastic bag ban comes to mind."
He talked for awhile about how he still exercises – back to the health thing – by roaming the hills and forests.
"I don't see any change, honestly, in the amount of those ugly, dangerous bags and other trash littering the islands since they passed that law."
And speaking of unenforced laws, texting and driving while hidden behind illegally dark vehicle windows were two more of his pet peeves.
"You know how dangerous that is to my sunbathing, slow moving brethren?"
Without waiting for an answer, he transitioned from bags wafting across the roads and into the trees and eventually the ocean where they kill his cousins the fish and turtles, to noise pollution.
Though he's not much of a reader, Idle hears things.
"You know how stressful noise is to us? It is documented!"
He railed on for awhile about non-mufflered cars and motorcycles and booming music emanating from speeding cars – mentioning the darkened windows and texting again.
"I can't help it," he said. "I just wonder why you people keep passing laws that nobody enforces."
He then returned to the other, far more alarming noises he hears in his wanderings.
"The gun shots are the worst."
He acknowledged that there are folks who live in places where they are not exposed to the disturbing sounds of firearms being discharged regularly. "Nice for them, but merely an accident of birth" he philosophized.
"I am illiterate, so maybe I shouldn't cast aspersions, but can't they read? Don't they know who all this violence is hurting even if they personally don't have to live with the traumatizing reality every night like some of the little kids I know?"
He confided his deep sadness and disappointment that the paradise he lived in once again has seen 40 more people killed in 2019. The territory's dismal homicides record is maintained "senselessly and mostly with illegal guns," he added. "Last I knew we don't manufacture guns here."
Back to the lack of enforcement theme. But he launched quickly into another problem he said was eroding his homeland – corruption.
"I love my beautiful islands," he said, eyes beginning to fill with tears. "How did we become the kind of creatures who look the other way while greed, nepotism and outright dishonesty runs rampant," he asked mostly rhetorically.
"OK, lizards have a reputation for being cold blooded, so who am I to talk, but well, I thought people were supposed to be different, what with their warm blood and big hearts and all."
We didn't know what to tell him. He seemed overtaken for a moment by his own grief. We waited, wondering if he was done.
He seemed to be doing some deep breathing exercises and stretching his legs one at a time.
"I had to get centered, sorry."
Having regained his composure, he went on.
Greed, that's the problem he said.
"Look at these fools in your government paying each other money we don't have in illegal stipends and hidden perks while so many of your children live in poverty, with barely enough to eat." Shaking his head, he asked, "What the hell are they thinking?"
Having been around for a while, he said he remembered when people were predicting the Government Employee Retirement System was going to crash some time in the future.
"What was it they kept saying? Ten years? Eight years? Looks to me like those years are used up."
We nodded in agreement. "So, then what?" He started walking a bit – we had no choice but to follow. "Need to use it or lose it," he quipped moving a little faster.
As we followed our friend, not knowing where this was heading, we made a turn and before us was the stunning turquoise sea. Idle climbed up onto a large boulder to get a better view.
"Still beautiful. But I know what power it has to destroy as well," Idle said. Silence and then, "You guys have made a mess of it."
"What do you mean?"
"The planet, you idiot."
Oh.
How does he know this stuff, we can't help but wonder. Reading our mind he says, "I have to live with it. And speaking of living with it, follow me; my turn to ask some questions."
We turned away from the sea and walked for quite awhile. Idle's flexibility and stamina were impressive as we made our way through the tangled vines and over the rocks and boulders to the other side of the ridge. We came to a clearing with a view of town.
"Why are there so many beautiful old abandoned buildings down there," Idle kind of demanded pointing with a hand that looked eerily like our own toward some stone edifices. "I have to live in a tree, while you could be putting those places to good use. What's up with that?"
We couldn't speak for all of the empty structures, and we weren't sure how well a lizard could understand property taxes, real estate laws and the convoluted probate system, but we gave it a try.
After explaining as simply as we could that despite promises of auctions and other actions that might put those historic buildings back to good use they remained abandoned.
"Oh stop pandering,"he said. "I get it, greed, nepotism and self interest again. Oh yeah, and sacred cows."
What do you mean?
"You know, favoritism. Where you protect those you have reason to favor and toss the rest of your villagers to the winds. Literally."
"It's complicated," we try to explain.
"That's what human beings always say when they don't want to deal with something."
We couldn't stand it anymore.
"How do you know that," we demand.
"Ever heard of evolution," he counters. "I have been around a lot longer than you have – I've seen it all and I am not impressed, to tell you the truth.
"Your species was put here to protect us … all of us. Me, you, the earth, the sea, what you people call lesser creatures and the other homo sapiens. And have you?"
We were a bit embarrassed, but refused to accept the prognosis of, well … a lizard.
"That seems pretty harsh," we started to argue back.
Idle took a deep breath. "You're right. I am tired and frustrated – and old," he said. Taking a deep breath and looking toward the sky for a minute, he added. "You are the ones with the big brains. I still have hope you will evolve further into the spirits of hope and love you were meant to be." Starting to turn away from us, he looked back for a moment. "I am going to tell you one more thing that you can pass on to your friends this year from Idle."
We waited for his wisdom, his wishes, his prophesy. But all he said was, "None of us can truly be safe, happy and healthy, until all of us are safe, happy and healthy."
With that he walked off, disappearing into the bush. Just when we thought he was gone, we heard, "I'll see you next year, God spare life."