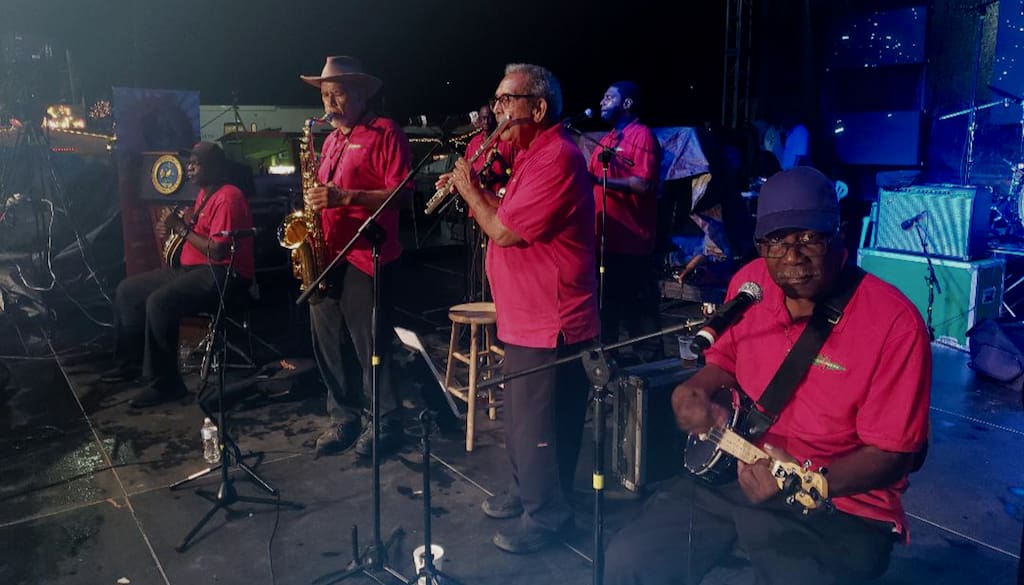 The Crucian Christmas Festival Village, named Stanleyville in honor of the iconic quelbe band, opened Thursday evening in the west end of St. Croix. The opening ceremonies set the tone of preserving Crucian heritage by honoring culture bearers Stanley and the Ten Sleepless Knights and Frederiksted stalwart Leona Schulterbrandt, posthumously.
Shamari Haynes, the St. Croix assistant director of festivals said the opening ceremonies "went pretty smoothly." The official festival poster was presented to Gov. Albert Bryan Jr., Lt. Gov. Tregenza Roach, Delegate Stacey Plaskett, Miss St. Croix Izhani Rosa, Festival Princess Aniyah Williams and Festival Prince Jaheim Creque.
Stanley Jacobs was presented with a mahogany plaque engraved with the names of the 10 original members of the band, which is celebrating 50 years.
Schulterbrandt was posthumously honored for her lifelong contributions to the Frederiksted community. She retired after more than 40 years in the education system. She was committed to the restoration of Frederiksted and was the co-founder of Our Town Frederiksted.
Lt. Gov. Roach said the opening was a "historic event," being the first festival of the Bryan-Roach administration and the first under the new Division of Festivals.
"It's interesting that we have young people heading up the festival division, but we also pay homage to Virgin Islanders who have done so much to perpetuate and keep alive the culture of the Virgin Islands," the lieutenant governor said. "We applaud St. Croix for being the guardians of culture for the territory."
The village boasts 36 food booths presenting an array of culinary styles for all tastes. Visitors can sample goat water, conch pates, roti, barbecue, fish, vegetarian fare, kallaloo, pizza, cotton candy and of course the village staple – chicken and johnnycakes. The booths vie for attention with flashing Christmas lights, large TV screens or oversized blow-up Christmas characters swaying in the breeze on the roof tops. One booth was decked out in the traditional madras fabric with a moko jumbie towering over the structure, another decorated with bamboo reeds mimicking an island theme.
Entertainment at the village continues for eleven days culminating with the Children's parade on Friday, Jan. 3, and the Adults' parade on Saturday, Jan. 4.
Here is the village entertainment schedule:
Friday, Dec. 27
OMG Band
Hypa Activ
Shaw HP
Saturday, Dec. 28
Latin Night
Kruziano
Yako LaPauta
Cruz Rock
Tito Rojas
Sunday, Dec. 29
Cultural Night
Renaissance Band
Cultural Night Ceremony
Stanley and the Ten Sleepless Knights
Xpress Band
Monday, Dec. 30
Reggae Night
Bush Tea
Daddy Babz
Francillia Benjamin
Ras Batch
Tia
JahMan
Pressure Busspipe
Vaughn Benjamin Tribute
Gramps Morgan
Tuesday, Dec. 31
Girl Power
Cherise King
Lips Int'l
Rudy Live
Nikki Brooks
Nadia Baston & Band
Wednesday, Jan. 1
Instylez Band
Spectrum
Cool Session Brass
Teddyson John
Destra
Thursday, Jan. 2
Soca Monarch Competition
Mikey Mercer
Friday, Jan. 3
Big Band
Monea
Bugz
Mic Love
Adam O
R. City
DJ Kareem
Saturday, Jan. 4
DJ Chubby
Showtime Band
Digital Band
KES
Sunday, Jan. 5
VIO Int'l
Fusion Band
Skinny Fabulous
Bunji Garlin
Pumpa & Band
SupaTrakz