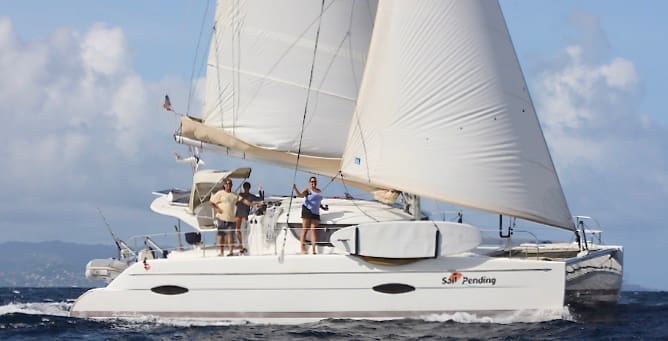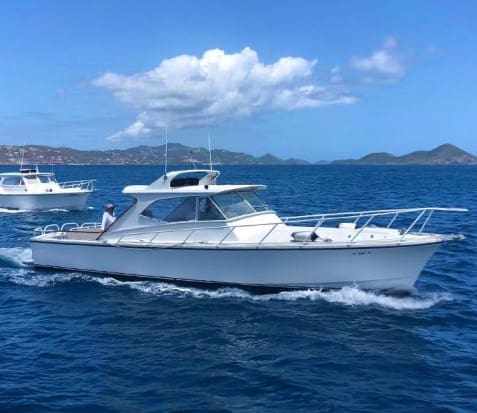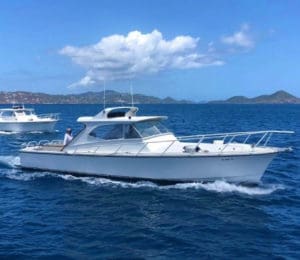 The story of Stormy Pirates Boat Charters on St. Thomas was supposed to begin on Sept. 1, 2017, but hurricanes Irma and Maria were heading our way. The debris was barely cleared when Kristie and Richard Weiss started their business in early 2018.
Now, less than two years later, they have grown from two to six boats, including one sailboat and five powerboats. They offer private charters for as many as 12 guests, and regularly scheduled trips that smaller parties can join.
Kristie Weiss shared some of the path that brought two commercial airplane pilots from Pennsylvania to running charter boats around the Virgin Islands.
Source: When did you first think about moving to the Virgin Islands?
Weiss: The first time we visited in the mid-1990s, we thought about moving here.
Source: When did you buy the business?
Weiss: When we came to the Virgin Islands, we knew we wanted to own a day boat charter business. We also knew that we wanted to purchase simple, easy-to-maintain boats that had a good reputation. We looked for a small company that consisted of one or two boats that needed a little "tweaking" or updating to be more successful. We've already started two businesses from the ground up and we didn't want to do that again, but we didn't buy the business per se, we only bought the boats.
We purchased the two sister boats, Stormy Petrel and Pirates Penny. These two boats were very well known, had a local customer base that visited year after year and had a great reputation. We were to close on the two boats on Sept. 1, 2017, but Irma was just named and the insurance company would not change the insurance into our name, so the closing had to be delayed.
Pirates Penny was one of the only boats not damaged in the boat yard. Stormy Petrel had a monohulled sailboat fall over on her and received quite a bit of damage above the water line but nothing structural, so she was able to be repaired.
Even though we knew that the next season was going to be rough, we continued with the purchase of the business because we loved the Virgin Islands so much. A couple storms weren't going to scare us away. So, we started a new business called "Stormy Pirates" and obtained our business license in February 2018. Most people told us we were crazy!
Source: What percentage of your trips go to British Virgin Islands?
Weiss: Ninety percent of our trips are to the British Virgin Islands. We moved to the Virgin Islands because of the uniqueness of this region of the Caribbean and its history and culture. We love sharing the history of all the islands with our guests. There are not too many places in the world where you can experience several different islands in two different countries in one 8-9 hours day.
Source: Where did you and Richard originally meet?
Weiss: Richard and I met each other in February 1993, at Flight School in Sanford, Florida. When we met each other, he had just received his private pilot certificate and I was just starting my lessons. Rich had the natural instinct to fly and everything came easy to him; it did not come so easy to me. Without his patience and instruction (before he was even a flight instructor), I probably would have never obtained my pilots license. We got married in February 1995, and our daughter Kaycie was born in August 1996.
Source: Eventually, you owned a flight school. Were you an employee who bought the company?
Weiss: In 1997, I was a flight instructor for the largest flight school in central Pennsylvania. They wanted me to work every single day that was flyable in the summer, and I wanted to fly as much as possible to get the hours I needed to be hired by an airline. But I took Kaycie's first birthday off to celebrate it as a family, and they fired me.
My students talked me into putting commercial insurance on the Piper Cherokee that Rich and I owned and the rest is history. Within a year and a half, we owed six airplanes, had six full-time flight instructors working for us and we put the other flight school out of business.
Sept. 11, 2001, the rules and regulations changed for small flight schools and our insurance rates tripled. We immediately made the decision to sell the airplanes and purchase investment real estate.
We continued to fly professionally. I was a captain on a corporate jet and Rich flew King-Airs for Raytheon and Penn State University.
Our second child, Tyler was born in October 2003. I quit flying professionally when I was 5 months pregnant with him and started selling real estate full-time.
Source: Your first boat, Sail Pending, a 41-foot catamaran, was originally for personal use?
Weiss: We were doing at least three weeks of bareboat chartering in the Virgin Islands for the previous 15 years before purchasing Sail Pending in 2013, so purchasing a boat to be based here only made sense. The Virgin Islands was where our family loved to be, and we spent several weeks a year here the entire time our kids were growing up.
In October 2013, we sailed her down the Intercoastal Waterway from Annapolis to Florida, where a delivery crew picked her up and sailed her to the Virgin Islands for us while we continued with our real estate careers in Pennsylvania. She was managed by CYOA Yacht Charters in St. Thomas, but we spent as many as 15 weeks a year on her.
In the summer of 2015, we sold our house in Pennsylvania and we moved aboard Sail Pending. We sailed her down the Caribbean island chain from the Virgin Islands to Trinidad. In 2016 we sailed north along the Caribbean island chain, passed through the V.I. again and then sailed west to Mexico, spending seven weeks in Cuba.
Source: Any plans to add more boats? Planes?
Weiss: No Planes. We would add more boats as demand sees fit.
Source: What do you love about the biz?
Weiss: We love being able to live in the Virgin Islands and showing them off to our guests.
I love being able to help our guest plan out the perfect day for their personality and activity level.
Not one day will be exactly like the last. We can do a hundred different trips, and each trip will be catered to the guest's personality. That's what makes this region of the world so special. We were vacationing here for 15 years before moving here; we have lived here for over two years, and we are still finding new coves to explore and new places to visit.
Source: How many employees do you have now? All on St. Thomas?
Weiss: The Stormy Pirates family currently consists of 11 crewmembers. Several live on St. John, some on St. Thomas. When I say family, I mean family. We have two married couples that work as a crew together, a father/daughter team and our son Tyler is also a crewmember on the weekends and when he is not in school. Our crewmembers don't work for us, they work with us and we all strive to make our guests' boat day the absolute best day of their V.I. vacation! Our crewmembers love the Virgin Islands as much as we do. All of them have been longtime residents.
Source: Are you involved with any community efforts to help local kids get into the maritime industry?
Weiss: Yes! Each year we take the students from the V.I. Professional Charter Association's Marine Apprentice program out for a training day on the water. I love seeing local kids out on the water.
Source: Any other local organizations you support?
Weiss: We donate a portion of our profits to Carolina Coral on St. John, the Humane Society on St. Thomas and we are actively involved with Virgin Island Montessori School and V.I. Professional Charter Association.
Giving back to the community where we live, and work, is very important to us.
Source: What are your biggest challenges?
Weiss: Of course, owning a business on a Caribbean island isn't easy. We just have to face any challenges as small obstacles that we will overcome. Those obstacles will make the business stronger in the long run. If the challenge is something that cannot be overcome, you just have to learn how to work with it and move on.
Source: Does the new parking structure help your clients?
Weiss: Yes, the new parking garage is a great option for all the businesses in the Red Hook area.
Source: What is your opinion of the proposed resort on Lovango?
Weiss: I think the U.S. Virgin Islands needs more options to keep guests local, but I also know that guests visit the U.S. Virgin Islands because it is a more laid back and peaceful tourist destination without the high-rise hotels and all-inclusive resorts. There is a very fine line between adding more options for the guests who visit and keeping the chill vibe that brings them here. If the resort is as environmentally friendly as I've read and blends into the natural beauty then I am all for giving guests another option to stay in the local area while visiting.
Source: When you take a boat personally, where are your favorite spots?
Weiss: I am not going to tell you our favorite spots, but when we can, we like to take the catamaran sailboat out and spend a few days moored in the southern bays of St. John.