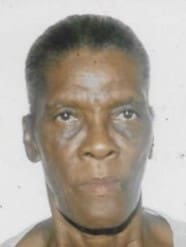 Milesia Foster, better known as Francis Foster, of Conaree Village, who resided on St. Thomas, died on Nov. 26. She was 85 years old.
The first viewing will be held from 5-7 p.m., Tuesday, Dec. 10, at Turnbull's Funeral Home. The second viewing will be at 1 p.m. followed by a funeral service at 2 p.m. at Wesley Methodist Church, St. Kitts, W.I. Interment will be at Spring Field Cemetery.
She leaves to mourn: her husband, Calvin Foster of New York; eight children: Heather Hendrickson, Lynette Foster, Leroy Hodge (better known as Roy), James Howe (better known as Pink), both of St. Kitts, Edric Howe, Bewadney Howe (better known as Goodney), residing in Tortola, Kenneth Foster and John Foster, residing in New York; and sister, Rita Howe, residing in St. Thomas.
She also leaves to mourn 39 grandchildren; 34 great-grandchildren; and four great-great- grandchildren; the Samuel family in Conaree Village, Old Road, Verchild Village, and New Town, Basseterre, the Clark family in Bath's Village, Nevis; and several friends too numerous to mention.
The late Melisa Foster was a member of the Eastern Benevolent Society.