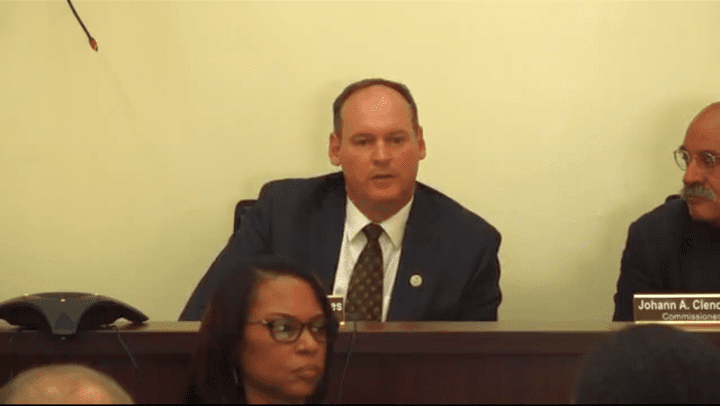 Residents who gathered for a hearing of the Public Services Commission Thursday hoping to hear news about a proposed WAPA rate increase got a double whammy: Not only did the PSC decide not to act on the utility's request for a base rate increase after hours of testimony, but it also approved a decrease in both water and electric Levelized Energy Adjustment Clause (LEAC) rates.
According to WAPA's most recent petition, a decrease in the LEAC was expected, but was supposed to be offset by a corresponding increase in base rates, which would allow the authority to go to the bond market for a refinancing that would help pay off some outstanding debt.
What happens now is unclear, but the PSC members said Thursday they were unprepared to take action on the base rate increase because of last minute filings from the authority, which caused the hearing examiner's final report to come "at the 11th hour," preventing the commission from doing a proper analysis.
Instead, the commission dealt with the LEAC first, voting unanimously to drop the electric LEAC to 16.39 cents per kilowatt-hour, and the water LEAC to $5.03 per thousand gallons, effective Jan. 1.
Testifying on the proposed increase in base rates, hearing examiner and attorney Kye Walker said WAPA's entire petition could be described as a "ratemaking quagmire" that developed as a result of three proposals from the utility, the last of which came after she had already conducted public hearings in both districts and right before her final report was to be submitted.
The first proposal in May called for a 54.7 percent increase in base rates, a reimplementation of the OPEB surcharge and the implantation of a security and lighting surcharge. A second petition in August proposed a more modest base rate increase, with a corresponding decrease in the LEAC.
WAPA's most recent, and final petition, called for a "zero-dollar" impact to customers' bills, which Walker "commended" the authority for in her final report. She also cited two negative rating outlooks issued to the authority by bond investors at Moody's Investor's Service and Fitch Ratings. Walker said that in making her final recommendation – which was to approve the authority's request – both the testimony of ratepayers and WAPA's financial position should be considered.
"While the hearing examiner commends the authority's effort to eliminate any increase to the overall rates charged to consumers, the inconsistency in the methodologies used to arrive at its proposed rates make it difficult … to conduct an appropriate investigation," Walker wrote in her report. "However, in light of the emergency nature of the requested rate increase and the overwhelming testimony of ratepayers against any increase, there is sufficient information to issue a report and recommendations."
Like the PSC, Walker took issue with the negotiation of, and lack of clarity around, the authority's existing agreement with propane provider VITOL, whose debt WAPA hoped to pay off with the anticipated refinancing. Because of contrasting arguments presented by both the authority and PSC about what drove up the cost of WAPA's contract with VITOL, which was initially approved at $87 million but is now more than $150 million, Walker recommended that base rates should increase, but be adjusted downward after the VITOL debt is paid off.
During Thursday's hearing, WAPA and the PSC once again clashed about base rates, prompting commission chairman David Hughes to cite two orders previously issued by the PSC that he said WAPA has to fulfill before a base rate increase could be considered. One order requires a "VITOL audit," with specific conditions Hughes said WAPA had not met, while the other pushed WAPA to develop a "rate flow plan," which would establish a set of predetermined categories – such as debt and capital expenses – that could yield the data needed for the PSC to justify a rate increase.
Hughes added that Walker's report was the "start of a process" that would get some of these things accomplished, but until then, the PSC would be extending the current base rates and letting the current emergency generator surcharge – which supplements the base rate – expire as previously set on Dec. 31.
Along with WAPA's officials, testifying Thursday were several members of the public, including USVI Alliance for Consumer Justice President Clarence Payne, who submitted more than 1,500 petitions collected by the watchdog group that urged PSC to "say no" to the base rate increase. Referencing other testimony made Thursday, Payne said the tears and frustration expressed by residents are what should be driving decisions on both sides, which are responsible for protecting the public.