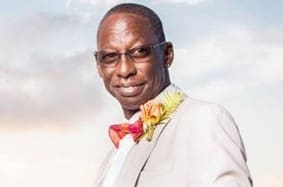 Theron Anthony Richards, also known as "Ronnie" or "Rat," of Estate Ruby, St. Croix, died at the Mayo Clinic in Jacksonville, Fla., on Nov. 26. He was 54 years old.
He was preceded in death by his parents: Verne Isidore Richards and Ernestine Sarita Lenhardt Richards; brothers: Wayne A. "Parents" Hodge and Clayton G. "Askia" Richards.
He is survived by his wife, Juanita Iles Richards; daughter, Shaleequa Richards; and sons: Marcus Richards, Askia Umi Richards and Quinn Iles Moss; and grandchildren: Kayne Richards, Akia Richards, Anilah Melendez, Angel O. Melendez and Sai'Asia Drew; sister, Bernadette L. Richards; and brother, Usie Raymond Richards.
He is survived by nieces and nephews: Théo M. Todman, Yusuf Hodge, Edecia Hodge-Ballah, Amaraé Blyden-Richards Wheatley, Nneka Henry-Richards, Nailah Henry-Richards Browne, Askia C.W. Richards, Bandele Richards; and great nieces and great nephews: De Anthony Bailey-Hodge, Micah Elise Blyden-Wheatley, Elijah Forkpa Ballah III and Jaylah Saij Browne.
He is survived by aunts: Lurine Lenhardt O'Bryan, Pauline E. Bryan, Norma Bryan Richards, Lomist Bryan Limbacker and Anna Bryan Oliver; uncles: Adelbert M. "Bert" Bryan, William Richards II, Meredith Richards and Lothrop Richards Sr.;
He is survived by mother-in-law, Carolyn Heywood; father-in-law, Edgar M. Iles; sisters-in-law: Georgene Cooper Hodge, Beverly C. Henry-Richards and Kisha Iles; brothers-in-law: Delroy "Deli" Iles, Ray "Haseen" Iles, Dean "Shakuma" Iles (Celia "Kima" Iles) and Charles "Neal" Iles.
He is survived by special cousins: Lydell Andreas, Keith Benjamin, Andrea Bryan-McIntosh, Lecia Bryan-Ventura, Adjutant General Kodjo S. Knox-Limbacker, Rupert W. "Nuggie" O'Bryan III, Germaine Plaskett, Alma Plaskett, Cherise Richards, Kenneth "Kumasi" Richards, Lothrop Richards Jr. and Thresa Richards.
He is also survived by special friends include: Wystan "Chewee" Benjamin, Errol "B-Man" Bolan, Kareema Brown, Aloma Dossett, Corneal "Bluff" Fawkes, Leroy "Kenny" Francis, Averil George, Monin Hendricks, David Jackson, William "Billy" Johnson, Jamal Nielson, Alfreda Ovesen and family, Dwayne "Zabu" Richardson, Earl Stanley, Boyd O. "Boyzie" Todman, Craig "Shaky" Williams Sr., coaches Tevester Anderson, Milton Barnes, Donald Bough, Jareem Dowling, Raymond Lockhart, Sam Mitchell, Jerome Tang and members of the Virgin Islands Basketball Federation.
Other survivors include cousins and other relatives: the Bryan family, Henry family, Heywood family, Iles family, Lenhardt family, O'Bryan family, Petersen family, Plaskett family, Richards family, Samuel family, Simon family and Simmonds family; as well as other relatives and friends too numerous to mention.
Special thanks go to the staff of the Mayo Clinic, Jacksonville, Fla., and the Juan F. Luis Hospital Dialysis Unit.
Tributes and viewing will begin at 9:30 a.m. followed by a funeral service at 10:30 a.m. on Thursday, Dec. 19, at St. Patrick's Catholic Church, Frederiksted, St. Croix. Interment will be at Frederiksted Cemetery.