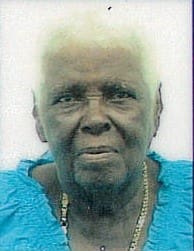 Marcellina Charles, also known as "Agatha" or "NeNen," of Estate Whim died on Nov. 6. She was 89 years old.
She was preceded in death by her mother, Suzainne Philip; and grandchild, Kirby Charles.
She is survived by her spouse, Antonie Charles; daughters: Lucy Taliam and Arlette Cole; sons: Suitbert Lawrence, Andrew Charles, Gabriel Charles, Robert Charles and Andy Charles; and grandchildren: Melissa A. Noel, Lisa Noel, Melanie Frederick-Walker, Clement Noel, Terence Cole, Jr., Keisha Cole, Tyan Cole, Andysa Charles, Andrew Charles II, Roberta Joseph, Reana Charles, Shaunita Charles, Percy St. Croix, Marilyn Antoine, Jamine Charles, Drew Armsted, Karen Charles, Rosie Charles, Marcellina Dubois, Gabrielle Dubios, Amanda Dubois, Gabriel Dubois, Danny Charley, Wayne Lawrence, Geovani Banapart, Quincy Bonapart, Testa Antoine, Anthia Emmanuel, Maryline Smith, Barbraleen Roberts, Lectria Francis and Anna Antoine.
She is also survived by great-grandchildren: Elisha Smith, Massiah Cole Joseph, Massai Cole Joseph, Mia Walker, Amaya Walker, Jaiden Enriquez, Joel Enriquez, Tevon Charles, Anthony Noel, Samuel Noel and Aliyah Noel, Alexis Gratton, Elijah Gratton, Xavier Joseph, Julian Joseph, Brooklynn Joseph, Jailynn Keen, Dontrell Andrews and De'Rija Andrews; sisters: Judy Catherine Bousquet, Bibiana Bousquet, Angelica Flavien and Rosabelle Hilaire; daughters-in-law: Rosander Charles and Emma Dubois; and sons-in-law: Terence Cole and Anthony Taliam.
Other survivors include best friend: Sister Margaret; special friends: Marina Charlemagne, Mr. Stevie, Virginia Francis, Mrs. Ramine and Catherine Abraham; as well as other relatives and friends too numerous to mention.
A viewing will take place at 9 a.m. followed by a funeral service at 10 a.m., Friday, Dec. 6, at St. Joseph Catholic Church. Interment will follow at Kingshill Cemetery.