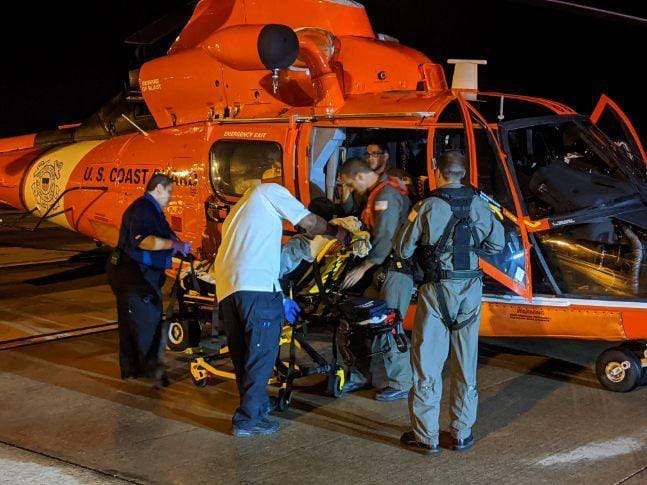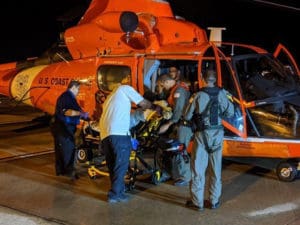 The crew of a U.S. Coast Guard helicopter medevaced a 29-year-old crewmember from the Marella Explorer 2 cruise ship Tuesday, approximately 50 nautical miles southeast of the U.S. Virgin Islands, for treatment on St. Croix after he was stricken with what appeared to be a heart attack.
Coast Guard watchstanders received a medevac request from the Marella Explorer 2 at 10:47 p.m. Monday, after one of their crewmembers experienced a heart attack and required immediate medical attention ashore.
Coast Guard video: Patient hoisted aboard helicopter
Coast Guard watchstanders in Sector San Juan dispatched a crew aboard a MH-65 Dolphin rescue helicopter from Coast Guard Air Station Borinquen to conduct the medevac.
The rescue helicopter arrived on scene and the crew deployed their rescue swimmer to assess the condition of the patient, whose name was not released. The cruise ship crewmember was hoisted aboard the aircraft and transported to St. Croix, where they were received by awaiting Emergency Medical Services personnel. The EMS crew transported the patient by ambulance to the Gov. Juan F. Luis Hospital.
"All players involved during this case performed admirably, especially during a moonless, low illumination evening on night vision goggles," said Lt. j.g. Travis Cox, MH-65 Dolphin helicopter co-pilot for the medevac. "The training of the helicopter crew, along with the outstanding adaptability of Sector San Juan, St. Croix EMS and the crew of Marella Explorer 2 allowed smooth execution of this medevac."
The cruise ship was traveling from Bridegetown, Barbados to Tortola, British Virgin Islands, when the incident was reported to the Coast Guard.