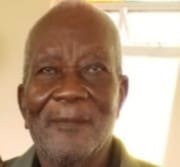 Charles Winford Thomas, better known as "Tommy" or "Doc," died on Nov. 3 at Schneider Regional Medical Center at the age of 81 years old.
He is predeceased by his brother, Wellington Thomas.
He is survived by his wife of 55 years, Alphonsine Thomas; sons: Winford Thomas Sr., Lt. Barrington Thomas Sr. of VIPD and Marthford Thomas; daughters: Amifa Thomas-Connors, Angela Thomas, Ashtoreth Thomas-Wood, Ferdella Thomas-King and Danielle Thomas; brothers: Rev. Dr. Bentley Thomas, Rendell Thomas, Paul "Joker" Thomas and Jefferson Thomas; sisters: Neuvie Gumbs, Mamrie Thomas and Emily Thomas-Lake; and sons-in-law: Francis Wood and Cuthbert "Cashbert" King Sr.
He is also survived by daughters-in-law: Carol Thomas and Narissa Thomas; sisters-in-law: Joycelyn Thomas, Juanita Thomas and Lillian "Rosa" Stanley; brothers-in-law: Davis Gumbs, Walter "Waldo" Stanley and Frederick "Juan" Stanley; and 17 grandchildren: Barrika Thomas, Brianna Thomas, Barrington Thomas Jr., DeShonta Wood, Donell Wood, Cashina King, Cashyjah King, Cuthbert "CK" King, Jr., Winford Thomas Jr., Winston Thomas, Douglas Connors, Noel Connors, Joel Browne-Connors, Abraham Connors, LA'Tisha Creque, O'Dean Challenger and Merritt Thomas.
Other survivors include 16 great-grandchildren: Barrington Thomas III, Brielle Pickering, Dylan Green, D'Myah Green, Damir Green, Cash'don Merrick, Cameron Thomas, Ellarie Thomas, Anissa Connors, Aaron Connors, Abraham Connors Jr., Kion Connors, Kaiden Connors, Kashyla Connors, Genesis Connors and Abigail Connors; and a host of nieces and nephews too numerous to mention.
Relatives and friends are respectfully invited to attend the first viewing from 5-7 p.m., Wednesday, Nov. 20, at Turnbull's Funeral Home and Crematory Services. The second viewing will be from 9-10 a.m. to Thursday, Nov. 21, at Bethel Baptist Missionary Church located in Smith Bay with a service immediately following. Interment will be at Eastern Cemetery, Smith Bay.