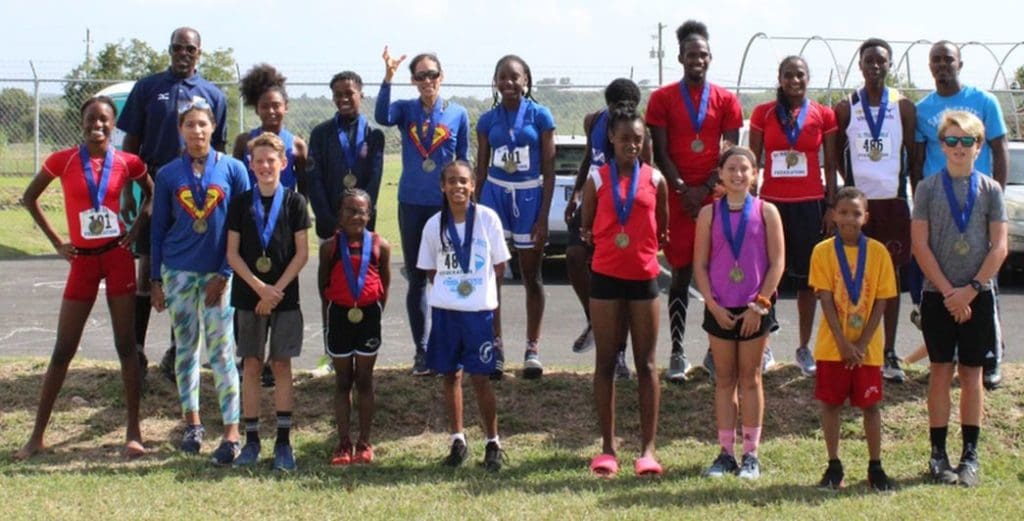 With the combination of the running of the annual Virgin Islands Pace Veterans Day 5K/the Virgin Islands National Cross-Country Championships, the Virgin Islands Track and Field Federation (VITFF) has announced the closing of a successful official cross-country season. The event, which was held at the Albert Sheen St. Croix Campus, determined top runners in various age-groups from boys and girls under 10, under 14 under 16 to male and female under 20, open and masters 40 and over.
The fastest times of the day in the 5K were run by Michael Dizon-Bauman of the Jolly Roger Track Club/Good Hope Country Day School, who edged out masters champion Billy Bohlke in 17:52 to take the under 20 championship.
Masters runner Ruth Ann David from St. Thomas was the fastest female 5K runner in 22:29.
Complete Results … V.I. Cross Country Championship (11/9/2019)
GIRLS – 1 MILE
Place — Name — Time — Age — Club
Under-10
1 FAITH EATMON 7:41 8 ST CROIX TRACK CLUB
2 AMBER HERNANDEZ 7:57 9 ST THOMAS
3 MARIANNA BOATSWAIN 8:07 9 RICARDO RICHARDS
4 KATELYN JONES 8:26 9 ST CROIX TRACK CLUB
5 ALYSSA BARON 8:37 8 PEARL B LARSEN
6 SAVANA HENRY 8:56 8 RICARDO RICHARDS
7 DIAMOND FRAZER 9:13 7 PEARL B LARSEN
8 BRIANCA EAISE 9:59 9 LEW MUCKLE
9 MAKAYLA GRIFFITH 10:19 8 RICARDO RICHARDS
10 KAYLA TORRES 10:36 9 RICARDO RICHARDS
11 AMEIRA FIGUROA 10:44 8 LEW MUCKLE
12 KAYLIE BERKITT 10:47 8 RICARDO RICHARDS
13 SARA JONES 11:10 7 ST CROIX TRACK CLUB
14 DEANAJAH PETERSON 11:25 8 PEARL B LARSEN
15 MICA ASTROPABIO 11:31 8 ST CROIX
16 HILAYSIA WILLIAMS 12:01 8 PEARL B LARSEN
17 OLIVIA JONES 12:44 5 ST CROIX TRACK CLUB
18 SEMAJ JAMES 12:54 6 ST CROIX TRACK CLUB
19 TIARA HENDRICKSON 14:03 8 LEW MUCKLE
20 IJAIYA LAMPE 14:06 8 LEW MUCKLE
21 IVALESSE LAMPE 14:10 6 LEW MUCKLE
22 SAVAJA SIMMIOLKJIER 15:24 9 ARTHUR A RICHARDS
23 ROSE DEZALA 15:32 8 LEW MUCKLE
24 YARELIS RIVERA 15:42 9 LEW MUCKLE
BOYS – 1 MILE
Under-10
1 KYMARI SPRINGER 7:50 8 LEW MUCKLE
2 HENRY COLLINS 8:06 8 ST CROIX
3 WESTON WAGNER 8:11 9 GOOD HOPE COUNTRY DAY
4 EJANIE WRENSFORD 8:25 8 LEW MUCKLE
5 ZACHAI SCHNIDT 8:27 8 PEARL B LARSEN
6 EMANUEL MCINTOSH 8:28 9 RICARDO RICHARDS
7 GREGORY WILLIAMS III 8:50 8 RICARDO RICHARDS
8 JIOVANNI BOULOGNE 9:03 9 ST CROIX TRACK CLUB
9 BECKETT ARCHAMBAULT 9:11 8 ST CROIX
10 ADEN STEVENS 9:29 8 LEW MUCKLE
11 DELROY BYRON IV 9:57 9 RICARDO RICHARDS
12 ZAYVION AUTHERS 9:59 8 RICARDO RICHARDS
13 OLIVER CRONEY 10:01 7 GOOD HOPE COUNTRY DAY
14 SHELTON ROACH, JR 10:14 8 ARTHUR A RICHARDS
15 LAMAR FINLEY 10:16 8 PEARL B LARSEN
16 FLORENT ASTROPABIO 10:31 5 ST CROIX
17 YIERELLE HARRIGAN JR. 11:02 9 PEARL B LARSEN
18 JONAH LESEMONA JR 11:53 9 LEW MUCKLE
19 MARK FLUDD JR. 12:18 7 RICARDO RICHARDS
20 SANAY VON SCHILLING-ROY 12:53 7 ST CROIX
21 ZACHARI SCHMIDT 13:09 5 PEARL B LARSEN
22 NASIR NESTOR 13:16 5 PEARL B LARSEN
23 KISTIAN ELLIOT 14:19 7 LEW MUCKLE
24 KILANI ELLIOT 14:21 8 LEW MUCKLE
25 AJANI PARKER 14:52 8 LEW MUCKLE
GIRLS – 1 MILE
Place — Name — Time — Age — Club
Under-14
1 MICHELLE SMITH 6:14 13 ST CROIX TRACK CLUB
2 AKYRA JOSEPH 6:58 12 ST CROIX TRACK CLUB
3 KIRRA LAMBERT 7:05 13 GOOD HOPE COUNTRY DAY
4 SHARKLYN HENRY 7:12 11 ST THOMAS
5 LAUREN JONES 8:05 11 ST CROIX TRACK CLUB
6 JENIQUA WEEKES 8:14 10 ST CROIX TRACK CLUB
7 KIRSTEN JONES 8:17 12 ST CROIX TRACK CLUB
8 SARAH REGLIN 8:21 11 LEW MUCKLE
9 AVA KIRSCHWENG 8:28 12 GOOD HOPE COUNTRY DAY
10 CIANNA MATTA 8:44 10 ARTHUR A RICHARDS
11 BARECIA BROOKS 8:47 10 LEW MUCKLE
12 MALAAK EDWARDS 8:59 11 LEW MUCKLE
13 SALMA HAMED 9:27 12 GOOD HOPE COUNTRY DAY
14 A'NYRA LANG 9:52 10 RICARDO RICHARDS
15 JARIELIS CRUZ 10:23 11 LEW MUCKLE
16 MALEIGHA BANNIS 10:42 10 RICARDO RICHARDS
17 SERENITY GEORGE 11:03 12 PEARL B LARSEN
18 YAZLENE ENCARNACION 11:45 10 PEARL B LARSEN
19 KYRAH HARRIGAN 12:00 10 PEARL B LARSEN
20 KYLEIA CABRET 12:07 10 LEW MUCKLE
21 DIVINE FRAZER 12:13 10 PEARL B LARSEN
BOYS – 1 MILE
Under-14
1 MASON LAMBERT 5:56 13 GOOD HOPE COUNTRY DAY
2 JACKSON ARCHAMBAULT 6:10 13 GOOD HOPE COUNTRY DAY
3 KAEDEN GLEASON 6:26 12 GOOD HOPE COUNTRY DAY
4 NATHAN LANGLEY 6:46 13 GOOD HOPE COUNTRY DAY
5 FELIX WILLIE 7:11 11 ST THOMAS
6 NATHAN GRAHAM 7:23 13 GOOD HOPE COUNTRY DAY
7 JOSHUA TEWINKLE 7:27 12 GOOD HOPE COUNTRY DAY
8 BAYNE ALBERT 7:40 13 RICARDO RICHARDS
9 JELANI SHALLOW 7:59 12 RICARDO RICHARDS
10 ORLANDO GERARD 8:02 11 RICARDO RICHARDS
11 JAHMIL ALLICK 8:04 11 CLAUDE O MARKOE
12 KAYDEN FLUDD 8:17 11 RICARDO RICHARDS
13 BRAIDEN BROOKS 8:28 10 LEW MUCKLE
14 JAMIL MAILLARD 8:31 10 LEW MUCKLE
15 JAHIEM MCINTOSH 8:40 11 RICARDO RICHARDS
16 A'JAHNAI MERCHANT 8:54 11 ARTHUR A RICHARDS
17 JULIO SOTO 8:57 10 RICARDO RICHARDS
18 MILES SHELLEY 9:02 11 GOOD HOPE COUNTRY DAY
19 KALONJI VON SCHILLING-RO 9:04 11 ST CROIX
20 JAYDEN ALBERT 9:44 11 RICARDO RICHARDS
21 JOSIAH FREDERICK 10:26 11 RICARDO RICHARDS
22 CADEN GUIRTY 14:41 10 ARTHUR A RICHARDS
GIRLS – 2 MILE
Place — Name – Time — Age — Club
Under-16
1 MAIA TOLUD 14:49 14 ST THOMAS
2 SHAIAH DAVID 14:52 15 ST THOMAS
3 ALEXANDRA BHOLA 21:08 15 GOOD HOPE COUNTRY DAY
4 GABRIELA JAMES 21:09 14 GOOD HOPE COUNTRY DAY
BOYS – 2 MILE
Under-16
1 JAH WHYTE 12:03 15 GOOD HOPE COUNTRY DAY
2 TYFARRI LEE 14:04 15 ST THOMAS
3 AMARIOM GITTENS 20:30 14 GOOD HOPE COUNTRY DAY
4 JALEN FLEMING 23:41 14 GOOD HOPE COUNTRY DAY
GIRLS – 3.1 MILE
Place— Name — Time — Age — Club
Under-20
1 BRIANNA ESPRIT 25:03 17 ST THOMAS
2 KELSEY BHOLA 27:12 17 GOOD HOPE COUNTRY DAY
3 CAROLYN GRIMM 33:14 17 GOOD HOPE COUNTRY DAY
4 MIKO DIZON-BUMANN 36:21 17 GOOD HOPE COUNTRY DAY
BOYS – 3.1 MILE
Under-20
1 MICHAEL DIZON-BUMANN 17:52 15 GOOD HOPE COUNTRY DAY
2 AIDEN GRIFFITH 20:00 15 ST THOMAS
3 COOPER CROWTHER 20:33 17 GOOD HOPE COUNTRY DAY
4 MAKARI MATTHEW 20:40 16 GOOD HOPE COUNTRY DAY
5 TEAGAN KAPPEL 22:27 16 ST THOMAS
6 HASANI EDGAR 22:21 16 CENTRAL HIGH
7 AMARI SEWER 23:23 17 CENTRAL HIGH
OPEN – 3.1 MILE
Place — Name — Time — Age — Club
GIRLS
1 RUTH ANN DAVID 22:29 46 ST THOMAS
2 SHARI BASHAW 25:06 58 ST CROIX
3 MIREILLE SMITH 26:33 50 ST CROIX TRACK CLUB
OPEN – 3.1 MILE
BOYS
1 BILLY BOHLKE 17:53 40 ST CROIX
2 MALIQUE SMITH 19:05 22 ST CROIX TRACK CLUB
3 JOE NOONAN 19:15 51 ST CROIX
4 JOEL SHAY 23:46 31 ST CROIX
5 SHAMOI GARCIA 34:56 30 ST CROIX TRACK CLUB
OPEN – 3.1 MILE
Place— Name — Time — Age — Club
MASTERS
1 RANDEL NIELSEN 22:01 54 ST CROIX TRACK CLUB
2 MIKE KLEIN 24:19 54 JOLLY ROGERS
3 STEPHEN WAGNER 27:04 41 ST CROIX
4 FLORENDO ASTROPABIO 33:50 41 ST CROIX
5 FRED FLINT 33:59 62 ST CROIX
Results Generated by The St. Croix Track Club
http://www.eteamz.com/stxtc/
http://virginislandspace.org
University of the Virgin Islands, St. Croix Campus, Virgin Islands USA
Organized by: The St. Croix Track Club and The Virgin Islands Pace Runners; Sanctioned by The Virgin Islands Track and Field Federation (ISV) – [email protected] – http://virginislandspace.org/vitff.html