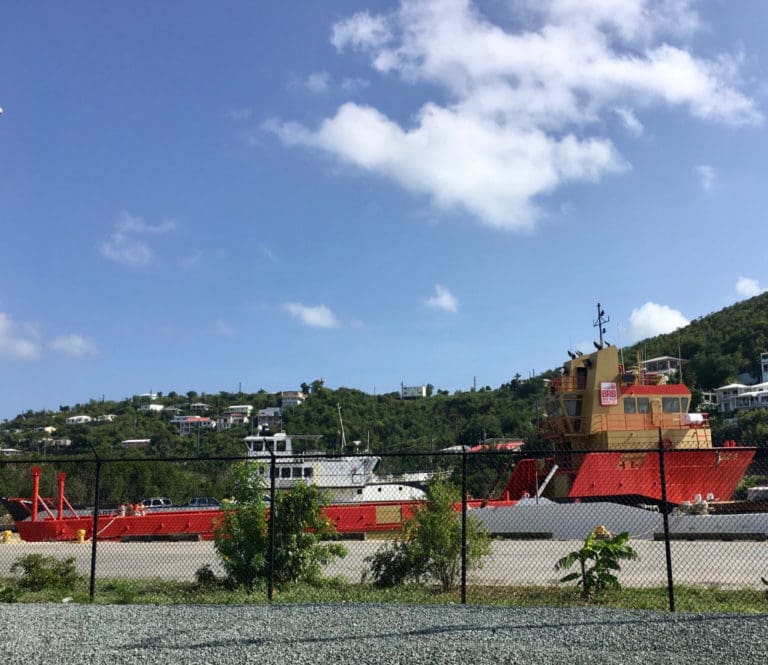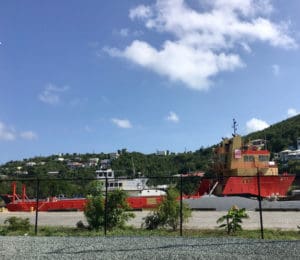 It's big, it's red, and compared to other barges, it has a superpower: It's equipped with a firefighting water gun.
The Todd G. is the newest barge to cruise into Enighed Pond on St. John where the island's barge port is located.
Delbert Parsons is the principal owner of the vessel built in 1999. It is 130 feet long, 36 feet wide and can hold 30 vehicles.
Parsons acquired the "Big Red Barge," whose logo is clearly marked on the wheelhouse, from a boatyard in Golden Meadow, Louisiana.
"The yard was selling a bunch of them. This one was laid up for three years. The Todd G. came with the Big Red Barge Company name, and I'm keeping it," he said.
Big Red Barge Company is hoping to get permission from the Virgin Islands Port Authority to join the two companies now operating regular barge service between St. Thomas and St. John. Love City Car Ferries operates the Vic-branded, black and white vessels (named in honor of Capt. Victor Sewer) while Global Marine operates the General II. A third company, Boyson, Inc, has not offered barge service since the hurricanes of September 2017.
Reliable barge service is critical to businesses that bring goods and services to St. John, to residents who travel to St. Thomas to shop or attend medical appointments and to the federal and local governments that must transport mail to post offices and garbage to the landfill on St. Thomas. If a barge goes out of service for maintenance or skips a run to take a charter, commerce slows down and tempers flare.
Love City Car Ferries and Global Marine make runs between the two islands roughly every hour from 5:30 a.m. to 7 p.m., but Parsons believes there's a need for a third barge company to join the fleet and make up for the capacity lost when Boyson stopped operating.
"The other companies say they don't want another company to step in, that they can handle it, but that's b.s.," Parsons said. "Trucks are now sitting on the dock for two to three hours [waiting for room to board a barge]. They're not making any money. As soon as [tourist] season gets going, tourists are going to need to catch flights. We're here to solve that problem."
Parsons said he plans to start out by running charters.
"The truck drivers want me to run charters for them. We can do that. The Todd G. passed its Coast Guard inspection in Louisiana, and now we're fine tuning things for down here."
The Todd G. was used by the Big Red Barge Company to service oil rigs in Louisiana. It is equipped with a firefighting water gun on the top of the wheelhouse and a dedicated engine to operate the pump.
"It's the first firefighting boat in the Virgin Islands. We're trying to get a grant for its operation. If a cruise ship has a fire, who will out it?" he asked.
When asked for a comment about the possibility of establishing the Big Red Barge as a floating fire truck, Port Authority public information officer Monifa Marrero Brathwaite said, "It would certainly be beneficial for the district to have a fireboat. However, the Todd G. is a privately owned vessel that does not currently have a contract or lease agreement with the Virgin Islands Port Authority. Therefore, I am unable to provide any more information about its operations."
Marrero Brathwaite said she could not confirm if the Todd G.'s use as a fireboat or as a barge making scheduled runs will be discussed at the next Port Authority board meeting.
"The agenda for the month of November has not yet been finalized," she said. "The board members meet [this] week for committee meetings, and the full board meets on Wednesday, Nov. 20, at 10 a.m. in the Crown Bay Center Conference Room, St. Thomas, V.I."
Parsons said he's just waiting for the go-ahead.
"I've got captains and staff ready to roll," he said.