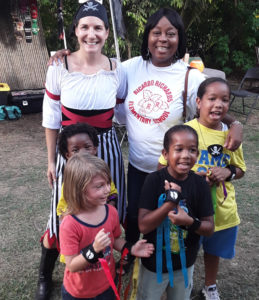 Pirates, freebooters and wenches young and old gathered at Positive Nelson's "Serenity's Nest" home on St. Croix's Northshore Road on Oct. 20 to have fun while raising money for Ricardo Richards Elementary School at the Pieces of 8 Treasure Hunt.
The event was organized by DoDat, a local business specializing in kids and family activities.
At about 2 p.m., the children and adults gathered around and were split into crews. Participants were given a pirate scarf, mustache, earring and eye patch to match the theme of the day. The "mateys" painted their own pirate ghost ships and then the challenges began.
The crews scanned the place for clues to get to their prize, with the lush, green landscape of Serenity's Nest decorated in skulls and skeletons, planks and pirate brigade as a backdrop.
Suspense built as onlookers guessed who would get to the treasure chest first for a chance at victory.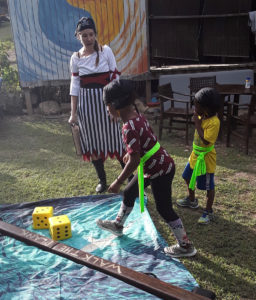 Excitement shot through the air as clues were solved, bringing the crews closer to the finale. Upon completing the map, the winning crew got to open a box of keys to try to open the treasure chest. The children also got to play games, such as ninja ribbon and ring toss. Music was themed to match the event, featuring songs of the sea and beyond. Raffle tickets were sold for just $3 and prizes included gift certificates from Cruzan Cowgirls, Crucian Gold and more.
Many items on the school's wish list were filled. Donations rolled in from local businesses and the community, working together as mateys for the benefit of the whole St. Croix crew.