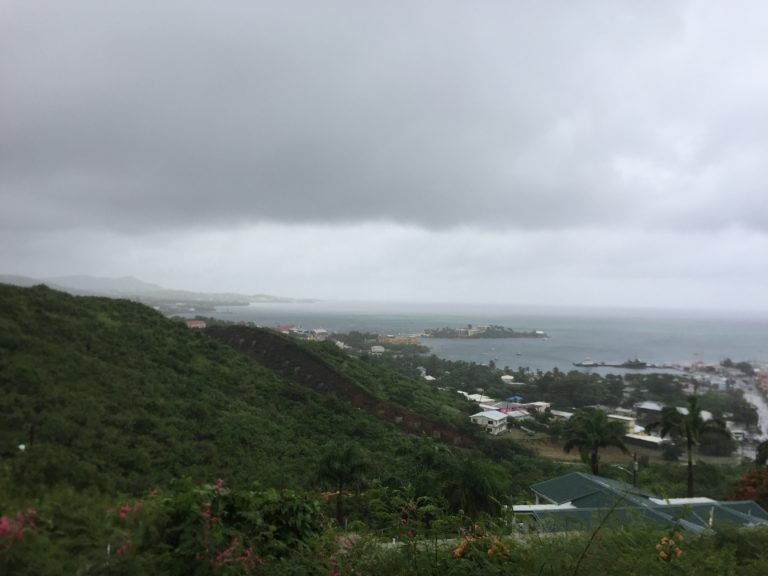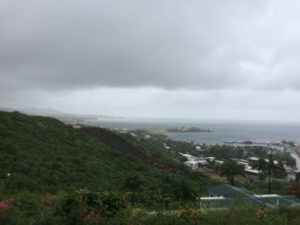 Flooding is possible and Virgin Islanders should try to stay indoors Tuesday but there is no curfew, Gov. Albert Bryan told residents during a press conference Tuesday morning. Government offices may open as normal Wednesday but that decision will be made after the full extent of Tropical Storm Karen's impact becomes clear, he said.
"We are expecting that once the rainfall starts around noon it will continue well into the night. This storm has slowed down considerably so we are expecting a lot of rainfall on the island, up to 2 to 4 inches with up to 6 inches i some isolated areas," Bryan said. Later Tuesday morning, the National Hurricane Center forecast up to 8 inches of rain in some areas.
"Right now we are expecting the eye of the storm to move over Puerto Rico. So that is good new s for us and bad news for them. But we should be experiencing some tropical storm winds, maybe even some higher gusts. We want the public, as we said last night when it was downgraded to a depression, to be vigilant as you see these things teeter between one category and the next," the governor continued.
While they don't expect the storm to strengthen as it passes, they are urging the public to stay off the roads "as much as possible" while allowing those who need to, to get out and about.
"We still have about 3,000 tourists in the territory and we know that you need to get to work to the hotels and other establishments, hospitals, so people will be moving on the roads. Just try to stay off the roads if you can. Enjoy the day inside, a nice rainy day," Bryan said.
The airports remain open and no major airlines have cancelled any flights. But the Seaborne seaplane flights are canceled and all seaports are closed.
Government will probably open normally on Wednesday, he said, but if the storm lingers and dumps even more rain than expected, that could change.
"The meteorologists have it moving anywhere from between seven miles per hour to 11 miles per hour and we expect that once it hits those mountains in Puerto Rico it will start to throw massive rain," Bryan said.
He said the territory's guts have been cleaned and storm runoff should flow smoothly.
"But up in the higher ranges especially over in Crown and Mountain Top, St. Thomas, a little bit of rainfall creates a lot of havoc," Bryan said, adding that there were some rockslides and mudslides already in that area, in Bordeaux and on St. John around Centerline Road.
Government House will have another press conference at 5:30 p.m.
According to the NHC, as of 11 a.m. Tropical Storm Karen was about 65 miles west-southwest of St. Croix. The storm moving to the north at eight miles per hour. Top winds are at 40 miles per hour. Tropical storm force winds extend outward up to 80 miles mainly to the southeast of the center. The Virgin Islands remain under a Tropical Storm Warning.
Based on this National Hurricane Center advisory, the center of Karen will pass 56 miles west of St. Croix at 1 p.m., and 40 miles west of St. Thomas at 4 p.m. Tropical storm force winds will affect the territory from 1 p.m. to 9 p.m. today with sustained winds of 39 miles per hour between 1 p.m. and 4 p.m.