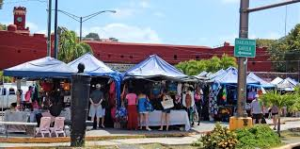 Dear Source:
We've been talking about what to do with Vendors Plaza on St. Thomas for a long while now. So. I've given it some thought and come up with a suggestion.
My suggestion for Vendors Plaza is that the adjacent building that once housed the Old Customs House and Territorial Court should be renovated for a new permanent Vendors Plaza. That building can even house a Visitors Welcome Center, too.
The current Vendors Plaza location should be modernized with a state-of-the-art sound stage, something in the style of a mini-amphitheater. This space should be used to highlight local musicians, artists, performers and artisans, including spoken word performances, like poetry and public community theater. Additionally, arts and culture activities should be scheduled there year-round.
This is an outstanding public open space that should be utilized to foster and develop local talent in all forms, styles and genres of the arts and culture spanning all age groups, from the young to the elderly. It should be a community space where every visitor to the island can experience uniquely local art forms by local artists, musicians and artisans. It should be a safe and inviting public open space, where local talent can be showcased and these talented individuals can sell their work on an ad hoc basis.
Truth be told is that we can't continue to do the same types of things that don't elevate our product or develop a uniquely local experience for us and for the over one million people who spend their money to visit us each year.
Plus, it's high time that the Vendor Plaza activity move indoors to a more controlled environment that has the basic amenities such as restrooms, running water and electricity and can be properly secured at closing time. An added benefit of this approach is that it also would remove this historic building from the list of blighted buildings in the downtown area.
Whatever monies to be spent, especially if it's millions of dollars in capital improvement, should move us strategically towards an improved and elevated visitor experience while enhancing quality of life experiences for everyone in the community by creating a place to help grow our local arts and culture.
To me, this is suggested use of the current Vendors Plaza location is a more appropriate and sustainable use of public space. It's also more consistent with how communities should utilize public open spaces.
Moleto A. Smith Jr., St. Thomas