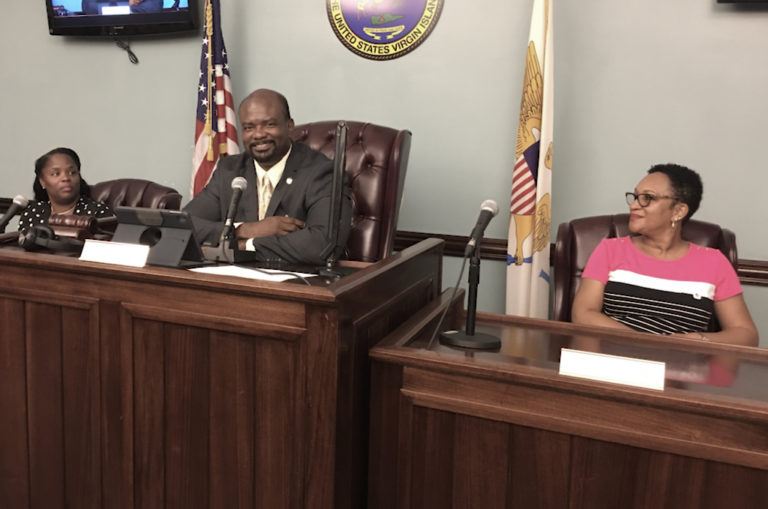 Although Tropical Storm Dorian is not expected to have a major impact on St. John when it passes south of the Virgin Islands Tuesday night, more than a dozen representatives from government agencies, NGOs, and local businesses met Monday evening to discuss hurricane preparedness at the Virgin Islands Legislative Annex in Cruz Bay.
The meeting, which was broadcast live, was not intended to be a public town hall forum, according to Sen. Steven Payne, who chaired the session. Rather, it was called to give officials an opportunity to give brief updates about the readiness of their organizations and address any major concerns. Most of the people who attended came directly from a VITEMA emergency operations meeting held earlier in the day.
"We're ready to go," said Police Lt. Clayton Brown. Housing has been secured for officers who might have to remain on island, and police vehicles are "gassed up," he said. "VITEMA's emergency operation command will open at 8 a.m. Tuesday, and we await notification of what will be activated."
Brown urged the public to listen to official announcements only. Police will be on patrol unless conditions are deemed unsafe. Anyone with an emergency should call 911.
St. John Fire Chief Clarence Stephenson said V.I. Fire Services staff and vehicles were ready to respond from stations in Cruz Bay and Coral Bay. He said his crews were still awaiting word from VITEMA concerning the availability of sandbags. The storm is expected to bring between two and four inches of rain to St. Croix but less to St. Thomas and St. John.
Delrise Varlack heads up Varlack Ventures, which is one of the two companies that operates hourly ferry service between St. John and St. Thomas, and said the ferry companies have not received any advisories. She added, "If there is inclement weather, we will suspend services."
Varlack said the public can call 340-776-6412 or check the company's Facebook page for updates.
Dylan Baird of St. John Rescue said the organization's boat was out of the water in preparation for the storm, but all vehicles, including two based in Coral Bay, were fully equipped; volunteers are standing by and can be reached at 340-693-7377. St. John Rescue works closely with VITEMA, Baird said.
Stephanie Hammett, STJ Rescue's office administrator, said the organization has trained an active network of amateur radio operators.
Celia Kalousek, executive director of the St. John Community Foundation, commended STJ Rescue for training a cadre of ham radio operators.
"I'm very proud of the communications we have now; twenty-two local ham radio operators checked in this morning," she said.
Kalousek said the St. John Community Foundation coordinates with VITEMA, the Department of Human Services, and Love City Strong, which is an NGO that sprung up in response to Hurricane Irma, to provide services to the most vulnerable members of the community. Case workers are keeping in contact with their clients, including senior citizens and individuals with disabilities.
Human Services is considering providing two meals to seniors on Tuesday in case roads become impassible on Wednesday, according to Human Services office administrator Ronnie Jones.
Love City Strong's "Go Team" has already been out in the community assessing the needs of individual households and will fan out among the community to continue their work when the storm passes.
Meaghan Enright, executive director of Love City Strong, invited the public to stop by the group's office in the Marketplace between 9 a.m. and 4 p.m. to pick up a tote bag containing a free solar light and a checklist for storm preparation.
"Preparedness is a bottom-up effort," she said, noting that households need to take steps to be fully prepared during storm season and not simply depend on government and community agencies during emergencies.
One concern that arose was the absence of authorized storm shelters on St. John. The Julius E. Sprauve School in Cruz Bay can serve as a shelter for a limited time period during a storm and immediately after, but no shelters, temporary or otherwise, have been established in Coral Bay.
An agreement to use facilities at the Calabash Boom housing community have not been finalized, according to Ronnie Jones of Human Services. Sen. Payne said he would follow up with government officials to complete the signing of the memorandum of understanding.
In many ways, the island is much more ready for an emergency than in previous years. VITEMA's headquarters building, which was nearly destroyed by Hurricane Irma, has been repaired. Chris Todman, one of the owners of E & C Gas, said the gas station would have an adequate supply of fuel on hand. Sharon Coldren, president of the Coral Bay Community Council, said communications have improved in spite of the scarcity of landlines in the area. Derron Jordan, director of roads for the Department of Public Works, said back hoes have been stationed in Cruz Bay, Coral Bay, and Susannaberg.
If a severe storm does hit, the island has a week's supply of food and water pre-staged near Cruz Bay and Coral Bay. VITEMA and the National Guard will oversee distribution.
Another concern, however, is that if the new composite power poles do fall over and block roads, they cannot be cut with regular chainsaw blades. Because of the materials used in manufacturing the composite poles, chainsaw operators must wear masks and protective clothing. Special blades have been distributed throughout the island, but operators have not yet received the appropriate safety training, according to St. John's fire chief.
Meeting attendees pointed out areas where roads were still undercut due to water damage from Hurricane Irma. They also discussed the hazard of unsecured galvanized metal stored at the Susannaberg Transfer Station. No one from the V.I. Waste Management Authority, which oversees the Transfer Station, attended the meeting.
Stanley Hedrington of Global Marine, one of the two barge companies that serves the island, said that after Hurricane Irma, it was difficult to communicate with the port officials to get permission to restart operations. He said VITEMA needed a stronger presence on the island.
In response, attendees at Monday's meeting urged him to contact the V.I. Department of Property and Procurement, which oversees transportation as part of a system of Emergency Support Functions, or ESFs. Any business or organization that seeks to get involved with disaster recovery can contact VITEMA, which will reach the government department that handles each of the ESFs.
According to Wikipedia, the National Response Framework (NRF) Emergency Support Function Annexes include the following protocols:
ESF 1 – Transportation
ESF 2 – Communications
ESF 3 – Public Works and Engineering
ESF 4 – Firefighting
ESF 5 – Information and Planning
ESF 6 – Mass Care, Emergency Assistance, Housing, and Human Services
ESF 7 – Logistics Management and Resource Support
ESF 8 – Public Health and Medical Services Act
ESF 9 – Search and Rescue
ESF 10 – Oil and Hazardous Materials Response
ESF 11 – Agriculture and Natural Resources
ESF 12 – Energy
ESF 13 – Public Safety and Security
ESF 14 – Long-Term Community Recovery
ESF 15 – External Affairs