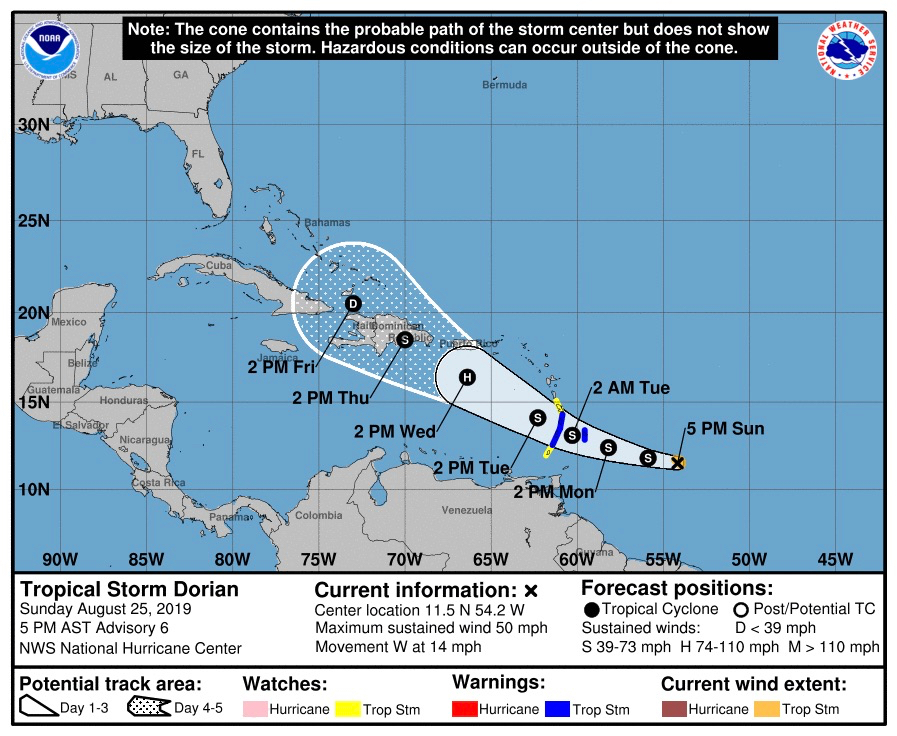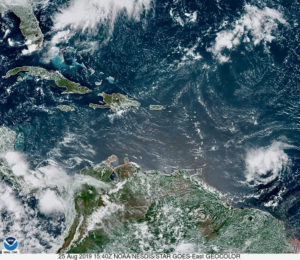 Based on the latest advisory, Tropical Storm Dorian is expected to make its closest point of approach to the Virgin Islands at 10 a.m. Wednesday when the storm center passes 137 miles to the south-southwest of St. Croix. At that time, Dorian is expected to be a minimum Category One hurricane with top winds of 75 miles per hour.
As Dorian approached the Caribbean Sunday, a tropical storm warning was issued for Barbados, and a tropical storm watch is in effect for St. Lucia, St. Vincent, and the Grenadines. According to the 11 a.m. Sunday update from the National Hurricane Center, additional watches and warnings for the U.S. Virgin Islands and other portions of the Lesser Antilles could be required later in the day.
A tropical storm warning means that tropical storm conditions are expected somewhere within the warning area within 36 hours. A tropical storm watch means that tropical storm conditions are possible within the watch area, generally within 48 hours.
At the 11 a.m. update, the center of Dorian was about 906 miles east-southeast of St. Croix with top winds of 40 miles per hour, and it was on a track to the west at 14 miles per hour, according to the NHC. Satellite photos indicate there is a small area of showers and thundershowers with a curved band visible on the northern side of the storm.
Environmental conditions around Dorian are marginally favorable for continued development. There is a significant south-southwesterly wind shear occurring just to the west of the storm. In addition, Dorian is surrounded by dry air. If the wind shear remains low near the center of Dorian, then the dry air will not likely be ingested in the storm, leading to slow, but steady strengthening. However, if the wind shear continues to increase near Dorian, then dry air would likely be pushed into the storm leading to a weakening of the system.
Dorian will either remain near the same or strengthen a little over the next couple of days, but over the long haul, the tropical storm is not likely to survive for long in the eastern Caribbean. The combination of dry air, a little more wind shear, and possible land interaction will lead to a quick weakening of the system. The wind shear is increasing as a result of an upper level low pressure system forecast, which will drop southward towards the central Caribbean.
Editor's note: This story was updated from the original noon posting to contain information from the hurricane center's 6 p.m. update.