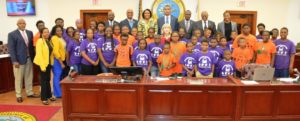 United States Attorney Gretchen C.F. Shappert announced today that approximately 50 Virgin Islands young people are attending Camp DEFY (Drug Education for Youth) this week on St. Thomas with plans for Camp DEFY next week on St. Croix. The camp is supported by the United States Attorney's Office through the Project Safe Neighborhoods (PSN) initiative and through Weed and Seed.
Additional funding is also provided through the PR/VI High Intensity Drug Trafficking Area (HIDTA) partnership. Camp trainers and facilitators are provided by the Virgin Islands Police Department (VIPD) and the Virgin Islands National Guard.
Camp Drug Education for Youth has two phases. In Phase 1, youths attend a one-week residential camp. Over the course of the week, the participants learn important skills such as setting goals, avoiding violent conflicts, and refusing drugs offered by a friend. Camp DEFY uses a variety of activities to develop the whole person: body, mind and spirit.
Students are taught in a classroom setting about the following topics: substance abuse prevention; self-esteem; setting goals; developing healthy, positive relationships; conflict resolution; citizenship; gang awareness; de-glamorization and hygiene; nutrition, safety and first aid. Every session of the camp is designed to foster positive values and a healthy drug-free lifestyle.
"Camp DEFY is a prime example of how federal and territorial law enforcement, community leaders and concerned citizens are working together to provide recreational opportunities for young Virgin Islanders, delivered with a positive message of hope and empowerment. At Camp DEFY, our young people spend time with role models and caring adults, who encourage them to set goals, dream big, and resist the negative influences of gangs, drugs and violence," Shappert said.
"Camp DEFY is a vital part of the Project Safe Neighborhoods prevention initiative in the territory. While law enforcement and prosecutors work to take violent offenders off the streets, we also collaborate with members of this community who care deeply about the well-being of our children. Today's trip to the Legislature on St. Thomas provided our young people with an opportunity to see democracy in action and to celebrate their commitment to a drugfree, gang-free future," she said.
In particular, Shappert singled out Jaqueline Freeman, director of the VIPD Crime Prevention Bureau and chair of the USVI Project Safe Neighborhoods Law Enforcement Planning Commission for her work in the organization of Camp DEFY.
"Director Freeman does an amazing job for VIPD and this community," Shappert said. "We are grateful for her leadership and for the assistance provided by all of our Project Safe Neighborhoods partners and Camp DEFY supporters."