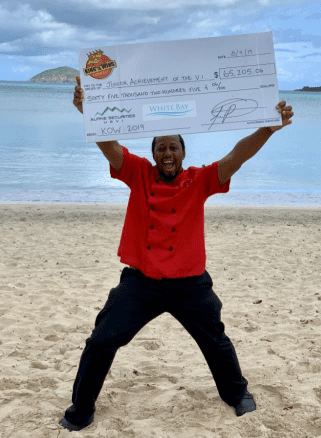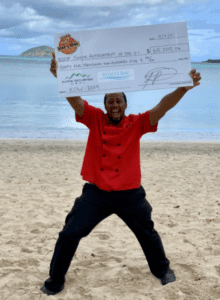 The check presentation ceremony for the 10th Annual King of the Wing Contest (KOW) was held at 9:30 a.m., Aug. 9, at Magens Bay Beach, St. Thomas. Alpine Securities USVI and White Bay Group, organizers of the competition, revealed the donation amount from this year's event which was held on June 15.
Sponsored by Coors Light and Captain Morgan, both distributed by Bellows International, the VI Department of Tourism, Southland Gaming and Island Wiring LLC and produced by Alpine Securities and White Bay Group, King of the Wing entered its 10th year with all proceeds benefiting Junior Achievement of the Virgin Islands.
On June 15, 34 teams, consisting of the top local restaurants, businesses, organizations and chicken wing connoisseurs, set up their grills and cooking stations starting between noon and 6 p.m. in order to cook up mouthwatering chicken wings, wow the attendees and claim bragging rights for the best tasting wings on the island.
A new highlight this year is a prize package for the winner of the restaurant division to compete at the National Buffalo Wing Festival, founded by "Wing King" Drew Cerza, who also served as a celebrity judge during the King of Wing competition. KOW in coordination with the Department of Tourism is proud to be sending Taj Siwatu of Buddha Sushi Sake Bar & Grill to the national festival this Labor Day weekend, in Buffalo, N.Y.
King of the Wing also hosted the inaugural Voice of KOW competition. All St. Thomas high school students were invited to compete. Five finalists performed on stage at the event to compete to win the $1,000 grand prize. A panel of judges named Charlotte Amalie High School student David Grossman the winner.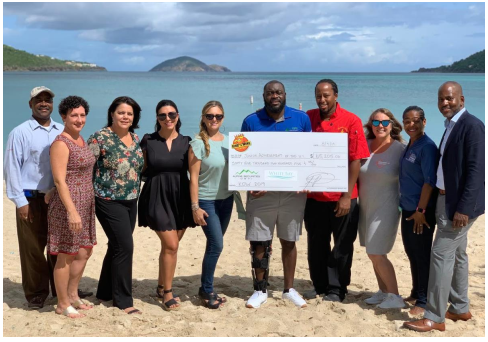 In addition to being the island's most celebrated and anticipated family-friendly culinary and community event, King of the Wing serves as a crucial fundraising platform for select local charities. Proceeds from this year's event were donated to Junior Achievement of the Virgin Islands (JAVI), which is dedicated to teaching young people in the Virgin Islands about financial literacy, work readiness and entrepreneurship. The mission of JAVI is to inspire and prepare young people to succeed in today's global economy.
If there are any questions, contact Jason Charles or Catherine Bryan at 714-2020/ email jason.charles@alpineusvi.com or catherine.bryan@alpineusvi.com.
For more information: www.facebook.com/alpinekow.
Congratulations to the KING OF THE WING 2019!
Overall Winner (King of the Wing)
JJ Divers
Restaurant Division:
1st Place- Buddha Sushi Sake Bar & Grill
2nd Place- Tap & Still
3rd Place- Sib's
Non-restaurant Division:
1st Place- JJ Divers
2nd Place- Box Bar
3rd Place- Golden Age Ranch
Best Decorated Booth:
Spenceley Marketing/Spenceley Office Equipment
Special "Seasoned Participant" award to Caribbean Saloon for being the only team to participate all 10 years!