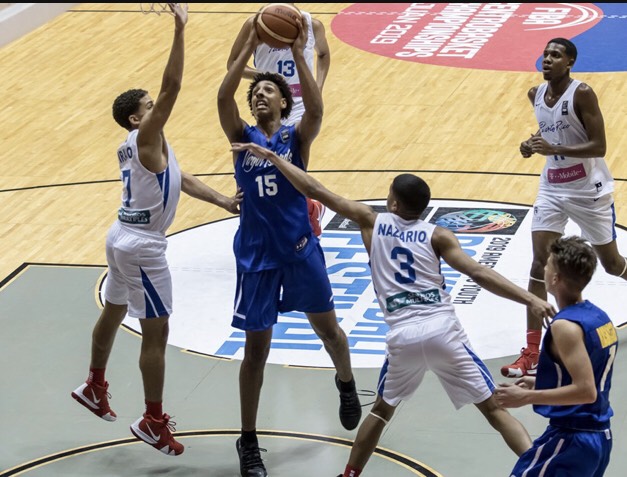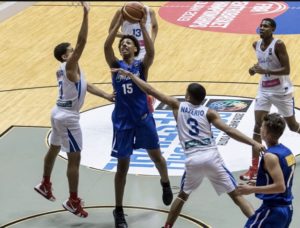 The Virgin Islands were victorious in the opening game of the Boys U-17 CentroBasket Championship, defeating El Salvador 90-62 Wednesday night in Puerto Rico.
Jahsean Corbett scored the game's first six points which helped the Virgin Islands hop out to an early 14-2 lead.
By the end of the first quarter El Salvador narrowed the deficit down to six, and the Virgin Islands held a 19-13 advantage heading into the second period of play.
El Salvador carried momentum into the second quarter and took their only lead of the game with 8:18 to go in the first half.
The Virgin Islands trailed for less than a minute and a half, and a N'Fari Benjamin layup with just under seven minutes remaining in the half gave the Virgin Islands a 23-22 lead, one they never surrendered.
With just four minutes to go in the half, the Virgin Islands still only held a one-point advantage, but they closed the half with a 15-5 run to make the halftime score 42-31.
In the second half, it was all Virgin Islands as they out-scored El Salvador 14-2 over the half's first five minutes.
They never looked back after that and secured the 28 point victory.
The Virgin Islands were dominant on the offensive glass hauling in 39 rebounds which contributed 28 second chance points. They out-rebounded El Salvador 70-39.
The leading scorer for the Virgin Islands was Corbett with 25 points, who also had 11 rebounds to secure the double double. Jahmai Jones chipped in 18 and Benjamin had 10 to round out the Virgin Islands.
On the second day of the tournament the V.I. team fell to the host Puerto Rico 95-60.
Contrary to the first game, The Virgin Islands got off to a slow start versus Puerto Rico and found themselves trailing 24-12 after the first period of play.
They outscored Puerto Rico 21-13 in the second quarter and trailed by just four at the halftime break.
But the third quarter was all Puerto Rico, who broke the game open out-scoring the V.I. 35-10.
The leading scorer for the Virgin Islands was again Corbett with 14 points and Jones adding 11.
Puerto Rico was able to shoot 57 percent on their two point shots during the game compared to just 34 percent by the Virgin Islands.
The V.I. will play the Bahamas at 5:45 p.m. on Friday and the winner will advance to the semi-finals and face the winner of Group B.