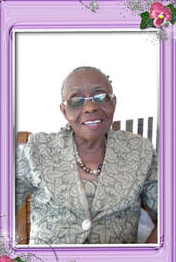 Eileen, age 86, transitioned peacefully at her home in Covington, Georgia, on Thursday, June 6. Born on Feb. 7, 1933, in Antigua, W.I., she was preceded in death by her father, William Parker; mother, Alice Edwards; brothers: Glen Jarvis and Esworth Parker; and sister, Doreen Higgins.
Growing up in St. John's, Antigua, the core values and principles of family devotion, faith in God and hard work were instilled in her. Eileen journeyed from Antigua to Tortola, B.V.I. where she remained for a short while before relocating and becoming a resident of St. Thomas, V.I. In line with her passion for cooking and helping others, Eileen pursued a career path in hospitality first with private parties then with 28 years of employment at Secret Harbour Beach Resort.
She was a faithful and dedicated member of the Memorial Moravian Church serving as an usher and part of the Memorial Movers. Eileen was also a member of the Antigua and Barbuda Heritage Link Inc. In 2010 Eileen moved to the USA, traveling to various states, and cultivating experiences and relationships that resonated with and impacted her life.
Eileen leaves to cherish and honor her memory, her son, Christopher Crandall; daughters: Ena Christian, Etheney, Charlene and Claudette Parker, Theresia and Tisha Gordon; son-in-law, Hudson Christian; daughter-in-law, Teresa Crandall; grandchildren: Elizabeth, Shenel and Renee Christian, Dorianne (Julian) Bryan, Tishanna Harris, Kamari and Keanu Simon, Jahshawn Phillips, Jahquanda Lyles, Jahmarley Wherry, Monee' and Shakeem Gordon; great-grandchildren: Katena Charles, Jayla Bryan, Madison Brechmore, Myah Harris, D'Kyta, D'Nee and D'Nell Brown; stepchildren: Devon Gordon, Jennifer Gardner and Jacqueline Brotherson; brothers: Rohan, Ervine (Bernadine), Murphy (Blondina), Sinclair (Cecilia) Edmond (Avril), Ian, Lettsome (Maggie) and Cortwright (Marilyn) Parker; sisters: Lovette John, Pearlina (Copeland) Richards and Carolyn (Edmund) Murray.
Affectionately remembering her also are nephews: Chester, Sherwin, Murvin, Orvil, Chevason Erwin, Brent and Edmond Jr. Parker, Marvin, Tristan and Alex John, Copeland Jr., CJ, Micheal, Bryan and Andrew Richards; nieces: Elsbeth and Lisa Higgins, Janice Joseph, Adalyn, Alysia, Juanetta, Natasha, Ermadeen, Karen, Sonia, Olivia, Brianna, Ianna, Shervona and Elisa Parker, Kay McCartney, Nicole and Latoya Murray; as well as many treasured cousins, great-nephews, great-nieces, numerous friends and acquaintances; other family: Simon, Aaron, Edwards, Murray, Crawfords and Henry of Antigua, Crandall, Gordon, Graham, Lockhart, Hanley, Waverly, Moravian Church, Secret Harbour Resort staff and Chosen One House of Deliverance Church families of the Virgin Islands and United States; special friends: Constance Graham, Bernice Turnbull, Elaine Brathwaite, Elaine Lynch, Petronella David, Christiana Benjamin and Goldine Tonge.
A Celebration of Life for Eileen G. Parker will be held at 10 a.m., Tuesday, July 30, at Memorial Moravian Church, 5023 Norre Gade, St. Thomas U.S.V.I. 00802.
In lieu of flowers or wreaths, memorial donations can be made to the Moravian School and given during the service.
Heartfelt thanks and appreciation for the prayers, phone calls, visits and support along with the care from the staff and medical professionals at the Piedmont Hospital, Jasper Memorial Hospital and Abby Hospice in Georgia, USA that aided and assisted Eileen during her final days on this side of heaven. John 14:1-3