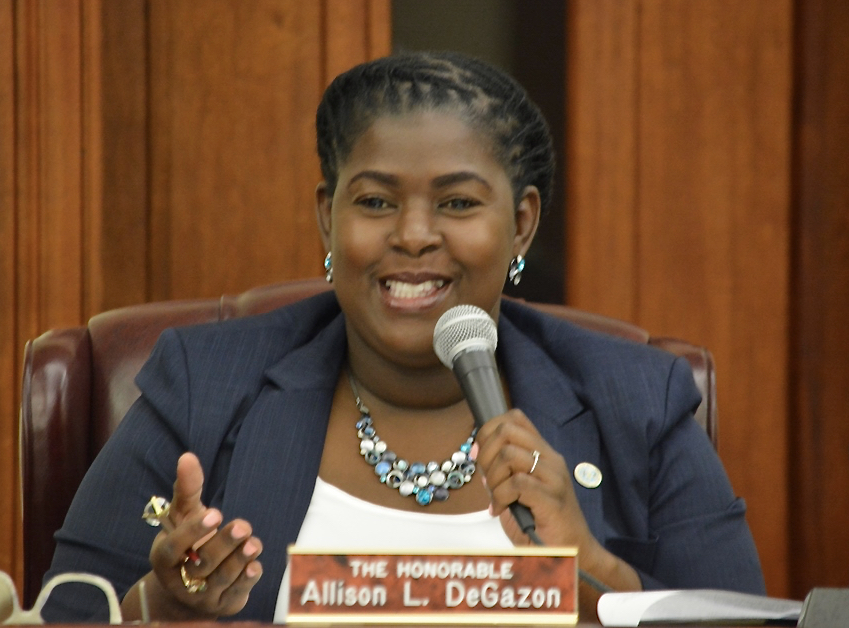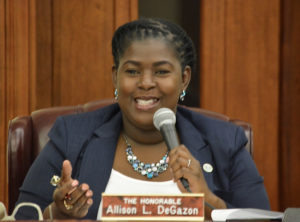 A bill to to aid minority and women-owned businesses drew widespread support during a hearing Friday of the Senate Committee on Economic Development, support which senators called "moving" and "interesting."
One of the last to testify in favor of Bill 33-0054 was Michael Carty, founder and CEO of Smartnet and Alliance Data, who shared his personal struggles growing up in the U.S. Virgin Islands along with his struggles of evolving into a business owner in the territory.
Carty said he didn't share his contrasting past and present as a tip of the hat to the idea that "if I can do it anyone can," and that he would never use an exception to define the rule.
"There are many Virgin Islanders and African Americans that have similar experiences across these islands, who have fallen victim to the hurdles and in some cases even boulders being placed in their path," Carty said. "These issues coupled with a legacy of imposed ignorance constantly impede our progress day to day."
Carty said it was only by chance that he wasn't derailed by his experiences, and strongly advocated for Bill 33-0054, which aims to remove barriers to minority and women-owned business enterprises' that would like to participate in bidding on government contracts.
"For too long when large scale projects are funded in the Virgin Islands local businesses are sidelined as spectators. We continuously subsidize the economies of other states and territories while not fully fueling our own," Carty said. "We now have an opportunity with the billions in federal funds on the way to the Virgin Islands to turn our neighborhoods into communities. A chance to take back our collective pride that has been hijacked where we crucify the success of our own if it goes beyond what we perceive they deserve or possibly beyond what we can see for ourselves."
Others called to testify expressed similar enthusiasm for the measure.
"If small business is the engine that drives the economy of the United States and the territories, then enacting and implementing bill number 33-0054 is the fuel that will propel those economic engines," said Marie Gill, owner and president of M. Gill & Associates.
"With a larger, more diverse and more capable small business community that this bill will no doubt create and maintain, I believe that the Virgin Islands can look forward to a more thriving business community," said Gill, who has more than 30 years of experience in developing and growing small, minority, women and veteran-owned businesses throughout the country.
Sen. Myron Jackson proposed the bill that lawmakers are calling The Virgin Islands Small and Local Disadvantaged Business Enterprise Act. The bill's goal is to provide at least 35 percent of expenditures on territory contracts to be expended on small, local and historically disadvantaged businesses.
Jackson said it was time to promote equal opportunity as "there exists a significant disparity between the number of minority and female-owned businesses in the territory available and qualified for contracting opportunities and the number of government contracts awarded to these businesses."
Kamal Latham, CEO of the Virgin Islands Economic Development Authority, said supporting small business growth is vital. He gave statistics from the National Small Business Association and the ZipRecruiter 2017 Year-End Economic Report that said 99.7 percent of all firms in the country are small employers and that 25 percent of the total population in America, nearly 82 million people, was part of the small business community.
Latham said the Economic Development Authority supported the bill, "which would create a system that strengthens the contracting process and facilitates more pathways for our small local contractors to participate in local contracting opportunities."
The Economic Development Authority, along with the Department of Planning and Natural Resources, also provided senators with various amendments that could be made to strengthen the bill and ensure its intent.
The bill was passed unanimously and will now be moved to the Rules and Judiciary Committee for further discussions.