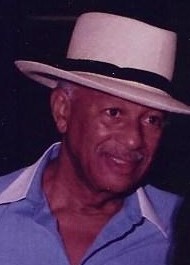 John T. Williams died on July 3 at the age of 94 at Schneider Regional Medical Center.
He was preceded in death by his sisters: Hanova Williams, Ivera Williams, Florine Tucker and Memorita Williams; brothers: Archibald O. Donadelle Sr. and Gerthel Williams; brothers-in-law: Henry DaSant and Ray DaSant; and nephew, Michael Tucker.
John T. Williams is survived by his wife, Alice DaSant Williams; sisters: Ayuda Williams-Sille of Bronx, N.Y. and Pacifita Williams-Gibbs of Bronx, N.Y.; brothers-in-law: Ralph DaSant and Robert DaSant; nieces: Yvette Donadelle Williams (Fitzroy Williams Sr.), Phyllis Lindqvist (Dominic Lindqvist), Diane Hairston, Rosie Levine, Giselle Sille, Monique DaSant Crawford and Nicole DaSant Ryan; nephews: special nephew Olando Donadelle (Judith Donadelle-Cousin), Ronald Donadelle (Pearline Lewis), Frank Tucker Jr., Floyd Williams, Al Williams, Rudy Sille Jr., Eric DaSant and Auld Williams.
He is also survived by his godson, Arthur Williams; special great nephew, Daryl (also known as Wisenheimer) Matthews; special cousins: attorney Lemuel Callwood, Albert George, Ariel Farrington; cousins: Marva E. Rogers, Christalia M. Rogers, Donalda M. Rogers, Charles Benjamin, Carl Benjamin, Lucia Benjamin-Brown, Ivan "Mahoe" Benjamin, Gloria Benjamin-Stout, Cyril Benjamin, Julia Benjamin, Alexander "Boy Blue" Benjamin, Edward "Teddy" Benjamin, Renaldo Benjamin, Sonia Benjamin-Stout, Marva Benjamin, Othelia Benjamin, Denson Benjamin, Maxine Benjamin-Moorhead of St. Croix, Gaston Benjamin Jr. , Bert Benjamin and Lorna Benjamin;
Other survivors include the Tortola family: Ronnie Skelton, Anniebelle Skelton, Ellis "Ali" Skelton, Oliver Skelton, Rosetta "Seta" George, Jeffery Skelton, Joseph "Revo" Skelton, Phillip Skelton, Cheryl Skelton-Malone, Clifton Skelton and AnnaBelle Skelton- Malone. John T. Williams had a host of other great nieces, nephews, cousins, and friends too numerous to mention.
Relatives and friends are respectfully invited to attend a viewing at 9 a.m. followed by a Mass of Christian Burial at 10 a.m., Monday, July 22, at Holy Family Church. Interment will be at Western Cemetery No. 1.
Arrangements are under the care of Dan Hurley Home for Funerals and Cremation Center of St. Thomas, St. John and St. Croix.
For online directions and condolences, visit us at www.hurleydavisfuneralhome.com