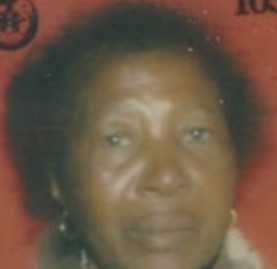 Josephine Chalwell died on June 13.
The first viewing will be held from 5:30 -7 p.m., Friday, July 5, at Turnbull's Funeral Home. The second viewing will be held from 9 a.m. to 10 a.m., Saturday, July 6, at the St. Andrew's Episcopal Church, with services beginning at 10 am. Interment will be at Western Cemetery No. 1.
She is predeceased by her husband, Earl Chalwell and son, David Christian.
She is survived by her daughters: Nalda Willams, Linet Waldron and Anita Christian; sons: Adastin "Wally" Waldron and Caswell Christian; brother-in-law, Malcolm Chalwell; daughter-in-law, Yvonne Waldron; adopted daughter, Martha Stanley; nephews: James Leonard Christian, Cartwright "Ben" Odlum, Collin Baptiste, Glen Gabriel, Garfield Gabriel, Monroy Gabriel, David Gabriel, Arnold Gabriel and Mark Christian; and nieces: Clorina Maduro, Geraldine Jones, Novella Gabirel-Browne, Veronica Richards, Ulinise Ramona Liburd, Laverne Joseph and Yvonne Gabriel.
She is also survived by grandchildren: Earl Waldron, Leonard Waldron, Sean Waldron, Jean-Marie Christian, Sandra Christian, Michael Samuel, Garry Waldron, Joann Waldron, Amber Christian, Akime George, Latoya Williams, Jermaine Williams, Melisa Joseph, Lauren Joseph, Keishawn Merrick, Kenard Merrick, Latisha Merrick, Camille Christian, Kenya Merrick, Alonzo Christian and Kimel Harris.
Other survivors include great-grandchildren: Mykejah Samuel, Nahshon Samuel, Brienna Waldron, Otisha Williams, Noel Frederick Jr., Roniqua Fredericks, Abasi Gordon, Jamella Gordon, Jamiqua Gordon, Leroy Gordon Jr., Lenny Merrifield and Lenisha Merrfield; great-great-grandchildren: De'marien M. Joseph, Jada Bastian, Atasia Gordon, Adani Gordon and Delanie Gordon; special cousins: Whitfield Joseph, Albertine Joseph, Claudeen Joseph and Millentine Coates; special friends: Ethan Hodge, Shelton Hodge and Emerald Joseph; and many other relatives and friends too numerous to mention.