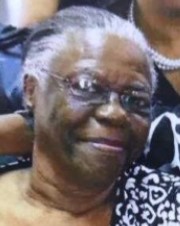 Janet E. Gumbs died on June 19. She was 82 years old.
The first viewing will be held from 5-7 p.m., Thursday, July 11, at Turnbull's Funeral Home. The second viewing will be held Friday, July 12, at St. Andrew's Episcopal Church from 9 a.m. to 10 a.m. The service will immediately follow at 10 a.m. Interment will be at Western Cemetery No. 1.
She was preceded in death by her sons: Dale "Meathead" Brown Sr. and Keithley "Addie" Joseph.
She was survived by her sons: Lawrence "Barka" Gumbs and Milton Smith Sr.; adopted son, Alfred "Chicken" Williams; grandsons: Dale Brown Jr., Jason Blyden, Milton Smith Jr., Michael Smith Sr., Glen Joseph, Shawn Joseph and Rashan Joseph; granddaughters: Delyndale Brown, Dalese Brown, Dalcia Brown, Carissa Douglas, Miltonia Smith, Michole Smith, Chrischelle Smith, Kenica Smith, Kimiesha Dyer; great-grandchildren: Damain Brown, Daliah Brown, E'Elena Brown, Desiree Brown, Dytoyah Brown, Danneja Andrade, Tyrone Donovan Jr., Dytisha Donovan, J'Aresha Blyden, J'Adinae Blyden, J'Asirah Herman, J'Aniyah Swanston,
Other great-grandchildren: J'Anasia Blyden, J'Azinique Swanston, Eden Smith, Mayesha Ramirez, Myialoha Ramirez, Jesus Ramirez Jr., Mechelle Ramirez, Michael Smith Jr., Shyla Smith, Brooklynn Biglow, U'Riyah Biglow, Mal'Akhi Biglow, Joshua Wimberly, Jah'Myah Colhourne, Jah-Ny Spears, Jahlayah Spears, Rochelle Williams, Christopher Smith, Nyvia Joseph, Bryce Joseph and Emani Joseph; daughters-in-law: Diana "Inca" Gumbs, Erica Smith and Mildred Joseph; and aunt, Ianthe Gumbs-Thomas.
She is also survived by brothers and sisters: Juanito Benjamin, Eric Benjamin, Ivan Freeman, Roy Blake, Vancito Gumbs, Julio Gumbs, Marion Peters and Gladys Todman; brothers-and sisters-in-law: Eston Todman Sr., Phyllis Benjamin, Esther "Rose" Benjamin, Clarice Gumbs and Sandra Gumbs; godchildren: Kenneth Camacho, Kebo Challenger, Glory Challenger and Leroy Francis; nephews and nieces: Lorraine Niles, Anthonio, Carlos, Erica and Diane Benjamin, Keith, Ira, Hillis, Dwayne and Michael Benjamin, Derek, Clarinda "Olympia" and Edwena Freeman, Arlington and Lawrence Todman, Sandra Burell, Sherwin Blyden, Elesta, Justin, Kathleen and Amos Peters Jr., Bridget, Dwight, Mark, Kimberly and Kema Todman, Cheryl Hazlett and Dwight Nicholas.
More survivors include other nieces and nephews too numerous to mention; and extended family: Rita Gumbs, Ena Benjamin, Vashti Liburd, Vanico Hedrington, Edris Callwood and family, Yvonne Phillips, Eve Smith-Frett, Tanis Smith-Nelson, Alexis Donadelle-Newjahor, Wilton Donadelle, Linda Smith, Desiree Thomas-Neal, Gail Galloway, Kenneth Gittens, the heirs of Theodore Turnbull, heirs of William Alfred Williams, heirs of Idalia Callwood, heirs of Lenora Dyer, heirs of Clarence Gumbs, heirs of Wilhelmina Gumbs, heirs of Esme Gumbs, Williams, heirs of Ianthe Thomas, heirs of Leslie Gumbs, heirs of Samuel Robinson, heirs of Albert Robinson and heirs of Edita Todman.