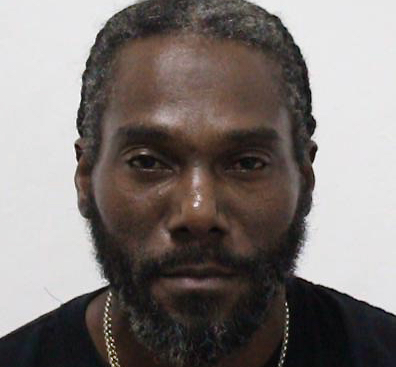 Members of the VIPD's Criminal Investigations Bureau arrested 41-year-old John "Cutter" Moses at around 3:30 p.m. Tuesday on St. Thomas.
According to the V.I. Police Department, Moses was arrested without incident in Estate Wintberg.
Police had named Moses as a suspect in a kidnapping of two girls, age 11 and 14, that took place Monday. According to the police report, the two girls reported that while walking to the Hometown Service Station they were accosted by an unknown black male, later identified as Moses, who threatened to hurt them if they did not get into his vehicle. Moses allegedly took the female minors to the store and told them to get some snacks for themselves and a Heineken for him, which he paid for.
He then took them to the Anna's Retreat residential area where they got out of the vehicle and ran. While the girls were with their parents making the report at the Hometown Service Station, Moses returned to the scene where he was confronted and apprehended. However, he escaped from custody with handcuffs on.
Moses was charged with kidnapping, false imprisonment, escape from Custody and possession of a stolen vehicle. Bail was set at $75,000. Moses was unable to post bail and was remanded to the Bureau of Corrections pending advice of rights hearing.