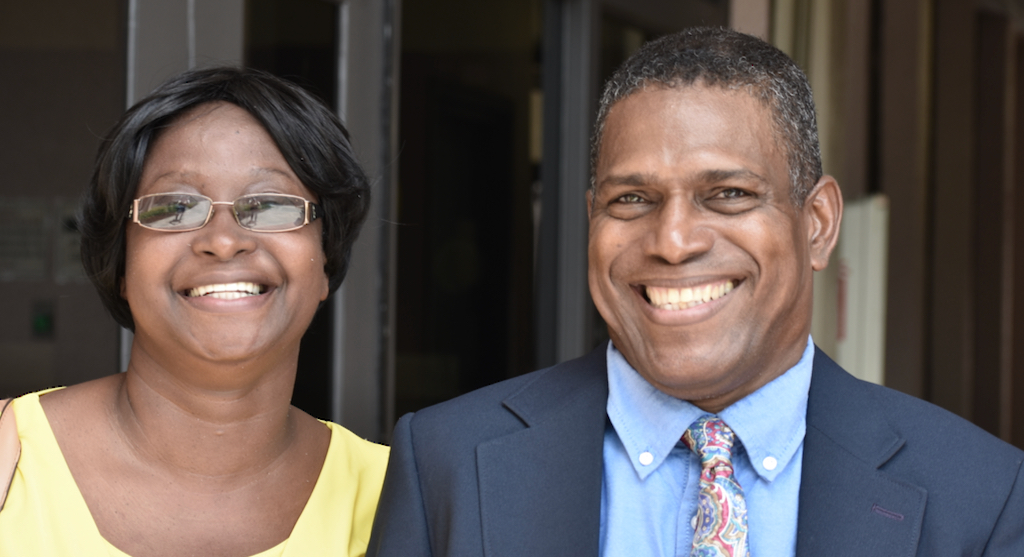 Judge Jomo Meade ruled in favor of local land owner Bernard Cuffy Tuesday after eight neighbors had formally complained that Cuffy had illegally trespassed on their land in attempts to gain access to his.
The ruling came after a two-day Superior Court trial at the Richard Herbert Amphlett Leader Justice Complex.
The dispute was over a pathway shared by multiple land owners in Estate Clairmont. After Cuffy purchased land in the area two years ago, he said he began clearing the pathway and making plans to develop a road to access his property. The plaintiffs in the case said that clearing the roadway meant he would be invading their private property and infringing on their rights.
The plaintiffs were listed in court documents as Patricia Babij, Brian Devlin, Cynthia Devlin, Austin McKenzie, Andrew Hooker, Karen Hooker, Charles Adams and Lynn Cameron Pontius.
Monday, two representatives from the Virgin Islands Department of Planning and Natural Resources testified that an earth change permit they approved gave Cuffy the right to clear the road to gain access to his property. Mark Eckard, attorney for the plaintiffs, questioned the validity of the earth change permit and whether or not it was OK to grant it without notifying the owners and residents of adjacent properties.
Tuesday's Testimonies
Wayne Callwood, a territorial public surveyor of 10 years, testified that after reviewing several maps, he identified a 30-foot right of way in the area. Callwood said that as a land owner, Bernard Cuffy "has interest to the entire right of way from beginning to end" according to Virgin Islands law. When Eckard asked who Cuffy would need permission from if he wanted to construct a road as an access way to his property, Callwood said "the government gets to say."
Eckard asked Callwood to identify where it was marked "right of way" on one map. Callwood said that the first map shown was a newer map and that it referenced an older map where the "right of way" was delineated.
Eckard then pointed to boundary lines, which he said indicated that private property ran through the right of way. Callwood's response was that the pathway still belonged to all home owners in the area.
Plaintiffs had suggested that Cuffy did not need to use the disputed roadway but had access to an alternate route. In response to questioning from Cuffy's lawyer, Gertrude LeCointe, Callwood said the alternate route was optional.
"They can't force him to change or utilize any different, alternate route," Callwood said.
The defense also called on Norman Smith, the owner of an excavation and land clearing business on St. Croix, to offer testimony on Tuesday. Smith said Cuffy had asked him to take a look at the road and conduct a feasibility assessment.
Smith said he met two separate meter bases, a septic tank, steps, and a fence obstructing the designated right of way during his site visit. Smith also said that he saw trees, which plaintiffs had identified as mahogany, but which he said were not mahogany trees. At the entrance of the roadway, he also saw three boulders, he said.
Smith said he offered a plan on how to clear the road without interfering with the units he found. The trees, however, would have to be removed and excavations near the entrance would have to happen in order to avoid interference with the nearby meter base. He said another excavation would have to take place to avoid interference with a septic system that obstructed the right of way.
Earlier Callwood gave testimony that landowners weren't allowed to build private property beyond a 15-foot setback. He said the right of way would take precedence over any private property or other units that had been placed on it.
Gertrude LeCointe, attorney for Cuffy, would later argue that the plaintiffs' concerns about excessive excavations were a result of the units they'd illegally placed in the right of way.
Tuesday's Arguments
In his closing statement, Eckard argued that the Virgin Islands Code is presently unclear on what the rights were for home owners sharing a right of way.
He said there were questions like: "Who's in charge of the road?" and "Who's responsible to move objects?"
The issue at hand was that DPNR granted a permit over private property, Eckard said. Meade asked the attorney how it could be viewed as private property when they'd just heard that the pathway was actually a shared right of way.
"That's why we're here," Eckard said. "Because it's both, and it's really messed up."
Eckard also said the maps DPNR used to approve Cuffy's permit did not definitively mark the disputed pathway as a 30-foot right of way.
According to Eckard, another possible issue was erosion problems for the McKenzies if there were excavations during road construction in that area. Meade asked Eckard for evidence that this could occur.
"You have no evidence," Eckard said. "That's the point."
Eckard said the defendant hadn't done any erosion studies or hydrological studies to assess the feasibility of the road. Meade said the burden fell on the plaintiffs to produce evidence showing that erosion would be an issue. The judge also said if Bernard Cuffy wanted to spend a lot of money in developing a feasible plan for the road, "that's his problem."
"If he wants to spend a million dollars, that's his business," the judge said.
In her closing statements, LeCointe argued that only one out of eight plaintiffs had appeared in court. This plaintiff, Austin McKenzie, was the only owner that the defense knew of because none of the others had supplied documents proving that they owned property in the area, according to LeCointe. For that reason, she couldn't take written testimony from Brian Devlin seriously, she said.
LeCointe also said McKenzie's testimony didn't indicate an objection to Cuffy constructing a road on the shared path but, instead, indicated that McKenzie had chosen to use an alternate route to his home as opposed to the shared pathway.
If the plaintiffs were to suffer any hardships as a result of Cuffy's road construction, it would be their own fault, according to LeCointe. She referenced previous testimony stating that the WAPA pole, Viya pole, septic tank, stairs, trees and other units that were placed on the shared roadway had been placed there unlawfully.
"This whole thing is so simple," she said. "These land owners are properly (totally) using the road. They have a meter base on it. … They have steps on it. … They put the fence on it. … This is not a backyard. This is a road."
LeCointe told Judge Meade that the case was not unique and that ruling in favor of the plaintiffs would set a bad precedent, a message that it was OK to block an owner from his or her property.
"We don't do this sort of thing in the Virgin Islands," she said.
Judge's Decision
In his decision, Meade said the plaintiffs failed to prove Cuffy had trespassed on their property or that they would suffer harm if he were to continue clearing the shared roadway. The judge ultimately denied their request to stop Cuffy from constructing a road to access his land.
Responses to the Ruling
In an interview following the judge's decision, Bernard Cuffy said the win wasn't only his; it was one he could share with others. He also suggested that the court proceedings unearthed plans of wrongdoing.
"I'm very happy today – not only for myself. It's for the entire Virgin Islands. As Virgin Islanders we have to follow the rules and regulations that are set up from the government," he said. "We may cheat here and cheat there, but later on, it will catch up. Today, we were able to uncover a major cover up."
Sen. Javan James, who sat in on both trial hearings, said the final outcome illustrated the "importance of the Virgin Islands Code."
"The law has spoken," he said.
Chenzira Davis Kahina watched as Tuesday's hearing unfolded. After the ruling, she identified herself as a "native indigenous African" who wanted to make sure Cuffy's rights were protected. She said the case's significance was tied to justice.
"This is happening during Virgin Islands Freedom Week," she said. "Land owners in the Virgin Islands should be respected and their rights protected."
Headlines from other news media had implied that the matter was a racial one. On Tuesday, LeCointe said she wouldn't necessarily say the court proceedings stemmed from racial prejudice. She said she thought it was "more selfishness" on the plaintiffs' part because they were unwilling to remove the structures they'd installed on the roadway.
Bernard's wife Athlene Cuffy said she was ecstatic after hearing the judge's ruling.
"We were falsely sued even though the owners knew that they themselves were wrong," she said. "But they used tactics and bullying to force us to give up our rights to the road, and we're glad justice was served today."
Eckard had no comment on the ruling or any of the court proceedings.
Cuffys' Plans
Bernard Cuffy testified Monday that the land he purchased at Estate Clairmont is a wedding gift for his 28-year-old son, who plans to get married next month. Near the end of June, his son, Aundre Cuffy, started an online fundraiser to help with his family's legal expenses during the dispute.
On Tuesday, Athlene Cuffy said the family hasn't used any of the $2,355 that has been raised so far. And they don't plan to use any of it, she said. Instead, they have plans to partner with the St. Croix Foundation to put the money into a fund for Virgin Islanders who may find themselves in the same or similar situations "to fight their legal battles," Athlene Cuffy said.
Bernard Cuffy said he didn't want anyone in a similar situation to feel intimidated. He said he was willing to help others fight for their rights.