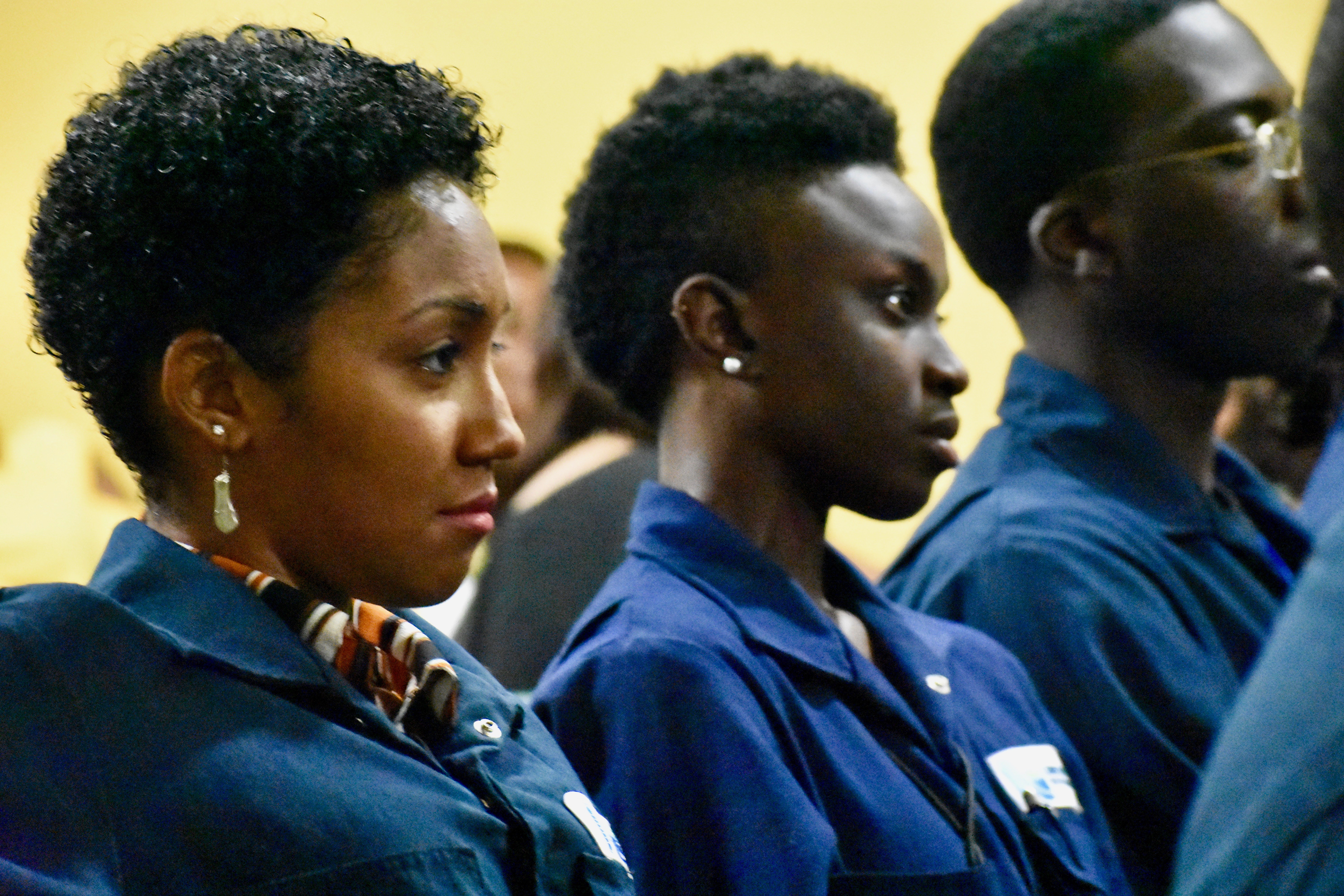 Women in America represent less than a quarter of the people working in science-related careers, but the women who anxiously await the restart of oil refining on St. Croix say they aren't afraid to stand out in a male-dominated field.
According to the U.S. Department of Commerce, women held only 24 percent of science, technology, engineering and math jobs in 2015. A similar report from the National Science Foundation indicates that even fewer women of color work in STEM fields. Black women represented 1.6 percent, Latinas 1.8 percent, and Asian women represented 6.5 percent of science and engineering jobs in 2015, according to the NSF report.
On Monday, Limetree Bay Refining celebrated 35 graduates – all Virgin Islanders – from its first Basic Operator Training Class. Nine were women. That's about 26 percent, or a little more than a quarter, which almost mirrors the national statistics on women working in STEM fields.
In an interview before their graduation ceremony began, Sen. Allison DeGazon praised the young men for being proactive about their futures, but she also highlighted the women in the group.
"We also have women who are defying the odds, making their way in science and the operational type fields, so that just shows how dynamic our society is and how we're changing and strengthening our work force development," DeGazon said. "It says 'Basic Operator Training Class', but there's nothing basic about it."
Priscilla Laurent defines herself as a "challenge junkie." Before becoming a process operator trainee at Limetree, the 23-year-old had studied nursing and criminal justice. She'd also worked as a pharmacy technician.
In an interview following her graduation at Limetree, she said she'd gotten to the point where she needed something more stimulating. So, she ventured into an industry where she, like the majority of her classmates, had no prior experience.
During her basic operator training studies with Limetree, Laurent got to learn about pumps, valves, compressors and motors – the elements for refining the fuel that her employers say will eventually power jets and cars.
"I was in a position where I was in a previous job where I needed a challenge, and this was honestly the best challenge I could find," Laurent said.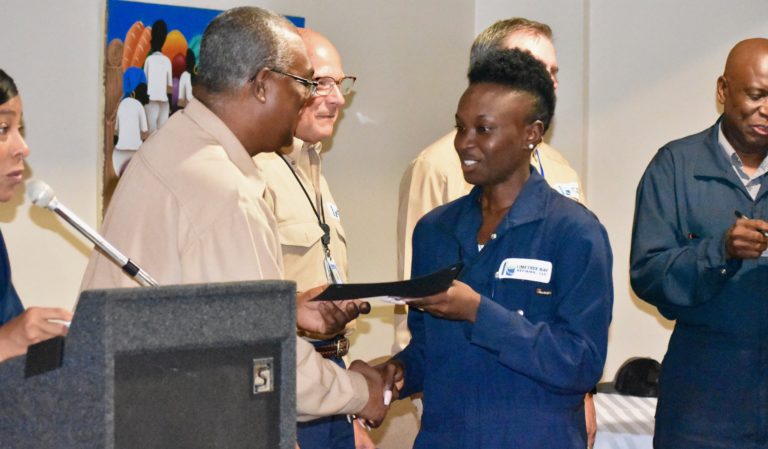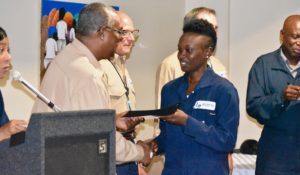 Laurent said that even after spending 10 hours a day, five days a week training composed of a majority of the opposite sex, she only recognized she was a woman among men a few times.
"Sometimes, when they start talking about cars and how their cars do this and how their cars do that, and I'm just like 'Alright, guys,'" she said.
Raevah Matthew said she's accustomed to being one of the only females in the room.
"I was a member of the National Guard, and February of 2017 I went to a training and I was the only female in a class of 60 students, so it was nothing new. It was like, 'OK, at least I have some other females around,'" Matthew said.
One of the females who Matthew says she looks up to is her mother, who was a process operator before the previous owners, Hovensa, closed the refinery. She said she watched her mother study to become a process operator and was inspired to learn more for herself.
"It was like so confusing to me, so it made me want to learn more," she said. "When I saw my mom do it, I was like, 'Well if she can do it, then so can I.'"
Another important female in her life is her three-year-old daughter. Matthew, who previously held a security job at Limetree, said she's hopeful her new job will give her a better income to "spoil" her daughter "more than she already is."
Women with STEM jobs earned 35 percent more than women with non-STEM jobs in 2015, according to the Commerce Department. The same report says women with STEM jobs can earn more than men with STEM jobs and more than men with non-STEM jobs, so the gender-wage gap tends to be lower in this field.
Laurent said one of her motivations for transitioning into the energy industry was the money.
"The money is pretty good – not gonna lie to you. You could ask anybody here," she said.
As a trainee, she said she earns about $20 an hour, but she said she didn't want to divulge how much she was slated to earn for company confidentiality reasons.
During Laurent and Matthew's graduation ceremony, Limetree Vice President of Refining Operations Brent Woodland told the class that they were a part of a process to "fuel the future." And part of fueling the future includes fueling their incomes, according to Woodland.
"You're going to be fueling your families with your income, you're fueling the opportunity to learn and to grow," he told the graduates during his remarks.
Laurent, Matthew, and the rest of their class will move onto more specific training now that they've completed their basic training.
The first bout of training was more theory-based and the women dominated mastery in this area, according to Matthew. She said she suspects that the men may show more dominance when the training becomes more hands-on, but she knows it's something she will personally enjoy since she was once a heavy equipment operator for the National Guard.
Laurent said she has faith that she will be successful, no matter what comes her way.
"It's not all about the physical strength," she said. "I'm like, in the long-run, I know that I can get by – if not by strength, by will."
Laurent, Matthew and the rest of the trainees are slated to transition to on-the-job experience soon.
In 2016, affiliates of ArcLight and Freepoint Commodities purchased the Limetree energy complex, which was previously owned and operated by HOVENSA. By 2018, Limetree Bay Refining announced it had entered into an agreement with BP, one of the world's largest oil companies. This agreement would mean the restart of oil refining on St. Croix.
According to Robert Weldzius, Limetree's general manager and senior vice president of refining, the refinery is set to reopen by the end of the year.