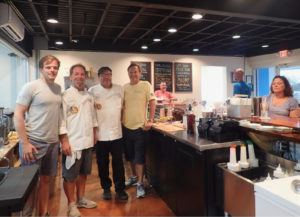 Sion Farm Distillery has opened its doors to the public this week, and will be open from noon to 7 p.m. Tuesdays, Thursdays and Saturdays, serving food and drinks made with Mutiny Island Vodka.
In the two weeks the distillery has been producing, it has bottled 9,000 bottles of the vodka, using breadfruit rather than traditional potatoes. Master distiller Art Wollenweber said each bottle contains about two breadfruit and they will need two million to meet their goal of one million bottles. He also wanted farmers to know they have 20,000 gallons of water infused with breadfruit nutrients and fiber to give away.
The formal grand opening will be Aug. 10.
The idea for Mutiny Vodka, using breadfruit, started with Todd Manley, who moved to St. Croix in 2010 and toyed with the idea for several years before perfecting it through trial and error. He said the product has the potential to make a big impact on island agriculture.
"Breadfruit does so many things in agriculture," Manley said in a 2018 interview. "It produces more food per acre than any other agricultural product. Flour can be made from breadfruit, which is nutritious and gluten-free. Anything made with regular flour – like pasta – can be made with breadfruit flour."
Another property of the plant is that it's a natural insect repellent. Tomatoes, zucchini and other crops can be planted between breadfruit trees and the crops will be protected. The male flower of the breadfruit is 100 times more powerful than Deet in repelling the mosquito, Manley said.