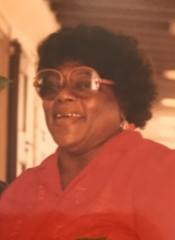 Anna Teresa Fredericks of Estate Sion Farm died on June 8.
She is survived by her sisters: Velma "Patsy" Heyliger and Ida Edwards; goddaughter, Tiffany "Vickie" Peters; brother, Antonio "Tony" Acevedo; nephews: Earl Heyliger Jr., Gilbert "Mikey" Heyliger, Zachary "JahJaun" Heyliger, Sylvester A. Edwards Jr., Shelly Edwards and Kevin Acevedo; nieces: Terecia Heyliger, Laverne White, Estella "Vickie" George, Monica Heyliger, Nicole Sherrise Edwards, Yvonne Acevedo, Antonia Acevedo, Sonya Acevedo and Monica Bearfield; special friends: Leona M. Garvey, Shirley Clendenin, Mona Peters, Carmen Acosta, Pucha Acevedo, Jeanette Rouse-Cochrane, Alvin M. Milligan and Bernard Brun; and other relatives and friends too numerous to mention.
A Celebration of Life will be held on Friday, June 21, at James Memorial Funeral Home Chapel, 4040Estate La Grande Princesse, Christiansted, St. Croix. There will be a viewing at 2 p.m. followed by a service at 3 p.m.
A Going Home Service will be held at 9:30 a.m., Thursday, June 27, at Turnbull's Funeral Home, 3815 Crown Bay, Suite 10, St. Thomas. Interment will take place at Western Cemetery, St. Thomas.