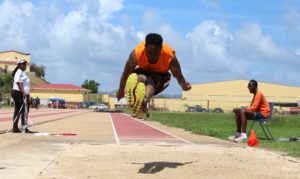 The Virgin Islands Track and Field Federation (VITFF) hosted the Carl Plaskett Virgin Islands Track and Field Championships on Saturday, June 8, at the Ivanna Eudora Kean High School Track, St. Thomas, Virgin Islands.
The goal of the event is to provide athletes, males and females of all ages, the opportunity to participate in track and field, to help to determine who are the top performers and aid in the selection of V.I. national teams for upcoming international championships including: Pan Am Games, World Championships, Pan Am Games, Pan Am U-20, NACAC U-18—U-20 and NACAC youth age-group championships.
Male and female athletes of all ages were invited, Including: club, college, school, professional, masters and unattached competitors.
The participating clubs were Cheetah's Track Club (STT), St. Thomas Track Club (STT), St. Croix Track Club (STX) and Jolly Roger Track Club (STX) and Mary's Fancy Track Club (STX).
The event had the look of an exhibition as the call for participants would produce a limited number to fill out the disciplines.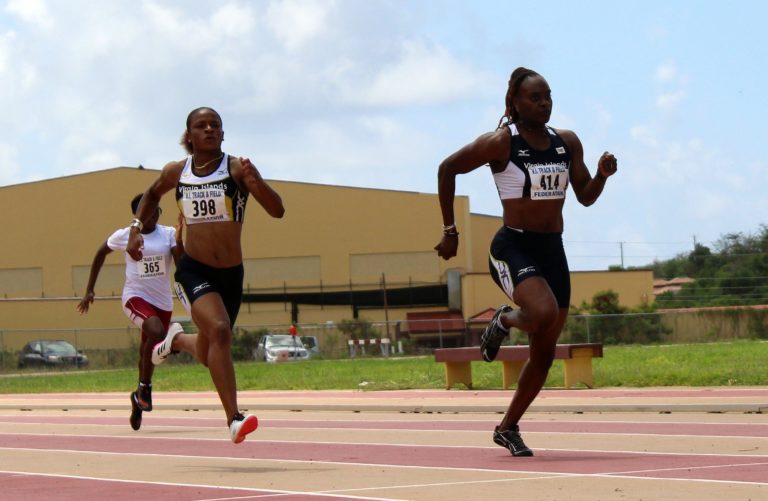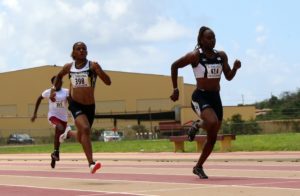 It was the first-time V.I. Olympian Laverne Jones-Ferrette had competed on home turf. She was in an exciting race in the 100m with Nia Jack, her heir apparent, which was a photo finish. She ran in 11.65 and Jack second in 11.68.
Yashira Rhymer-Stuart, 2018 NCAA National High Jump Champion and second in 2019, also competed at home for the first time.
The Smiths of the St. Croix Track Club, Malique 52.01 in the 400m hurdles a personal best…also won 200m against Brian Slater; Mikaela V.I. Youth Olympian competed in the 400m hurdles and the 800m; and Michelle competed in the 80m hurdles and 1000m — all are vying for the international meets.
As are Rodney Griffin St. Croix Track Club 400m winner; Nia Jack, Avery and Ahmed Joseph in the javelin and long jump, respectively. In addition, Jones-Ferrete, who organized the VITFF CAC Games Training Camp in Houston, Texas (funded by the Virgin Islands Olympic Committee and VITFF), is working on putting together a qualifying 4 x 100m relay team for the Pan Am Games.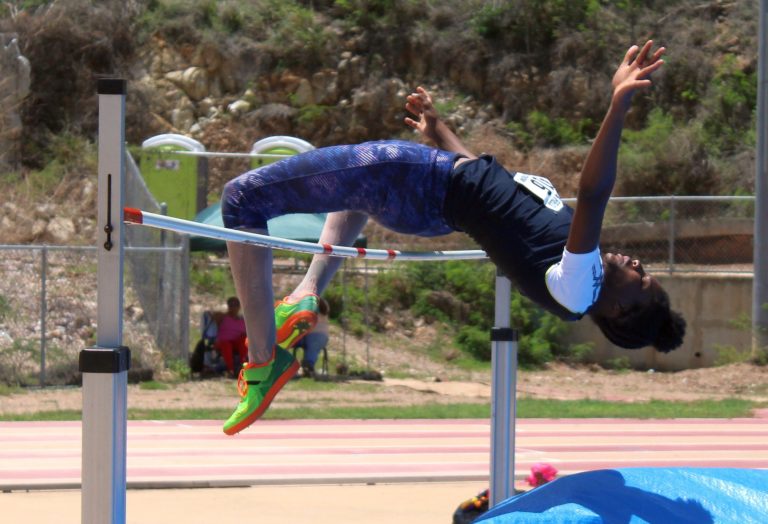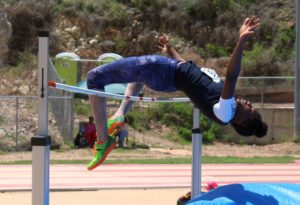 The VITFF named the 2019 event for Olympian Carl Plaskett who presented the special medals with his image to the participants. He is the first V.I. Olympic track and field athlete to win an international medal. The event alternates between islands and will be on St. Croix in 2020 and will be named the Rita Hendricks 2020 Track and Field Championships for Hendricks, who was the first V.I. Female Olympian in track and field.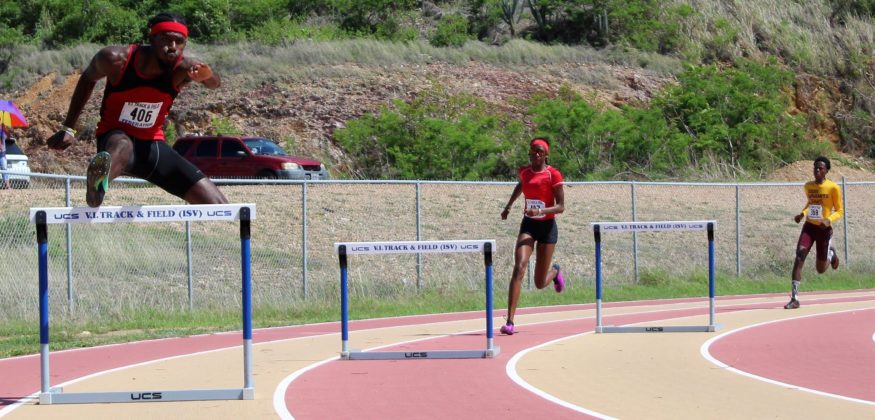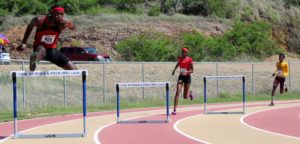 Note:
The 3000m championship will be held on the track in St. Croix on June 22, in conjunction with the Olympic Day Run
The 10,000m championship title goes to Eduardo Garcia, who, on Saturday, set a new national record 29:18.37 at the Portland Track Festival
The event was funded by a grant from the IAAF and the VITFF.
2019 Carl Plaskett VI National Track and Field Championship
FEMALE – 400mH
Place/ Name/ Time/Dist. Affiliation
U-20
Bib
1 Mikaela Smith 1:03.44 ST CROIX TC (402)
MALE – 400mH
Place/ Name/ Time/Dist. Affiliation
U-20
Bib
1 Steven Farquharson 1:07.01 CHEETAH TC (368)
MALE – 400mH
Place/ Name/ Time/Dist. Affiliation
OPEN
Bib
1 Malique Smith 52.01 ST CROIX TC (406)
MALE – 1500M
Place/ Name/ Time/Dist. Affiliation
U-15
Bib
1 Mason Lambert 5:14.07 JOLLY ROGERS TC (386)
FEMALE – 1500M
Place/ Name/ Time/Dist. Affiliation
U-17
Bib
1 Shaiah David 6:08.79 Unattached (413)
MALE – 1500M
Place/ Name/ Time/Dist. Affiliation
U-17
Bib
1 Tyfarri Lee 4:58.92 CHEETAH TC (377)
MALE – 1500M
Place Name Time/Dist. Affiliation
U-20
Bib
1 Netsa Williams 5:00.14 CHEETAH TC (381)
FEMALE – 60mH
Place/ Name/ Time/Dist. Affiliation
U-15
Bib
1 Michelle Smith 9.92 ST CROIX TC (401)
2 Kirra Lambert 13.38 JOLLY ROGERS TC (383)
MALE – 80mH
Place/ Name/ Time/Dist. Affiliation
U-15
Bib
1 Nathan Langley 16.38 JOLLY ROGERS TC (387)
2 Nathan Graham 17.60 JOLLY ROGERS TC (393)
FEMALE – 100M
Place/ Name/ Time/Dist. Affiliation
U-11
Bib
1 Faith Eatmon 16.50 ST CROIX TC (396)
2 Alyson Monsanto 18.41 Unattached (415)
3 Katelyn Jones 19.62 ST CROIX TC (399)
MALE – 100M
Place/ Name/ Time/Dist. Affiliation
U-11
Bib
1 Nykeem Eddy 16.84 MARY'S FANCY TC (392)
FEMALE – 100M
Place/ Name/ Time/Dist. Affiliation
U-13
Bib
1 Amiyah Eddy 14.42 MARY'S FANCY TC (389)
2 Iquik Williams 16.25 Unattached (426)
MALE – 100M
Place/ Name/ Time/Dist. Affiliation
U-15
Bib
1 Rainier Charlery 12.54 CHEETAH TC (422)
U-17
Bib
1 Dakenile Mauvias 14.69 CHEETAH TC (364)
MALE – 100M
Place Name Time/Dist. Affiliation
U-17
Bib
1 Malik Alexander 11.45 CHEETAH TC (366)
2 Kamani Riley 11.72 CHEETAH TC (420)
3 V'andre Rochester 12.43 CHEETAH TC (380)
4 Wayne Frett 12.96 CHEETAH TC (369)
5 Tyler Wiess 13.43 ST THOMAS TC (412)
6 Micah Jackson 13.57 CHEETAH TC (374)
FEMALE – 100M
Place Name Time/Dist. Affiliation
U-20
Bib
1 Sherna Williams 12.96 CHEETAH TC (365)
MALE – 100M
Place Name Time/Dist. Affiliation
U-20
Bib
1 Rashawn Gordon 11.46 CHEETAH TC (373)
2 Gregory Gibson 11.58 ST CROIX TC (403)
3 Raynel Charlery 11.74 CHEETAH TC (423)
4 Moises Harrigan 11.93 CHEETAH TC (427)
5 Sam Cole 12.25 ST CROIX TC (384)
FEMALE – 100M
Place Name Time/Dist. Affiliation
OPEN
Bib
1 Nia Jack 11.68 ST CROIX TC (398)
MALE – 100M
Place Name Time/Dist. Affiliation
OPEN
Bib
1 Brian Slater 11.11 Unattached (418)
2 Sadiki Tyson 11.26 Unattached (425)
MALE – 100M
Place Name Time/Dist. Affiliation
OPEN
Bib
1 Brian Slater 11.11 Unattached (418)
2 Sadiki Tyson 11.26 Unattached (425)
Venue: Ivanna Eudora Kean High School Track, St. Thomas, Virgin
Results Generated by The St. Croix Track Club
Timing by: SANKSMITH Consultants, Inc.
Organized by: The St. Croix Track Club, The Virgin Islands Pace Runners and Cheetah's Track Club
Sanctioned by: Virgin Islands Track and Field Federation
http://virginislandstrackandfield.org
2019 Carl Plaskett VI National Track and Field Championship
FEMALE – 100M
Place Name Time/Dist. Affiliation
Masters
Bib
1 Laverne Jones-ferette 11.65 Unattached (414)
FEMALE – 60M
Place Name Time/Dist. Affiliation
U-13
Bib
1 Akyra Joseph 8.67 ST CROIX TC (400)
2 Devin Degannes 9.00 ST THOMAS TC (408)
3 Aysia Frett 9.02 ST THOMAS TC (409)
4 Mariana Brunt 9.78 ST THOMAS TC (407)
5 Candance Felix 9.94 JOLLY ROGERS TC (382)
FEMALE – 80M
Place Name Time/Dist. Affiliation
U-15
Bib
1 Michelle Smith 10.69 ST CROIX TC (401)
2 Maia Tolud 11.13 ST THOMAS TC (410)
3 Kirra Lambert 12.80 JOLLY ROGERS TC (383)
MALE – 80M
Place Name Time/Dist. Affiliation
U-15
Bib
1 Nathan Langley 11.87 JOLLY ROGERS TC (387)
2 Nathan Graham 12.46 JOLLY ROGERS TC (393)
FEMALE – 800M
Place Name Time/Dist. Affiliation
U-11
Bib
1 Katelyn Jones 3:47.98 ST CROIX TC (399)
MALE – 800M
Place Name Time/Dist. Affiliation
U-13
Bib
1 Kaeden Gleason 2:41.48 JOLLY ROGERS TC (385)
MALE – 800M
Place Name Time/Dist. Affiliation
U-15
Bib
1 Mason Lambert 2:32.09 JOLLY ROGERS TC (386)
FEMALE – 800M
Place Name Time/Dist. Affiliation
U-17
Bib
1 Shaiah David 3:04.62 Unattached (413)
MALE – 800M
Place Name Time/Dist. Affiliation
U-17
Bib
1 Makari Matthew 2:17.56 JOLLY ROGERS TC (388)
2 Jeb Dieudonne 2:19.49 Unattached (417)
3 Tyfarri Lee 2:22.69 CHEETAH TC (377)
FEMALE – 800M
Place Name Time/Dist. Affiliation
U-20
Bib
1 Mikaela Smith 2:21.80 ST CROIX TC (402)
MALE – 800M
Place Name Time/Dist. Affiliation
U-20
Bib
1 Allonye' Gordon 2:13.05 CHEETAH TC (371)
2 Kasim Upchurch 2:14.60 Unattached (419)
3 Antonio Papius 2:25.76 CHEETAH TC (379)
4 Steven Farquharson 2:33.74 CHEETAH TC (368)
FEMALE – 400M
Place Name Time/Dist. Affiliation
U-11
Bib
1 Faith Eatmon 1:24.89 ST CROIX TC (396)
MALE – 400M
Place Name Time/Dist. Affiliation
U-13
Bib
1 Kaeden Gleason 1:10.16 JOLLY ROGERS TC (385)
MALE – 400M
Place Name Time/Dist. Affiliation
U-17
Bib
1 Jeb Dieudonne 55.25 Unattached (417)
2 Makari Matthew 57.87 JOLLY ROGERS TC (388)
3 Tyler Wiess 1:07.43 ST THOMAS TC (412)
MALE – 400M
Place Name Time/Dist. Affiliation
U-20
Bib
1 Kasim Upchurch 53.96 Unattached (419)
2 Valence Modeste 55.41 ST CROIX TC (405)
MALE – 400M
Place Name Time/Dist. Affiliation
OPEN
Bib
1 Rodney Griffin 50.07 ST CROIX TC (404)
FEMALE – 800M
Place Name Time/Dist. Affiliation
U-13
Bib
1 Akyra Joseph 2:58.81 ST CROIX TC (400)
2 Candance Felix 3:21.49 JOLLY ROGERS TC (382)
3 Devin Degannes 3:27.74 ST THOMAS TC (408)
4 Aysia Frett 3:29.50 ST THOMAS TC (409)
5 Mariana Brunt 3:39.12 ST THOMAS TC (407)
FEMALE – 1000M
Place Name Time/Dist. Affiliation
U-15
Bib
1 Michelle Smith 3:18.21 ST CROIX TC (401)
2 Maia Tolud 3:49.76 ST THOMAS TC (410)
3 Kirra Lambert 4:02.96 JOLLY ROGERS TC (383)
MALE – 1200M
Place Name Time/Dist. Affiliation
U-15
Bib
1 Nathan Langley 4:33.01 JOLLY ROGERS TC (387)
2 Nathan Graham 4:37.99 JOLLY ROGERS TC (393)
2019 Carl Plaskett VI National Track and Field Championship
FEMALE – 200M
Place Name Time/Dist. Affiliation
U-11
Bib
1 Faith Eatmon 35.40 ST CROIX TC (396)
2 Alyson Monsanto 40.92 Unattached (415)
3 Katelyn Jones 43.96 ST CROIX TC (399)
FEMALE – 200M
Place Name Time/Dist. Affiliation
U-13
Bib
1 Iquik Williams 33.92 Unattached (426)
FEMALE – 200M
Place Name Time/Dist. Affiliation
U-17
Bib
1 Dakenile Mauvias 31.42 CHEETAH TC (364)
MALE – 200M
Place Name Time/Dist. Affiliation
U-17
Bib
1 Malik Alexander 23.55 CHEETAH TC (366)
2 Kamani Riley 23.80 CHEETAH TC (420)
3 Makari Matthew 24.68 JOLLY ROGERS TC (388)
4 V'andre Rochester 26.02 CHEETAH TC (380)
5 Wayne Frett 27.60 CHEETAH TC (369)
FEMALE – 200M
Place Name Time/Dist. Affiliation
U-20
Bib
1 Mikaela Smith 26.36 ST CROIX TC (402)
2 Sherna Williams 26.69 CHEETAH TC (365)
MALE – 200M
Place Name Time/Dist. Affiliation
U-20
Bib
1 Valence Modeste 22.94 ST CROIX TC (405)
1 Rashawn Gordon 22.94 CHEETAH TC (373)
3 Gregory Gibson 23.52 ST CROIX TC (403)
4 Kasim Upchurch 24.26 Unattached (419)
5 Sam Cole 24.92 ST CROIX TC (384)
MALE – 200M
Place Name Time/Dist. Affiliation
OPEN
Bib
1 Malique Smith 21.96 ST CROIX TC (406)
2 Brian Slater 22.69 Unattached (418)
FEMALE – 200M
Place Name Time/Dist. Affiliation
Masters
Bib
1 Laverne Jones-ferette 24.11 Unattached (414)
FEMALE – 200M
Place Name Time/Dist. Affiliation
Masters
Bib
1 Laverne Jones-ferette 24.11 Unattached (414)
FEMALE – 4*100M
Place Name Time/Dist. Affiliation
OPEN
Bib
1 Team Vi 49.27 VI (500)
MALE – 4*100M
Place Name Time/Dist. Affiliation
OPEN
Bib
1 Team Vi 43.52 VI (501)
FEMALE – Javelin
Place Name Time/Dist. Affiliation
U-17
Bib
1 Ariana Edgar 17.55m ST CROIX TC (397)
FEMALE – Javelin
Place Name Time/Dist. Affiliation
OPEN
Bib
1 Layla Browne 25.21m ST CROIX TC (395)
MALE – Javelin
Place Name Time/Dist. Affiliation
OPEN
Bib
1 Ahmed Joseph 59.10m CHEETAH TC (375)
2 Avery Joseph 58.60m CHEETAH TC (376)
MALE – Javelin
Place Name Time/Dist. Affiliation
Masters
Bib
1 Willie Lewis 21.02m MARY'S FANCY TC (424)
FEMALE – High Jump
Place Name Time/Dist. Affiliation
U-13
Bib
1 Akyra Joseph 1.30m ST CROIX TC (400)
1 Devin Degannes 1.30m ST THOMAS TC (408)
3 Aysia Frett 1.20m ST THOMAS TC (409)
4 Mariana Brunt 1.00m ST THOMAS TC (407)
5 Candance Felix 1.00m JOLLY ROGERS TC (382)
FEMALE – High Jump
Place Name Time/Dist. Affiliation
U-15
Bib
1 Michelle Smith 1.30m ST CROIX TC (401)
2 Kirra Lambert 1.10m JOLLY ROGERS TC (383)
MALE – High Jump
Place Name Time/Dist. Affiliation
U-15
Bib
1 Nathan Langley 1.10m JOLLY ROGERS TC (387)
— Nathan Graham NH JOLLY ROGERS TC (393)
MALE – High Jump
Place Name Time/Dist. Affiliation
U-17
Bib
1 Micah Jackson 1.55m CHEETAH TC (374)
FEMALE – High Jump
Place Name Time/Dist. Affiliation
OPEN
Bib
1 Yashira Rhymer-stewart 1.70m Unattached (416)
MALE – High Jump
Place Name Time/Dist. Affiliation
OPEN
Bib
1 Moises Harrigan 1.60m CHEETAH TC (427)
2 Kevone Wyatt 1.50m CHEETAH TC (428)
3 Netsa Williams 1.45m CHEETAH TC (381)
FEMALE – Long Jump
Place Name Time/Dist. Affiliation
U-13
Bib
1 Akyra Joseph 4.08m ST CROIX TC (400)
2 Aysia Frett 3.19m ST THOMAS TC (409)
3 Devin Degannes 3.17m ST THOMAS TC (408)
4 Candance Felix 3.10m JOLLY ROGERS TC (382)
5 Mariana Brunt 2.53m ST THOMAS TC (407)
FEMALE – Long Jump
Place Name Time/Dist. Affiliation
U-15
Bib
1 Michelle Smith 4.89m ST CROIX TC (401)
2 Kirra Lambert 3.53m JOLLY ROGERS TC (383)
MALE – Long Jump
Place Name Time/Dist. Affiliation
U-15
Bib
1 Nathan Graham 3.54m JOLLY ROGERS TC (393)
2 Nathan Langley 3.45m JOLLY ROGERS TC (387)
MALE – Long Jump
Place Name Time/Dist. Affiliation
U-20
Bib
1 Rashawn Gordon 6.41m CHEETAH TC (373)
2 Allonye' Gordon 5.91m CHEETAH TC (371)
3 Kevone Wyatt 5.16m CHEETAH TC (428)
MALE – Long Jump
Place Name Time/Dist. Affiliation
OPEN
Bib
1 Ahmed Joseph 6.68m CHEETAH TC (375)
FEMALE – Shot Put
Place Name Time/Dist. Affiliation
U-17
Bib
1 Ariana Edgar 11.96m ST CROIX TC (397)
FEMALE – Shot Put
Place Name Time/Dist. Affiliation
U-20
Bib
1 Sherna Williams 6.59m CHEETAH TC (365)
FEMALE – Shot Put
Place Name Time/Dist. Affiliation
OPEN
Bib
FEMALE – Shot Put
Place Name Time/Dist. Affiliation
OPEN
Bib
1 Layla Browne 8.19m ST CROIX TC (395)
MALE – Shot Put
Place/ Name/ Time/Dist. Affiliation
Masters
Bib
1 Willie Lewis 7.03m MARY'S FANCY TC (424)
Venue: Ivanna Eudora Kean High School Track, St. Thomas, Virgin
Results Generated by The St. Croix Track Club
Timing by: SANKSMITH Consultants, Inc.
Organized by: The St. Croix Track Club, The Virgin Islands Pace Runners and Cheetah's Track Club
Sanctioned by: Virgin Islands Track and Field Federation
http://virginislandstrackandfield.org