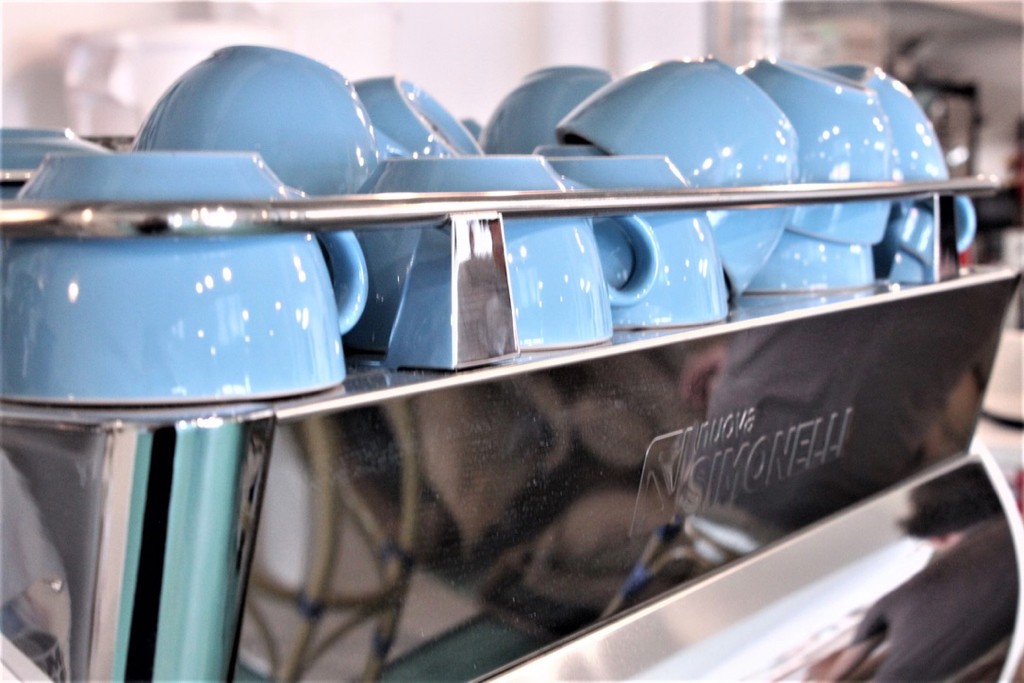 For the last seven years Virgin Islands Coffee Roasters has supplied the V.I. with coffees sourced from all over the world as a wholesale provider for various businesses and resorts across the Caribbean and even as far as Florida.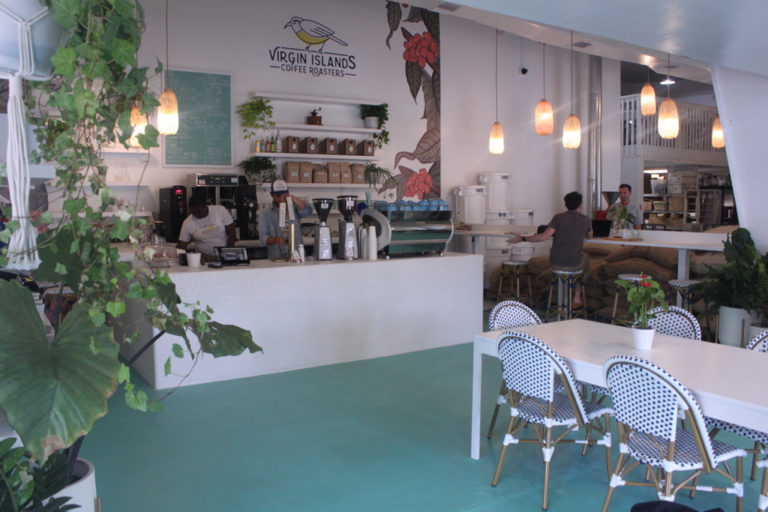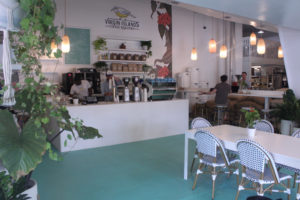 Since the beginning of May, owners Ramsey and Cathy Smith have expanded their wholesale business and opened their own coffee shop in Havensight, supplying St. Thomas residents with artisanal brews that are custom blended on site.
"Coffee is unique in the capacity that it offers more than just caffeine. It is in many ways, a way of life. When I found out coffee tasted good, I wanted to know why it tasted good," Ramsey Smith said.
Starting his research in his mid-twenties, Smith said he was interested in understanding where the coffees were from and the different flavor profiles achieved in the roasting process.
Smith said he started to understand and develop a geographical interest in where the coffees came from. He described the process as an endless hole of fascination that captured him and turned him into a complete nerd.
The coffee shop has a large, red coffee roaster brought over from Oklahoma, but when Smith first began experimenting with roasting coffee bean's he used a humble popcorn machine.
"When you get into specialty coffees you find out how to roast them a specific way so you can taste the sugars. There are over 1,000 compounds in one green coffee bean. There's sugars and proteins and acids. Those are the things as roasters we try to protect and enhance in our processes," he said.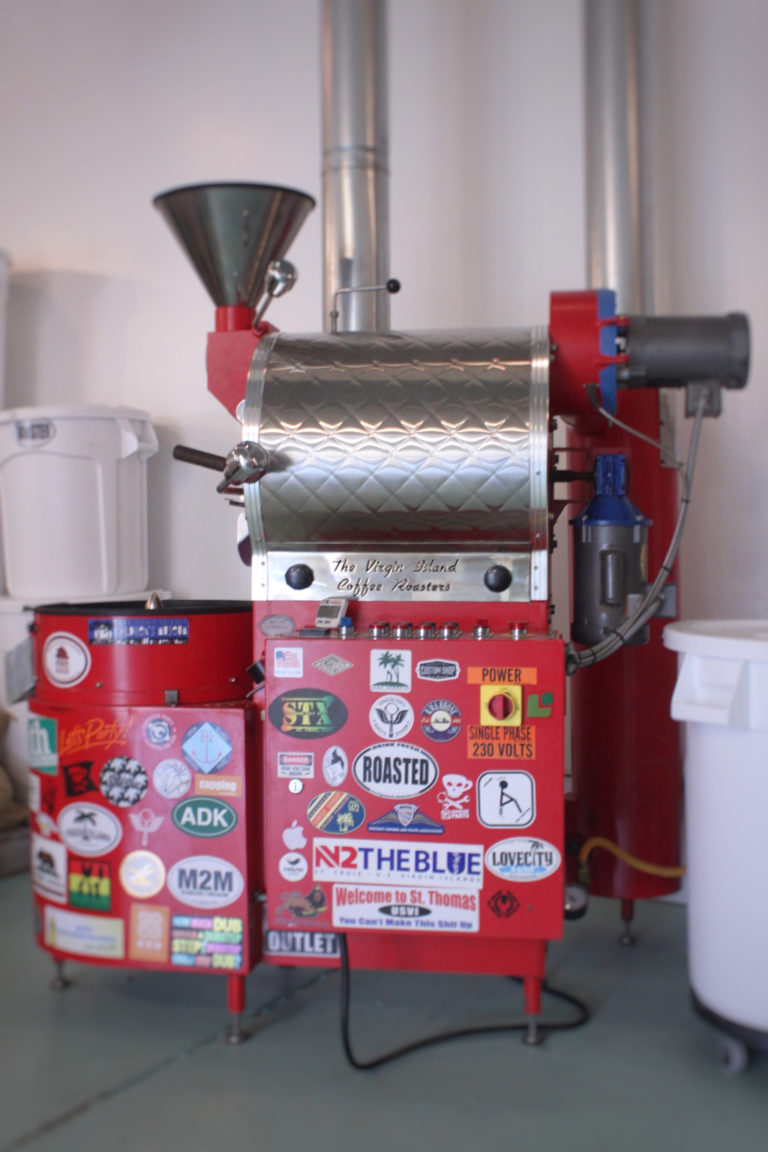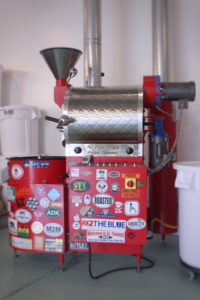 Roasters must pay attention to a plethora of variables when roasting. Smith said they must pay attention to heat and timing and make sure they don't burn the beans, which can catch fire if not roasted properly.
Where the coffee beans come from is one of the more important aspects to Smith, who gets coffee beans from places as far as Tanzania, Guatemala and Sumatra. While some beans are roasted to remain single sourced, others are blended by hand to create the many varieties of coffees available for purchase from the shop.
Smith described how a relationship develops between himself and the farmers in these remote areas who grow the coffee beans. Last year he visited a farm in Colombia, his favorite country to procure coffee from. Here he went to the farm of Catalina Vasquez, who supplies coffee beans throughout Korea, to the Asian market, and to Smith.
"She is a young girl, maybe late 20s. Her family had a farm and she took it over and produces all specialty coffees. And she is very passionate about what she grows," Smith said.
When you walk into the shop your senses are bombarded with the earthy, sweet aroma of fresh-brewed coffee. The shop is spacious and bright, with unique custom touches throughout the facility that V.I. residents would be hard pressed to find anywhere else on the island.
Longstanding friend of the Smiths, Zack Zook from Zook Industries, was contracted to build a custom coffee bar for the space using white penny tiles, and a designer from Miami was brought in to accentuate the open, airiness of the coffee shop.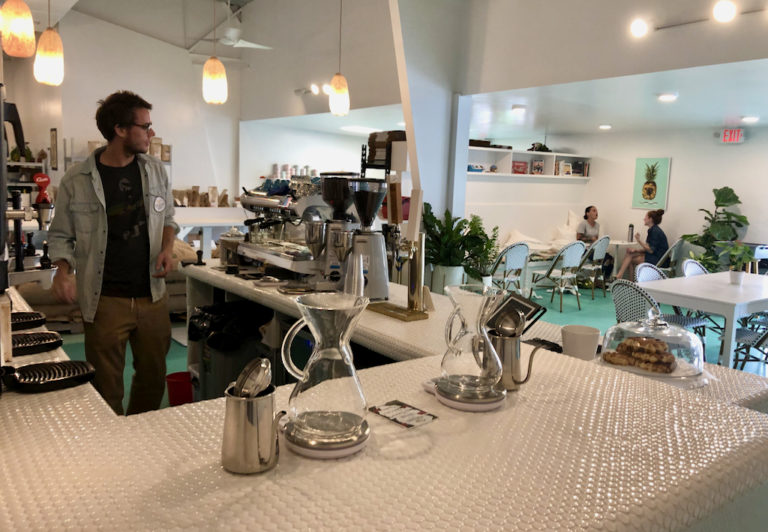 "The penny tile design was Ramsey's idea," Zook said. "What was so exciting about it is that there are not a lot of people taking opportunities to go outside the box with design. Down here design is pretty cut and dry and not very imaginative, so the fact they wanted to do something more urban and contemporary was really appealing to me."
Zook said he visits the coffee shop frequently and his favorite coffee is the Colombian, which comes from Vasquez's farm.
"I have watched people come in and say, 'Wow this is really nice.' It is a great example of how just a little design vision can really work for your brand," Zook said.
In terms of both their product and the design for the coffee shop, Smith said, "We really put the effort in." The shop has Wi-Fi available for all patrons, along with board games and nitrogenated teas for those who don't drink coffee. The shop even serves light food.
Smith, who prefers his coffee black, said in the world of specialty coffees you'll find that people are passionate about what they do and that they want to share what they've learned with others.
The shop is located between Chicken 'n Bowling and Azul Cafe in the recently rebranded complex The Plaza at Havensight, formerly Al Cohen's Mall.
Hours of operation are:
6:30 a.m. – 4 p.m. Mon-Sat
8 a.m. – 2:30 p.m. Sun