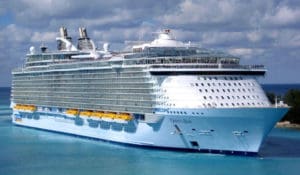 Dear Source:
Do we the residents of St. Thomas want to live in a bus stop?
That is what we are doing to ourselves with the over emphasis on this long broken, cruise ship tourism model. The time when cruise ships brought a few affluent passengers who stayed for days and spent their money on the island is long past. Now the cruise ship industry very efficiently manages to keep the revenue generated from their operations for themselves while inundating the island with tens of thousands for a blitz lasting only hours.
Today's cruise ship arrivals are slam-bam-thank-you visits to a destination inadequately prepared to handle the traffic we already have. It is hit, dump and run. Cruise ship operators assure their passengers that their on-board duty-free stores are better. All-inclusive packages lure the passengers back to the ship for lunch. The ship provides the entertainment. No overnight stays in our hotels. No one is here long enough to get a feeling for what is wonderful about our home. Their experience often begins with the views of "Scenic Sub Base," then off to the Main Street construction site. Why are we being asked to pay for this new "Mega" project when we are doing such a poor job with what we already have?
Our government has proposed to build an amphitheater to compete with those on the largest cruise ships! At a time when Broadway talent has migrated to the cruise ships, our government thinks they are ready [to] gamble our tax dollars on their ability to compete with the best in the world? You can already see how competitive we are by visiting Crown Bay Center.
People that do bring money to the island are those who stay overnight. They patronize our hotels, villas, bars, restaurants and stores of every variety. Those who come on yachts freely spend incredible sums in all of these categories plus many others. Visiting yachts will be largely displaced by this project. Their presence costs us nothing. They are a gift from our wonderful harbor — a harbor destined to be destroyed by this mega mistake.
I suggest that the real cost of this project be put to our voters in a referendum. Our Government's public debt plus the pension fund liability is $60,000 for every man woman and child on the island; a debt load that wildly exceeds that of our bankrupted neighbor Puerto Rico. As heads of households, what is our share of that debt? We know that borrowed money is not free.
Why do we continue to allow our government to float bonds for huge projects with explosive price tags when Government retirees, tax refunds, pot holes, garbage collection and the Government's WAPA bill wait? Meanwhile, FAA housing destroyed by Hugo (1988) and school lunch buildings destroyed by Marilyn (1995) greet cruise ship visitors like cherished relics. Curb appeal?
Warren Stryker