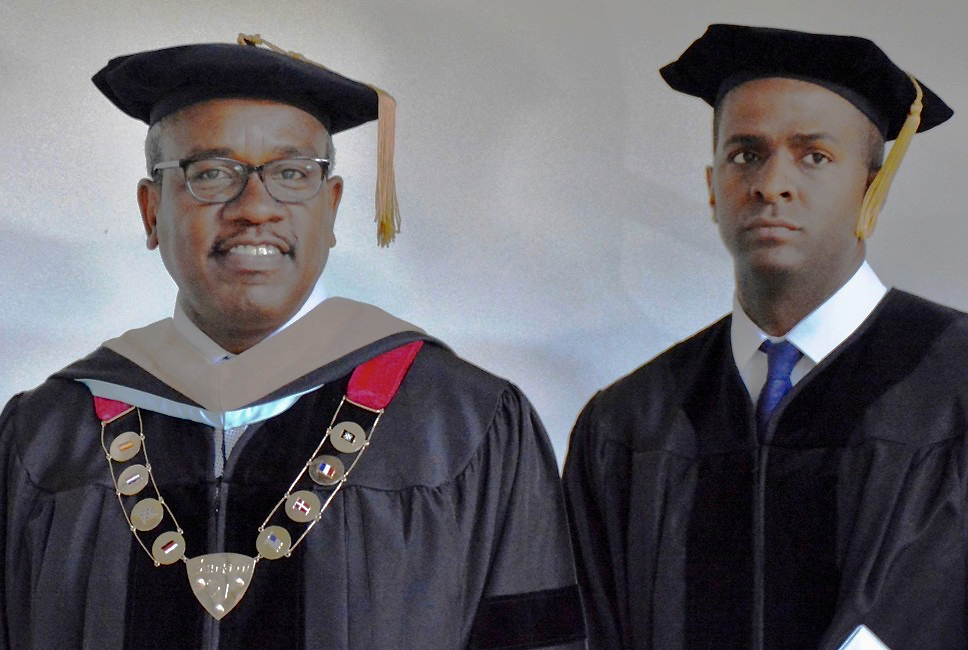 Commencement exercises at the University of the Virgin Islands saw 195 students on the St. Thomas campus turn towards the future Friday. The grads were hailed for their determination, as a class that persisted through hard times.
UVI President David Hall Hall recalled the days that followed the the passage of two catastrophic hurricanes in 2017. In his opening remarks, Hall also congratulated the three students who became the first candidates to complete an advanced degree course in creative leadership for innovation and change.
The UVI president also pointed with pride to the first candidates to complete a bachelor's degree program in physics, and told the graduates they would soon hear from "one of their own" – Gov. Albert Bryan, the first territorial governor to call UVI his alma mater.
TV news commentator Bakari Sellers delivered the keynote address. Sellers is an attorney and the youngest state representative to be elected in South Carolina, when he unseated a 26-year incumbent to serve at the age of 22.
Sellers shared a personal story about the higher education of his father, who was born in Denmark. He told a story about how his father's life encounters included notable chapters from the U.S. Civil Rights movement and the sacrifices he made to commit to that struggle.
Sellers spoke about a father who was talked into dropping out of Howard University by black power movement icon Stokely Carmichael in order to join the Student Non-Violent Coordinating Committee. He spoke of sacrifices that included his college education, his safety and his freedom when he was shot by South Carolina state troopers who opened fire on a peaceful student demonstration.
The message ended in a sobering note.
"I want you to remember this," Sellers said. "I haven't been here long but in my 34 years of wisdom I know that isn't fair. Children of wealth, privilege and position have an unfair advantage. It's a fact of life."
But unfairness and injustice should not be the cause of hopelessness or cynicism, he said.
"You are proof of a different fact; that while life isn't fair, it isn't fixed, either. You are living, breathing examples that the age of miracles has not passed. This is the land of opportunity even if you have to work longer and harder to find it," Sellers said.
Graduates honored Friday included students who completed their studies in late 2018 and those who did so in the 2019 semester that started in January. Another 109 students celebrated their milestones Thursday at the UVI St. Croix campus.
Bachelors of arts degrees in liberal arts and science and math made up most of the Class of 2019, with the School of Business producing a sizable crop of its own.
The School of Nursing turned out six graduates. The marine and environmental science program produced seven between the spring and fall semesters. Candidates for the masters program in public administration totaled five. Two candidates were awarded masters degrees in business administration on St. Thomas.
The associate degree program for applied science, once popular when the Hovensa refinery was operating on St. Croix, produced seven graduates on St. Thomas.
Students graduating with grade point averages of 3.75 or higher included Cliercia Benjamin, Shanik K. George, Ashlee Ashchari Allers, Lee Ann Angol, Kianna Battice, Jeanna B. Sujanani, Joy Elise Grant, Nigencia James, Alexandria Stanford, Rafael Almonte, Hamza H. Abdul-Samad, Sojourna Ferguson, Anaya I. Ferris, Azhar M. Hussein, Sherika Jacobs, Josette K. John, Samuel T. Liburd, Jr., Brandon Manners, and Danielle Olive.