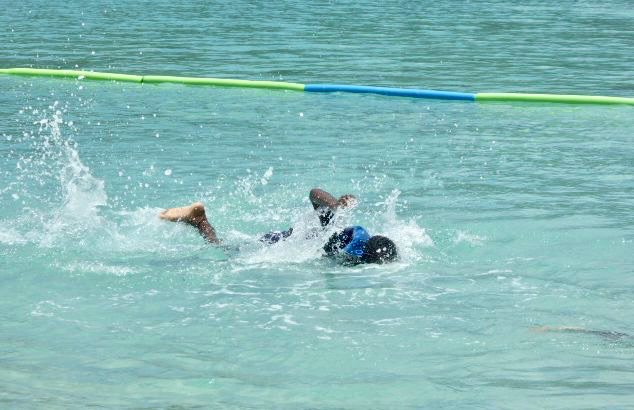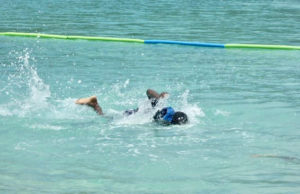 Virgin Islanders are surrounded on all sides by water and dependent upon the marine industry for livelihoods, yet conventional wisdom suggests, "V.I. kids can't swim." But considering the rich and ongoing history of dedicated people who have taught hundreds of children to swim, it is hard to believe.
Mark Sabino, who declares he comes from an aquatic family – and the oral history collected for this story supports that claim – says, "A lot more can swim today than back in the day. But whether they can, for example, swim to the buoy at Magens is another story."
This story began on a recent Saturday at Magens Bay, where I went to cover a swimming program run by two sisters, Sally George and Sharie Smyth, along with Vincent Henley, the physical education teacher at Lockhart Elementary School.
What started out to be a little story about a Saturday swim class took a turn when I met Milton Turnbull there. Turnbull, who retired after 22 years in the Army and came back to St. Thomas, where he worked another 10 years for Homeland Security, hauls kids to the beach every Saturday when he is on-island – a task equally as important as the instructions they receive when they arrive.
When "Milt," as he likes to be called, started telling me why he feels driven to get these kids to the beach, familiar names started to come up and a history of who we talk about when we talk about swimming on St. Thomas began to unfold.
Turns out Sabino, who has been the dock master at West Indian Co., Ltd., for 21 years, taught 57-year-old Turnbull to swim in the summer of 1977 at John Brewer's Bay. Turnbull was attending Charlotte Amalie High School at the time. Sabino, who would later become a Navy SEAL, was barely out of high school himself at the time.
Turnbull gives back by bringing kids to Magens on Saturdays so they can have their lessons from George, Smyth and Henley, who all figure prominently in the history of teaching kids to swim on St. Thomas.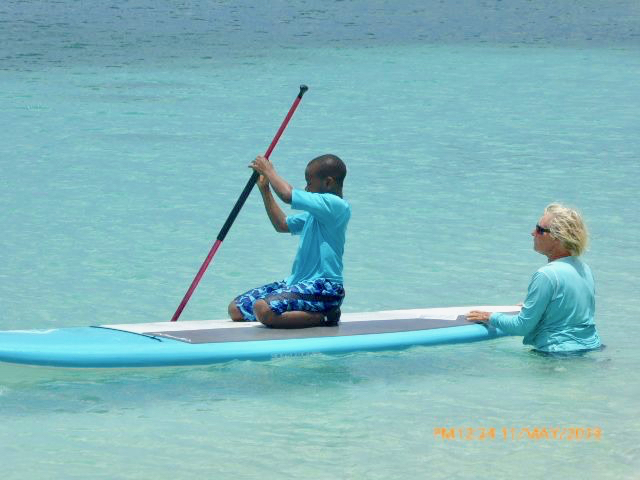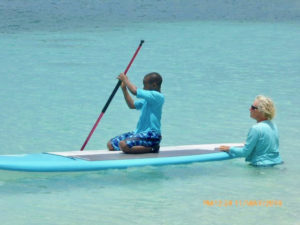 Though both have served as physical education teachers at Lockhart Elementary School. George and Henley started their relationship teaching swimming at Brewer's Bay along with Victor and Mary Edwards, as part of a Housing Parks and Recreation Department initiative in the 1990s, though George and Henley had a prior history of teaching kids to swim – George in the 1970s in an above ground pool that used to live in Long Bay, where the "pan yard" is today.
Sally George – who came to the Virgin Islands in 1972 fresh out of college – remembers, "I would walk the kids over from Lockhart School," when she was the school's PE teacher.
Henley made his first swimming marks in the late '80s while in college in pools in Charlotte, North Carolina. Soon after he spent his summers at Delaware State College teaching under-served children to swim in a program run by the National Collegiate Athletic Association. After a few summers in the states, he realized he needed to bring his skills home.
"I grew up in Savan. We used to ride our bicycles from there to Magens Bay." (Which is hard now to envision.) He admits he and his companions used to "hitch" a ride on the uphill parts on the back of trucks or cars.
"Back then tires had tubes," Henley says, and the kids would use the big inflated truck inner tubes to venture far out into the bay. Inevitably, one of the bigger kids would push the smaller ones off the tube into the deep water.
"I would flail around trying to swim to save myself … and eventually I started to doggie paddle – and wow," he says eyes widening, "I found I could stay afloat."
On the elder side of the spectrum, Victor Edwards, 73, who started teaching at Brewer's after he retired from Public Works, also learned to swim early.
"My mother started me swimming when I was about three," Edwards says, "but really just floating and kicking my feet at little." She didn't want him to be afraid of the water.
His skills got better by fourth grade, when his teacher, Agatha E. Ragster, introduced Edwards and other students to a "white lady from Canada" who taught him the various strokes by demonstrating them at Brewer's. (Remember that fourth grade teacher's last name; it's going to come up again.)
"I learned boating and scuba diving from Mr. Sabino, after that." Not the Mark Sabino mentioned earlier, but rather Mark's father.
Despite Sabino's father's reputation for being a scuba, spear fishing and boating icon, it was his mother who actually taught Mark to swim.
"My father was a fisherman, but my mother was a fish," he jokes.
Despite the age differences in the people who figure into this history, they all remember many of the same things about learning to swim on St. Thomas.
Edwards explains that back in those days, it was the kids who lived by the water that learned to swim because they had access to the sea.
In the 1960s there was a community referred to as "Barracks Bay" where the Alexander Farrelly Criminal Justice Complex is today.
The kids who lived around the bay learned to swim so they could dive for coins tossed from the decks of cruise ships that came into the harbor once or twice a week.
"The boys and young men even built boats out of galvanized," according to Edwards.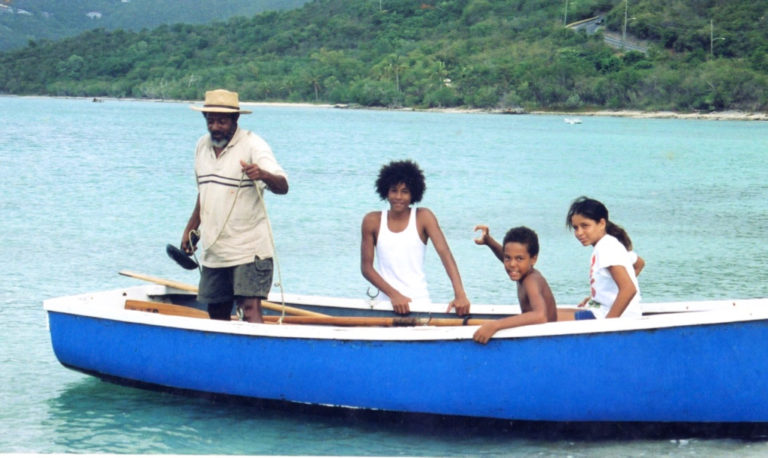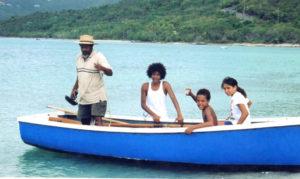 Sabino and Henley both remember that.
"We called them 'batos,' " Henley says.
They were pinched together on each end and sealed with tar, Henley remembers.
Sabino laughs recalling how dangerous they were. "It is amazing they held together."
"You couldn't stand up in them." Henley says.
The batos and Barracks Bay were not for everyone, though.
"Girls didn't go to Barracks Bay," says LaVerne Ragster, former president at the University of the Virgin Islands. The girls hung out three or so miles to the east at Lindbergh Bay.
"We would walk from Mahogany Estate to the beach over the WAPA hill," she recalls.
Ragster, like so many of the people I spoke with, was taught to swim by her mother – Edwards' fourth grade teacher – and for the very same reason. Safety.
Ragster can't remember if her father could swim, but "my mother taught all of us to swim."
Another piece of swimming history recalled by all the people in this story, is the platform or dock at Lindbergh Bay. According to Sabino, it was built by the Navy and it was stationary.
"It didn't float. It was on columns."
It was two stories and even had a diving board.
Milt Turnbull says the foundations can still be seen on the bottom.
Mark Sabino shares LaVerne's memories.
"Lindbergh's platform is where the girls hung out." He says if you couldn't swim out to it "You were a punk."
Ragster was a lifeguard at Lindbergh from 13-years-old.
"That's how I spent my summers," she says. Later, as an assistant professor of marine biology at the University of the Virgin Islands, Ragster was determined to get her students in the water safely. It was important, she believed, that they be able to see the underwater world they were learning about, which led to her hiring Mark Sabino to teach them to swim.
From the late 1990s onward, another person became woven into the fabric of swimming in the Virgin Islands: Lisa Hassell-Forde. You cannot talk about swimming programs on St. Thomas today without someone singing her praises.
In 1999 when Hassell-Forde took her first job in the public school system as principle at Lockhart School she met Sally George.
"Sally said to me 'We need to teach the kids to swim.' and I was in."
For the last 20 years, as Hassell-Forde made her way through the public schools as principal, assistant commissioner, and back to principal, she has left behind a trail of water wise youngsters.
She has found the money and the means to champion several programs, including the current swimming lessons at Magens Bay on Saturdays.
She credits St. Thomas Rotary II and Sunrise Rotary with helping with grants to cover stipends for the teachers and transport for the children.
"I have to credit my husband [Sen. Gene Forde] too. Whenever I needed to get kids to a beach for lessons, he would find someone who would take them," she says.
But Hassell-Forde and all the others included here make it clear swimming is not the only objective.
"I wanted my kids [meaning students] to be exposed to opportunities that other children have, like windsurfing and kayaking," she says.
Tragically, in 1986, the community learned the fatal mistake of letting kids out on the water without knowing how to swim when three Boy Scouts drowned in a small boat accident off an outlying cay while on a camping expedition. They were unable to swim to the nearby shoreline.
Ragster points out that as unfortunate as the incident was and how deeply etched into the psyche of parents who were already afraid of the water, something good eventually came from it with the help once again of Rotary II and also the Marine Advisory Committee. That was the Kids and the Sea program, known as KATS.
Though defunct on St. Thomas today, the program helped many children also on St. John and later Tortola to learn the skills required to be comfortable and safe in and on the water.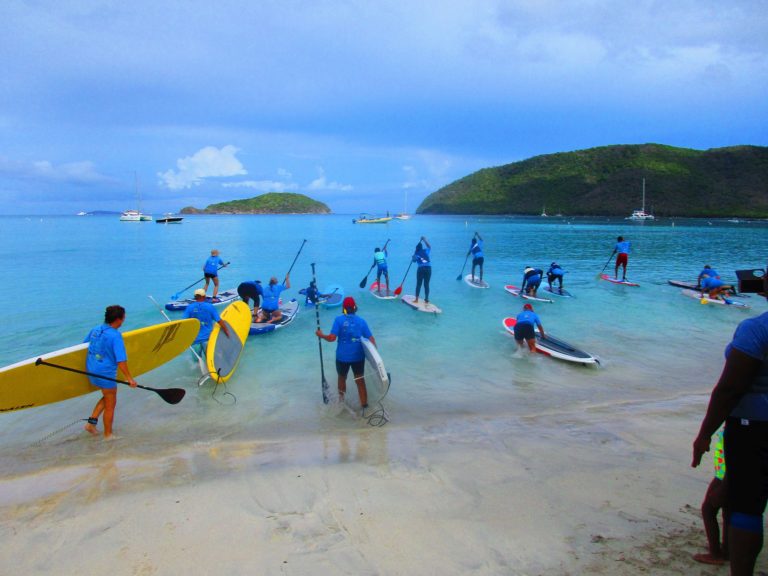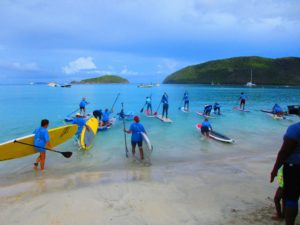 Despite the joy all of these folks express when talking about their experience with swimming and the fun generated by things like "Pirate's Day," which was held at Brewer's Bay under Victor Edwards' watchful pirate eye, all the way to a paddle board competition last fall on St. John in which youngsters supported by the Magens Bay Yak Shack, Turnbull and others took home medals and pride – more is needed.
The universal lament of every one of the people I spoke with was that not enough parents take an interest in seeing to it that their kids can swim.
Hassell-Forde said out of the 452 permission slips sent to all of the parents at Addelita Cancryn Junior High School, only 35 came back signed.
And it's not just swimming activities that these dedicated teachers say parents don't show up for. Henley described track meets and other events where one or two parents were sitting on the sidelines for these public school kids, while the private school side of the bleachers were packed.
Meanwhile, undaunted by the seeming apathy of parents, this close-knit group of mentors, teachers and caring community members carry on, buoyed by the pure joy of seeing our children experiencing the sea around us.
On a recent Saturday, 12-year-old Nikolas Homer, still dripping from working on his elementary back stroke in the clear turquoise water of Magens Bay, sums it up.
"At first I was afraid," he says. "Now I can relax in the water."
His mother, Ann Marie Benjamin, who can often be found shoreside taking pictures of the kids or just limin' on the sidelines, can also relax thanks to this particular St. Thomas aquatic lineage.
Editor's note: The people in this story are by no means the only teachers and mentors who have made and continue to make the sea around us safe and recreational for Virgin Islands children. Just a few others, and far from all, who need to be shouted out are: the late Captain Bingley Richardson, UVI's Steve Prosterman and Howard Forbes, Gayle Deller, and Kathy Huttel, the prime mover behind the in-ground swimming pool on St. Thomas's east end … and many, many more.