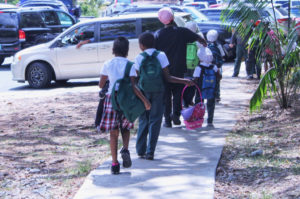 On March 28, a federal court ruled that a public school in North Carolina violated the Constitution by mandating female students wear skirts as part of their school dress code policies. Case law on this subject is limited and the North Carolina decision does not directly set precedent for the U.S. Virgin Islands but it is informative for courts considering similar situations, such as the local policy.
The U.S. Virgin Islands are subject to the same federal laws, but every day when school is dismissed the streets of St. Thomas and St. John remain dotted with frolicking students wearing knife and box pleated skirts.
According to the judge in the North Carolina case, requiring all female students to wear skirts without the option of wearing pants or shorts violates the 14th Amendment's equal-process clause, which says states cannot "deny to any person within its jurisdiction the equal protection of the laws." provide equal protection to all  the federal government must practice equal protection.
The complaint filed in the North Carolina case argued that school policies forcing females to wear skirts propagate archaic sex role stereotypes, "and burdens girls with restrictions of their freedom of movement that boys do not suffer. The requirement that girls wear skirts therefore constitutes unlawful sex discrimination and should be enjoined."
Dress code requirements for the public schools in the St. Thomas-St. John school district bear the same gender distinctions as the ones struck down in the North Carolina case.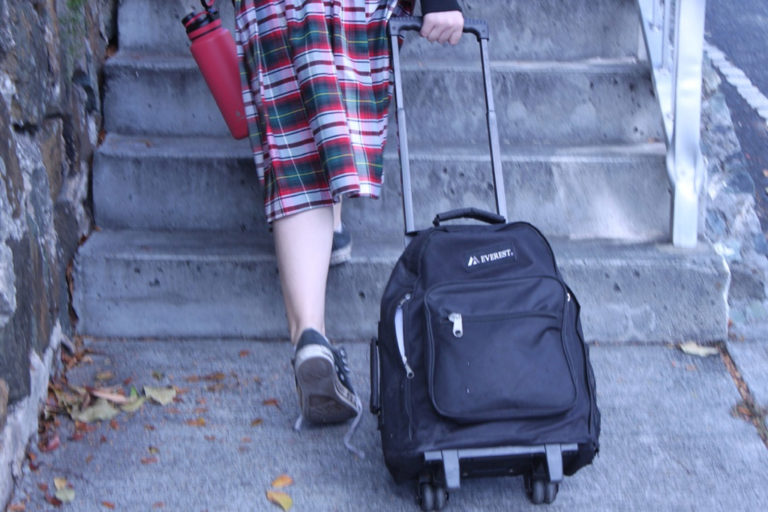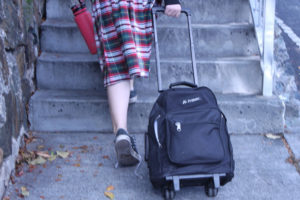 Only a few parents in the Virgin Islands have spoken publicly about their concerns over uniforms, and their complaints primarily include disciplinary actions taken as a result of students failing to comply with the required garb. Anna Henlin, whose children went to Yvonne E. Milliner-Bowsky Elementary School and Ivanna Eudora Kean High School, said kids "should be held accountable, but I felt like making them miss classes was not the appropriate action."
Disciplinary actions can range from a student being given a warning to being suspended for habitual failure to comply with the uniform policy. The Joseph Sibilly Elementary School Handbook, for example, says a female student who refuses to wear a skirt will not be permitted in class – losing out on her educational experience.
"The reason for uniforms is uniformity," said Education Department Spokesperson, Keva Muller. "If a shirt is untucked or a skirt too short, that does become an issue."
Muller said it is up to the schools' respective principal to enforce uniform policies, adding "most rely heavily on tradition, though principals can request changes to the uniform be made."
Though every school in the St. Thomas-St. John district requires females to wear skirts, the St. Croix School District has seceded from tradition.
Muller said both the St. Croix Educational Complex and St. Croix Central High allow the choice of pants for their female students. Speaking from personal experience Muller said, "I went to Central High and was given the option to wear pants."
St. Croix Central High School Principal Yves Abraham said female students, "have the option of skirt or pants, but a maroon pant is used for girls." Gender distinctions within the school districts uniform policies aren't just about the option for females to wear pants but about anything that distinguishes one sex from the other, like separate colors.
Bershel Joseph, who went to Ulla Muller Elementary, Bertha C. Boschulte Middle School and IEKHS, said she didn't have very many problems with the dress codes growing up. But now traditions, such as requiring knee-length skirts, are what U.S. District Judge Malcolm Howard have ruled to be against federal law.
When asked what process a female student would have to go through to gain the option to wear pants on St. Thomas and if it would be the same process for a male student who wanted to wear a skirt, Muller said, "There are exceptions to every rule and if a student's parent went through the proper channels then that is something we would have to think about. It would be a conversation that would need to be had and one we haven't had yet. We know non-gender conforming issues is something presently going on in the states, but it is not something we have ran into here on island."
Though Muller was not aware of any transgender students on the islands, the current uniform policies not only create gender distinctions between male and female students but are not equipped for welcoming non-binary conforming individuals.
The current process for challenging the school uniform policy was provided by Muller who said, "The parent of the student would have to contact the principle, if they couldn't come to an agreement then it could be taken as far as the board to determine."
If a resolution could not be made between the parent and the principal, the matter would be passed to the districts' superintendent who would pass it on to the Virgin Islands Board of Education for determination, Muller concluded.
Editor's Note: This has been updated to clarify some of the legal matters.