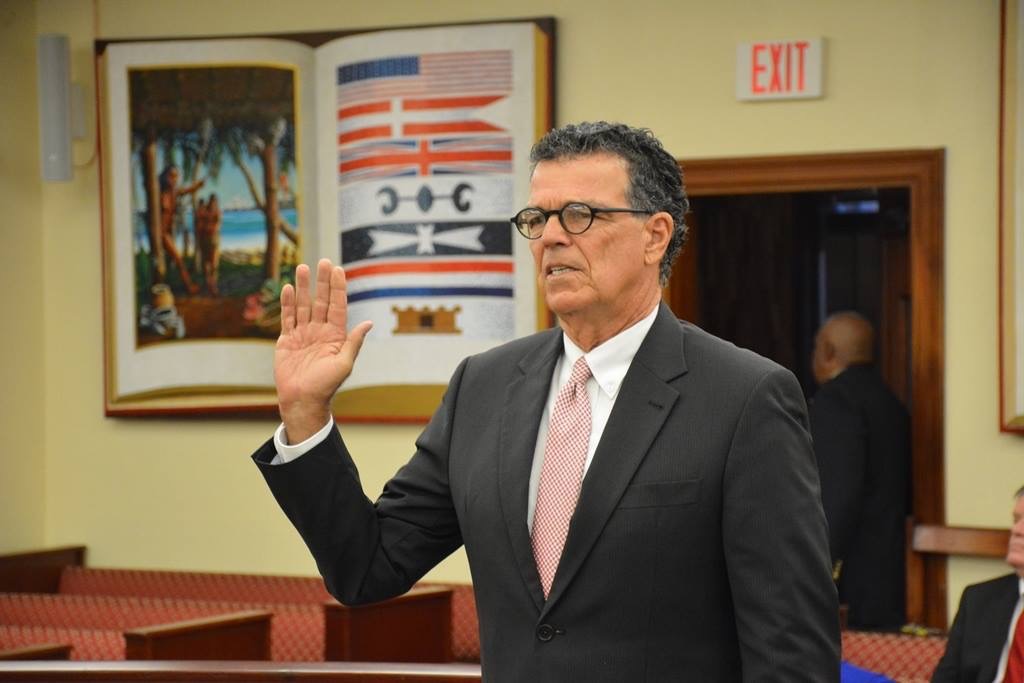 Lawmakers on Wednesday advanced two reappointments to the territory's Superior Court, but senators were not fully united on the decisions.
Members of the Senate Committee on Rules and Judiciary, chaired by Sen. Alicia Barnes (D-STX), approved the reappointment of Judge Douglas Brady to the Superior Court on the district of St. Croix, but two St. Croix senators opposed the advancement. Voting in favor of Brady's reappointment were Sens. Myron Jackson (D-STT), Novelle Francis (D-STX), Stedmann Hodge (D-STT) and Steven Payne (At-Large). Sens. Kenneth Gittens (D-STX) and Barnes voted no.
Brady's 40-year history of legal practice includes his time on the bench of the Superior Court. He became a judge in 2012 and has closed 1,579 cases.
St. Thomas attorney Henry Smock, testifying in support of Brady, pointed to Brady's long history of tackling significant cases and his years of service to the Virgin Islands community. Chivonne Thomas, president of the V.I. Bar Association also expressed support, speaking favorably of Brady's judicial temperament, experience and caseload management.
During the hearing, however, correspondence from Ingle Henry, a government retiree writing on behalf of 60 other plaintiffs in a case that Brady presided over, raised concerns over Brady's treatment of what they considered a settled matter. The concerns centered on a $900,000 appropriation by the 26th Legislature to pay former government workers to resolve a lawsuit, and what the retirees perceived as Brady's refusal to honor the settlement, even after subsequent action by the 31st Legislature that again appropriated the funds to pay the retirees.
The retirees acknowledged that Brady is "a very cordial human being," Henry wrote. "At the same time, they continue to suffer from being denied their just due of compensation for their many years of service, which both the 26th and 31st legislatures recognized in providing the funds in accordance with law."
"Judge Brady has ignored the acts of the Legislature and a presiding judge and, in doing so, has denied much needed relief to these deserving former dedicated government workers," Henry added.
Brady repeatedly responded that the Senate hearing was not the appropriate venue to discuss the case.
Gittens also expressed concern over some 83 pending criminal cases under Brady, 60 of which are felonies.
"These lingering cases are costing the Virgin Islands government lots of money," Gittens said. "This august body saw it fit to have judicial reform whereas today we have magistrate court judges to assist judges in reducing their case levels. We are still seeing that a number of judges have these cases that are lingering. They are costing us money, especially under the [Bureau of Corrections] where we are under a consent decree for many years and we are paying millions per year," he said.
Brady, in his testimony, said that a vast increase in caseload without the corresponding resources has resulted in crowded dockets and delays in closing cases. Magistrate judges have taken some of the load from general jurisdiction judges, Brady agreed, and the expected rollout of an electronic filing system at the Clerk's Office would streamline the litigation process even more, he said.
"Most significantly, the unification of the Virgin Islands courts by this body has been an overwhelming success, consolidating divisions and processes that were formerly handled by the Supreme Court and Superior Court independently," Brady said.
Brady also weighed in on the issue of elected judges, and the implications for the independence of said judges who will have to campaign for their positions. "Senators know better than I what that's all about, how one could be tempted to compromise one's independence," Brady said.
The senate committee also approved Judge Kathleen Mackay's reappointment to the Superior Court for the St. Thomas-St. John district. Voting in favor of McKay's reappointment were Jackson, Gittens, Francis, Hodge and Barnes. Hodge and Degraff were absent.
Mackay's legal career, including her time on the Superior Court since 2009, spans 23 years. If reappointed, Mackay would be serving her second term.
Brady's and Mackay's reappointments have been forwarded to the full Senate body for review during the next Senate session.