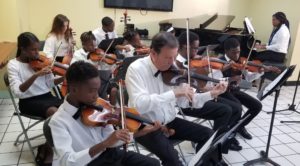 G-Clef Music Academy has launched its new VI Youth String Orchestra. The orchestra made its debut performance at the Partners for Strings Orchestra Fundraiser on Easter Monday, April 22, at G-Clef Academy in Mandela Circle. The orchestra has been special to James H. Gumbs Jr., academy director, for many years. Once all of the important components began to fall into place, G-Clef began holding free weekly group orchestra lessons in February.
The orchestra has made a tremendous impact on participating students — improving their focus and performance skills as well as boosting their confidence and creativity.
Students, ages 9 to 16, performed classical and inspirational pieces from Haydn to Beethoven. The orchestra fundraiser opened with "Variations on a Theme of Haydn." Three students delivered stellar solo piano and vocal performances, and the event concluded with the VI Youth String Orchestra's rendition of "Somewhere Over the Rainbow."
"This year, we are celebrating 10 years of providing music lessons for children and adults on the island of St. Thomas. We opened our new St. Croix location earlier this month, and we just launched the VI Youth String Orchestra…dreams really do come true," said Gumbs.
Gumbs gives special thanks to violin instructor Paul Turco, G-Clef teachers and staff, along with dedicated parents and sponsoring partners who were all instrumental in the orchestra's spectacular debut. G-Clef Music Academy is encouraging the community to become one of its 'Partners for Strings' to support the growth of this exciting youth orchestra.
If interested in supporting the VI Youth String Orchestra or finding out how a child can participate, please call G-Clef Music Academy at 344-6449. www.gclefmusicacademy.com