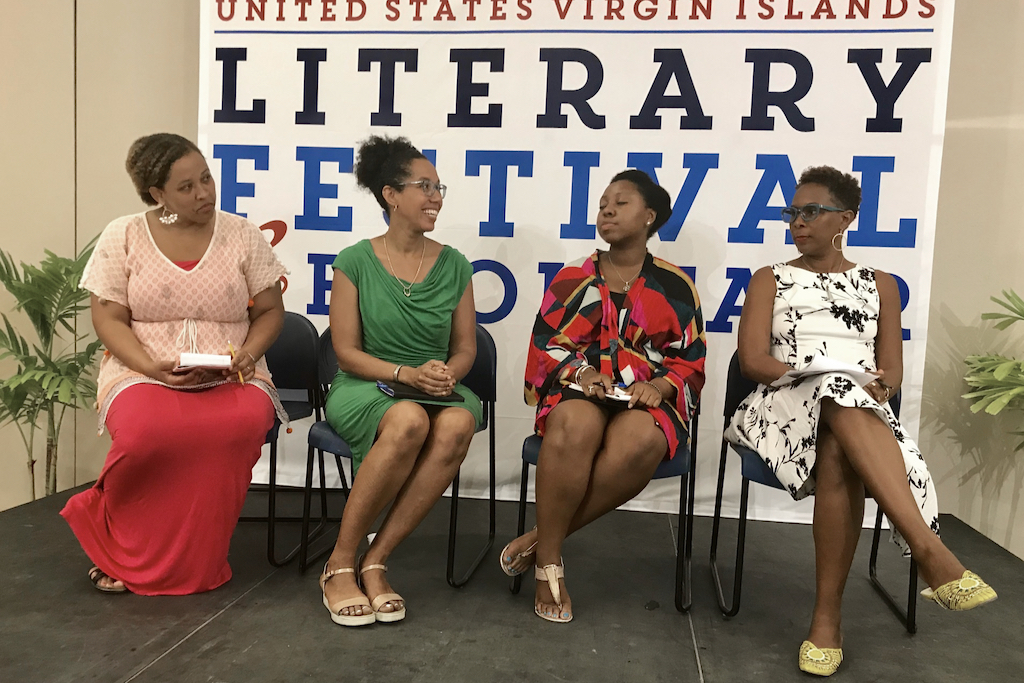 Four Virgin Islanders asked the audience at the V.I. Literary Festival what it means to "be a Virgin Islander," stirring a wide-ranging discussion among the crowd last Saturday at the Great Hall on the University of the Virgin Island's St. Croix campus.
The four, a quartet of scholars, artists, and community advocates spoke to the community at the third in a series of public forums to discuss critical questions important to the people of the U.S. Virgin Islands.
The Virgin Islands Studies Collective is writer and poet Tiphanie Yanique; visual artist LaVaughn Belle; cultural anthropologist Tami Navarro, who is associate director of the Barnard Center for Research on Women; and Hadiya Sewer, visiting scholar at the Center for the Study of Slavery and Justice at Brown University.
Sewer led the workshop on St. John. Yanique led the St. Thomas workshop.  Navarro and Belle co-facilitated the St. Croix workshop.
They came before the crowd to ask, "What does it mean to be a Virgin Islander?" "What makes a Virgin Islander unique?" These and other questions were explored as being essential to the community's present and future wellbeing.
Navarro said VISCO is a group in formation with a vested interest in the VI.
"We wanted to hear from those who have been doing and thinking along the same lines as we," she said.
VISCO brought the idea of collaboration to the event and the gist of what they were looking for through the formation of the following workshops:
– Academic Conference – Organize robust V.I. Studies.
– School Age Texts – K-12 Reader.
– Scholarly Text – Undergraduate and Graduate.
– Virtual Museum and Archives – Return VI artifacts based in Denmark.
Sewer said the genealogy of the V.I. centers thinkers across all the diaspora.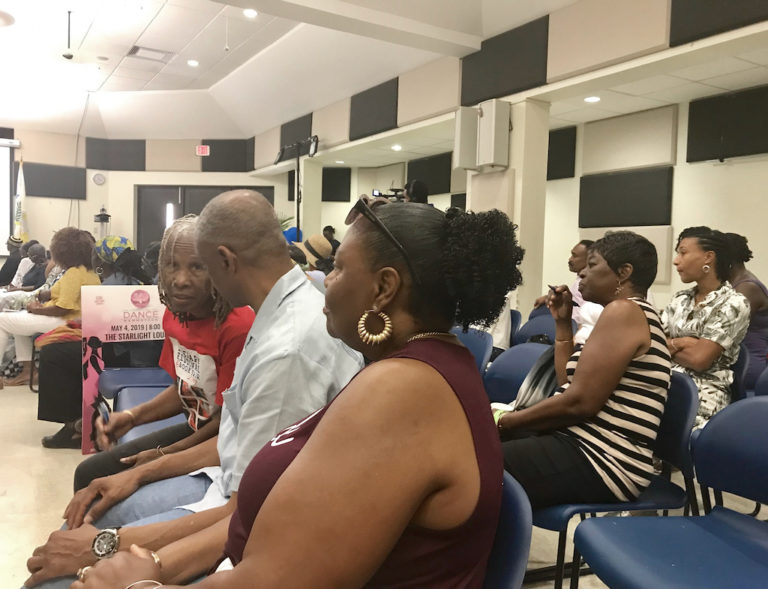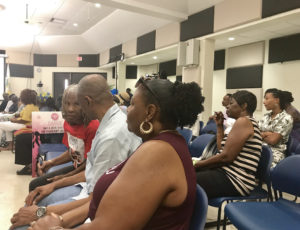 "Hubert Harrison, Audre Lorde, and Edmund Blyden are strong reminders of our history, yet their connections to the U.S.V.I have become invisible or marginalized." she said. "Arthur Schomburg's connection to the V.I. has often been silenced."
Navarro said V.I. Studies is in the foursome's imagination.
"It's what we hope to do as a collective," she said.
Navarro grew up on St. Croix and earned a doctorate in cultural anthropology from Duke University.
"My research is on the economic history of the V.I., with a book forthcoming on the EDC program focusing on the early 2000s, with particular interest given to St. Croix," she said.
Belle, a visual artist and community activist, said V.I. Studies is about "shifting the geology of the archives and returning it back to us."
Belle worked with African Danish artist Jeannette Ehlers on the "I Am Queen Mary" statue that sits outside the Copenhagen warehouse in Denmark. She is also working on a public art piece about the late Congresswoman Shirley Chisholm, with Belle as one of five finalists in the "She Built NYC" initiative.
The group selected the Literary Festival as its St. Croix venue knowing there would be a community of intellectuals, readers, writers, and scholars.
"We wanted to make sure to engage with this segment of the community," Yanique said. "Part of why we're working in different disciplines is because we want to form disciplinary structure somewhat like Women Studies, or African American Studies, or Post-Colonial Studies. V.I. Studies is a way to collect all of these studies."
The time allotted to the workshops was minimal, yet the background of each VISCO member was an encouraging prerequisite for opening up a dialogue. Four groups worked on the four collaborations and reported back to the entire audience.
Navarro, who is a professor of cultural anthropology and Africana studies at Barnard College at Columbia University in New York City, led the workshop for the school-age texts for kindergarten through 12th grade.
One participant said she would like to see something in a school-age text that children could grow up learning about their heritage as Virgin Islanders, rather than read about places and people who do not look like them or live in a culture like theirs.
What is a Virgin Islander was the idea that "blood and experience is a layered-like experience or 'strata,'" said one participant.
"You can measure someone born here with ancestors who have died here or someone who moved to the V.I. and has the experience of living and working and raising a family with a vested interest in the community."
With a doctorate in Africana Studies from Brown University, Sewer is a visiting scholar in the Center for Slavery and Justice at Brown University. She hails from St. John and led the workshop for the academic conference.
"The conference should foster interaction with more of our Caribbean people, more of the universities in the Caribbean," a participant said. "We must talk about intellectual content and academic content of our V.I. culture. We must collaborate, share our thoughts and share the thoughts of the faculty to give perspective."
"We need more V.I. history at the elementary through the university level with an African perspective, not a European perspective – a clear distinction," he said.
Belle, a fellow at Barnard College at Columbia University, led led the Virtual Museum and Archives workshop and reported for her group.
"I am very much centered in the belief that art can create new knowledge, new dialogue, which can happen with the alternative archives taken from us in 1917," she said.
Participants felt that there would be a lack of access to the digital and virtual perspective. There would not always be a human narrative.
The group felt that volunteering and working for the community was considered political activism. The virtual museum must have hands-on for children, they added.
Yanique is from St. Thomas and has authored books of fiction relating to life in the Virgin Islands. She is also a poet and essayist and teaches creative writing at Wesleyan University. Her interest is in the scholarly text.
"We must carefully examine our ancestry to contribute resources to the text," reported one participant. "We must rethink our political status as a Virgin Islander. We are unique as people who were and are still colonized," A text must be written collaboratively, not by one person."
"There are different shades and different types of histories," another participant said.
"The Umbilical Cord," by Harold Willocks was introduced into the conversation as a good starter for a VI school text, but most agreed that it could be updated. Published in 1995, the book spans the history of the USVI from the Pre-Columbian Era to the present.
"The definition of a Virgin Islander has changed because of so many different cultures mixing together," was the dialogue recalled from the Constitutional Convention. "If you lived through the struggle, like 'Hurricane Hugo' and stayed, you might be considered a Virgin Islander."
The color of one's skin plays an important part to some. If you're a transient, skin color doesn't matter. Being vested makes a difference, said another.
What do people mean when they interpret what is a Virgin Islander? What makes the Virgin Islands unique? VISCO looks forward to future venues with more dialogue, more interaction and more understanding in getting closer to V.I. Studies and answers.
In closing, Navarro pointed out that Saturday's gathering this was step one. The information gathering is the purpose of the workshops.
"We don't have the ability to do all that we are proposing, but we will," she said, thanking the audience for its sensitivity and consciousness. "VISCO looks forward to meeting with you again as these things come into fruition," she added.