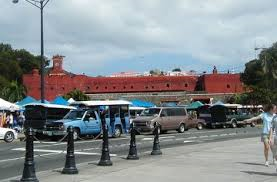 St. Thomas-Water Island Administrator Avery Lewis, on Friday announced on Friday an alternative parking for St. Thomas residents in anticipation of the April 6th closure of the Fort Christian Parking Lot.
Lewis will open the outfield area of the Lionel Roberts Stadium to residents working in Downtown Charlotte Amalie and the general public to park for free beginning Monday, April 8, until further notice.
Please note the following:
Parking in Fort Christian will be restricted in preparation for Carnival festivities on St. Thomas.
Parking will be available from 7:30 a.m. to 5:30 p.m., Mondays through Fridays.
No parking will be allowed on Saturdays, Sundays or during inclement weather.
All vehicles must be out of Lionel Roberts Stadium by 6 p.m. on weekdays. Failure to remove vehicles will result in a traffic citation, and vehicles on the premises after hours will be towed at the owner's expense. A parking attendant will be present during hours of operation to direct motorists. The Virgin Islands Police Department (VIPD) advises motorists to follow all instructions.
Lewis will notify the public in advance of any changes to this contingency.
The Office of the St. Thomas-Water Island Administrator thanks the Department of Sports, Parks, and Recreation, the Department of Public Works, the Virgin Island Police Department and the Virgin Islands Carnival Committee for working collaboratively to remedy the gap in available parking at the Fort Christian Parking Lot in preparation for the 2019 Carnival Village.