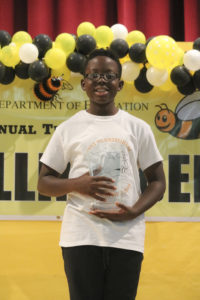 Good Hope Country Day School's Michael Atwell, 2019 St. Croix District Intermediate Spelling Bee champ, proved he's the best speller in the territory, winning the 46th Annual Virgin Islands Territorial Intermediate Spelling Bee.
Atwell spelled "lexigraphy" correctly after 13 rounds of competition on Tuesday in the John H. Woodson Jr. High School auditorium.
"I feel excited, but I just want to win the next one. I'm going to start practicing for that one," Atwell said after the win.
"I'm very, very, very excited about going to the National Competition. I'm going for 1st place because that's what I like to do — I like to win! I really don't like losing," he said.
Atwell will represent the Virgin Islands and travel to Washington, D.C to participate in the 92nd Scripps National Spelling Bee, May 28–30.
"For the Scripps National Bee, I'm going to try to keep calm and stay confident. I'll take my time on every single word to get everything right," the champion speller said.
Acting Education Commissioner Raquel Berry-Benjamin shared words of encouragement to the spellers who were quite nervous before the competition started.
"Spellers, it's going to be okay. Everyone in here is rooting for you. You're going to do just fine," Berry-Benjamin assured them.
Chief Judge Maureen Moorhead formally read the rules and the competition began.
The top spellers put their best foot forward as they spelled homophones, homonyms, and proved their strengths in vocabulary and word origins. The competition lasted approximately two hours with students spelling words such as, "stethoscope," "geode," "knavery," "Banzai," and "fuselage."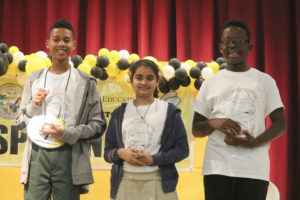 St. Thomas – St. John 2018 District Intermediate Spelling champ Priya Giyanani misspelled the word "cassettes" in round 12, which left Atwell, and Jaden Gonzalez of The Church of God (Holiness) Academy to battle in round 13. Gonzalez then misspelled "consolidate" leaving Atwell victorious.
Gonzalez initially lost in round six, spelling the word "myriad" incorrectly. When repeating the word to the announcer, Gonzalez pronounced "meriad" instead. He was not corrected and continued on to spell "meriad." After reviewing the recording, Chief Judge Maureen Moorehead agreed it was a mistake on the judges' behalf and reinstated Gonzalez into the competition.
This year, the United Way of the Virgin Islands, McDonald's USVI, and Houghton Mifflin-Harcourt were local sponsors of the annual literacy event along with long-time official Scripps sponsor, the Virgin Islands Daily News.
All twelve participants received certificates of participation, a tablet compliments of United Way USVI and a backpack filled with goodies compliments of Houghton Mifflin Harcourt. The top three spellers also received a crystal Spelling Bee trophy each.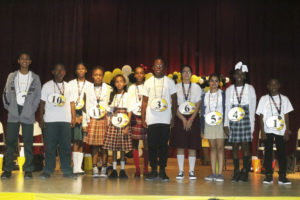 As champion, Atwell also received a laptop compliments of United Way USVI, an Amazon Kindle E-reader, Amazon gift card and backpack filled with goodies compliments of McDonald's USVI, the Samuel Louis Sugarman Award for the 2019 United States Mint Proof Set, a one-year subscription to the Scripps National Spelling Bee's official dictionary — the Merriam-Webster Unabridged Online Dictionary, another one-year subscription to Britannica Online Premium and a trip for two to Washington, D.C. to represent the Virgin Islands in the 91st Scripps National Spelling Bee, all compliments of the Virgin Islands Daily News.
Atwell shared his experience when he heard that "lexigraphy" was the winning word.
"Not that I thought it was easy, but it was an easy word to sound out. There were no silent letters, so I was able to spell it correctly. And because I knew the origin of the word, I knew how certain letters would be placed in the word."
A proud mother and coach, Deondra Atwell shared how they prepared for the competition.
"Michael loves to read, so he's always reading. What we did is we made it [studying] fun like when he's playing video games, we'll do a little bit of studying or when he's relaxing," she said. "I didn't want to make it laborious, you know? Just make it fun. Then sometimes maybe once every week we just concentrate but make it light and make it fun. That's how he was able to prevail," she said.
"Michael wants to bring it home for the territory, and I believe in him," Atwell's mother said.