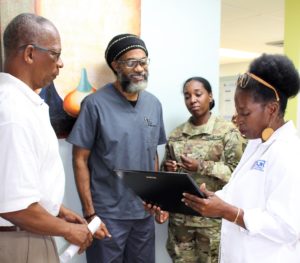 Employer Support of the Guard and Reserve (ESGR) gave its Patriot Award to Frederiksted Healthcare Inc. (FHC) dentist Dr. Dale Manuel on March 5.
Sgt. Kerriise Richards, who is in the V.I. Medical Detachment of the Virgin Islands Army National Guard, nominated Dr. Manuel because of the support he has shown for her military service. Manuel recognizes her work, keeps in touch with her family and supports the Guard and Reserve
"I am truly honored and surprised; I am humbled by this award," said Manuel. "Ms. Richards is a wonderful employee, and we are happy to have her."
Manuel works at FHC – Dental East office, which is a community-based not-for-profit primary health care center committed to serving the primary health care needs of residents and visitors.
"I am just proud that she wants to be a part of our (FHC) community service," said the dentist. "We appreciate what she does in the National Guard and for us as a community."
His support of Richards' military service was appreciated by Paul Radix, VI ESGR employer outreach coordinator.
"On behalf of the Department of Defense, we thank you for the support you give because reservists servicemembers need to have that support from their civilian employers," said Radix. "It is very, very important that they receive that support."