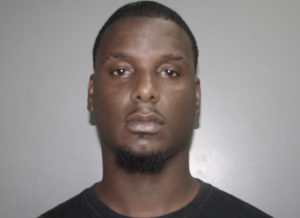 The V.I. Police Department on Monday arrested 29-year-old Akeem A. James and charged him in the break-in and theft from the home of an acquaintance.
According to police, at approximately 2:16 p.m. Monday the 911 emergency call center received a report of a domestic disturbance in progress in the Mon Bijou area.
At the scene, the officers made contact with a woman who reported that James, a male acquaintance, had broken into her apartment without permission while she was inside. According to the report, James took the victim's purse and left. He then returned, the woman told police and damaged her apartment window.
Officers contacted James, and he admitted entering her apartment without permission and removing her purse, police said.
James was placed under arrest and charged with second-degree burglary/domestic violence,  and destruction of property/domestic violence. No bail was set as per the DV law.
James was transported to the Golden Grove Adult Correctional Facility pending his advice of rights hearing.