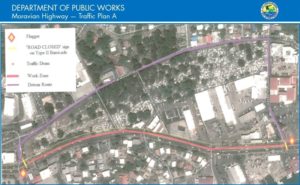 Work on the Moravian Highway Road Project is set to resume on Monday, March 11. Contractors will work to replace and adjust manholes, as well as mill and pave the roadway. As all work will be completed during night hours, varying sections of the roadway will be closed to the motoring public from 7 p.m. to 6 a.m., until the project is completed, according to a press release issued by the V.I. Department of Public Works.
Below is the road closure schedule; make note of the attached traffic plans for further clarification.
∙ March 11 to 25 – Traffic Plan A: Detouring traffic to Harwood Highway.
∙ March 26 to 28 – Traffic Plan B: West bound full lane closures – Detouring traffic to east bound lane for dual traffic in east bound lanes.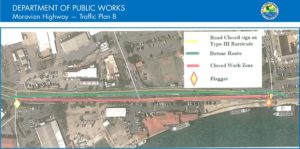 For more information on this and other current road projects, follow DPW on Facebook @usvidpw or log on to the department's website.