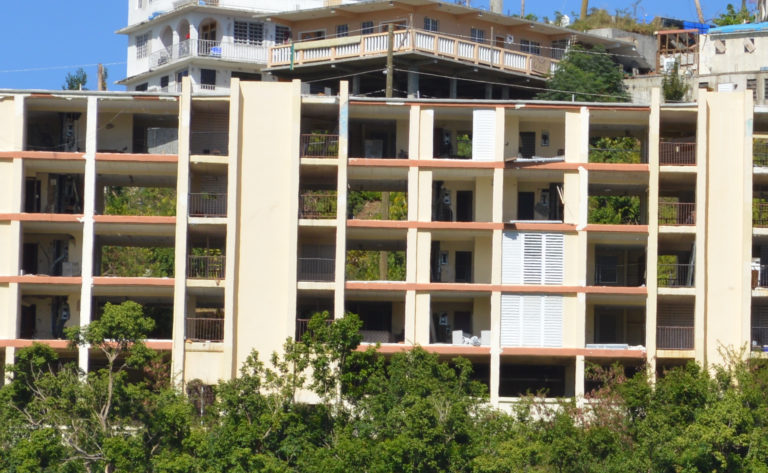 About half of Virgin Islands residents could be at risk for post-traumatic stress disorder due to Hurricanes Irma and Maria, and counseling and mental health services for them are sorely lacking.
That's just one of the findings in a 200-plus page report compiled by the research arm of the University of the Virgin Islands that documents and details the state of health, education and social services in the Virgin Islands a little more than a year after the twin disasters.
It cites numerous gaps in services and strongly recommends that planning for future disasters include special attention for disadvantaged residents.
Dubbed "Community Needs Assessment: Understanding the Needs of Vulnerable Children and Families in the U.S. Virgin Islands Post Hurricanes Irma and Maria," the report was commissioned by the Community Foundation of the Virgin Islands and will augment the foundation's annual Kids Count analysis of the status of families, particularly those at and below the poverty line.
It is the work of the Caribbean Exploratory Research Center, whose research team members include Noreen Michael, Janis M. Valmond, LaVerne E. Ragster, Deborah E. Brown and Gloria B. Callwood. The authors acknowledge assistance from a number of government agencies in gathering data and from students and adults who took part in surveys.
The report is dated February 2019, but most of the data collection appears to have concluded by December 2018.
Researchers surveyed nearly 4,000 elementary school students and 633 junior and senior high school students in 34 schools (16 public schools and 18 private or parochial schools) throughout the territory. They also obtained information from 473 adult patients of Frederiksted Health Care, Inc. on St. Croix and the St. Thomas East End Medical Center, Inc. who volunteered to fill out questionnaires similar to ones used in Florida to measure stress after Hurricane Andrew.
Their findings suggest that approximately 42.5 percent of secondary students may be at risk for PTSD and as many as 6 in 10 of the adult participants could have depressive symptoms.  It is not clear whether the results can be attributed solely to the hurricanes, but they are based on the responses to questions specific to the storms.
What is clear, is support for both groups is more limited due to the hurricanes. Among the education personnel lost to mainland flight after the storms are school counselors and school nurses. On St. Croix, the behavioral (mental) health unit at the hospital was lost.
In general, "availability and delivery of behavioral health services for children, adolescents and their families remains a major health service gap," according to the report.
Another health gap, particularly for low income residents, is dental care. On St. Croix, only one provider accepts Medicaid and there is a waiting list 4,000 names long. Of V.I. children participating in one or more of the programs provided by the Department of Human Services, only 3 percent who have been identified as needing preventive dental care actually received such care in the 2017-2018 school year.
There is also limited capacity for general inpatient care in the territory, which the report attributes to the damage at the two hospitals and the loss of key clinical and non-clinical personnel.
"Hospitals continue to operate at limited capacity due to damage to physical structure and loss of staff and remain unable to provide some critical medical services," the report states.  With the exception of an increase in admissions for behavioral health clients at Roy L. Schneider Hospital, there are "major decreases in patient services."
In the area of education, the report notes that the physical damage to school plants was extensive and extremely disruptive. Many parents sent their children off-island to spare them the aftermath of the storms and to ensure a more normal school year. There was a 20 percent reduction in V.I. public school enrollment to 10,868 students as of December 2017, three months after the hurricanes. Only a "factional percentage" of the students who left returned before the end of the school year and enrollment numbers for the current year dropped slightly lower, to 10,720.
There was a loss of equipment and personnel, the report notes. Also "almost all after school programs had to be suspended … and most are not yet back on line" meaning some children and youth are unsupervised part of the day, and missing out on enrichment opportunities.
"The major gaps with respect to housing and housing options are linked to the difficulties associated with providing safe, affordable housing to a population that is over 50 percent low and moderate-income, living on small islands with limited land mass and a high cost of living," the report notes.
The task got harder when the hurricanes destroyed hundreds of subsidized housing units.
"The immediate challenge is providing some level of assistance to the more than 5,300 households that suffered severe or major damage from the catastrophic hurricanes," the report states.
It also suggests the need to rebuild or replace "the aging housing inventory" some of which is more than 50 years old and much of which could be updated to address "issues such as accessibility for residents, environmental considerations, energy efficiency, and right-sizing based on smaller family sizes."
The report notes that there were problems before the hurricanes hit, including a weak economy, high unemployment, low educational attainment (26 percent of adults 25 and older do not have a high school diploma or equivalent, compared with a national average of 12 percent) and "conspicuous poverty." The storms made a bad situation worse.
To read the full report follow this link.