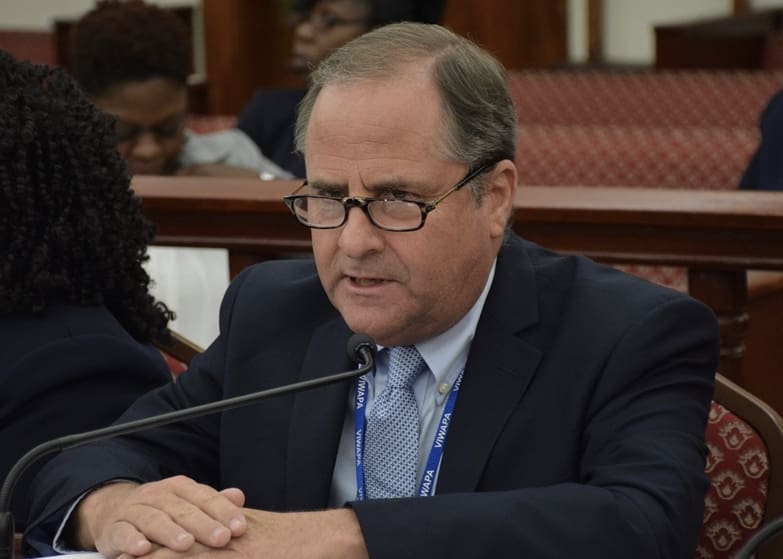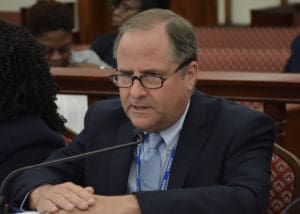 The Virgin Islands Water and Power Authority is selling less electricity than before the two major storms hit, but its bills keep going up.
Lawrence Kupfer, executive director of WAPA, told the Senate Committee on Government Operations, Consumer and Veterans Affairs Friday that WAPA still had about 55,000 territorial customers but a few of the big customers – resorts – have not come back on line. Another reason demand has dropped is because many households bought new appliances after the storms and new appliances are more efficient.
One reason there has not been a corresponding drop in expenses, according to Clinton Hedrington, chief operating officer, is the drop in demand, between 13 and 14 per cent, is not enough to shut down one of the generators.
"They keep running, burning fuel," he said.
WAPA in recent years has been in the process of buying or leasing smaller generators to have more control over how much fuel is burned. And Kupfer reported those plans will come to fruition later this month.
Three new seven-megawatt Wartsila 34SG-LPG engines operating on propane are expected to be operating soon. The units, costing roughly $40 million, will be at the Randolph Harley Power Plant on St. Thomas. The authority made an initial down payment of $7 million from the fuel tax fund and it expects to use fuel tax as security to sell bonds to pay off the rest of the $40 million.
"Wartsila generating units," according to Kupfer, "will be critical to WAPA realizing the full potential of its recent conversion from fuel oil to LPG as the primary fuel source. This will result in WAPA's ability to provide not only reliable and highly efficient power generation, but in making more affordable electricity available to our customers."
He cautioned that the project could still face a hurdle.
"Any proposed legislation to repeal the fuel tax would immediately jeopardize the financing of the remainder of the Wartsila Project," Kupfer said.
On St. Croix, Unit 16 at the Estate Richmond is being replaced with a leased, Aggreko 20-megawatt unit which also is expected to become operational this month.
But WAPA's financial problems go deep, according to Kupfer's presentation. It owes its fuel suppliers around $42 million. The suppliers require payment before delivery and have threatened to cut WAPA off for nonpayment. In addition, WAPA is unable to pay its $30 million for what Kupfer calls "annual infrastructure lease payment to VITOL." He said $53 million is owed and the amount is growing.
WAPA originally signed a contract with VITOL for $87 million in July 2013. In November 2014 the board voted to raise the contract for the conversion project to $150 million. In November 2016, The governing board authorized another $10 million for the propane conversion project.
Kupfer added WAPA owes other vendors more than $110 million and its pension and OPEB liability to GERS is $396 million.
Senators agreed with one suggestion Kupfer made to alleviate the financial problem. He asked everyone to lobby HUD for a greater share of the $2 billion Congress allocated for electric projects in Puerto Rico and Virgin Islands (USVI received only 3 per cent). In other words, Puerto Rico received $1.93 billion and the U.S. Virgin Islands received $67 million. He said the usual share for the USVI would have been 20 per cent.
Kupfer told the senators that WAPA had no cash reserves to deal with emergency repairs or outages and without an increase in electric sales or rates, WAPA predicted an operating deficit of at least $35 million.
"WAPA requires at least $300 to $400 million of immediate capital funding to modernize and upgrade its aging, costly and dirty generation facilities," he said.
Senators did not like to hear about a rate increase. WAPA's present rate of 38 cents per kWh is among the highest in the Caribbean and reportedly 50 per cent more than Puerto Rico.
Sen Alicia Barnes said the budgets shortfalls "cannot be addressed on the backs of the ratepayers. It is unacceptable."
Sen. Oakland Benta said, "Community members feel WAPA is doing them an injustice." He noted the high WAPA rates and the low income of many residents and said, "There is some bleeding going on."
Several senators referred to what they saw as a low morale problem among WAPA employees.
"Every time you see an employee they pull you over and complain," Sen. Steven Payne said.
WAPA has 492 full-time permanent employees. Of those, 425 work on the electric side and 67 on the water side. The authority has 13,000 water customers.
Kupfer, who has been on the job one year, said the employees have not see a wage increase or a new contract in four years.
"You do that for four years and you see a deterioration in morale," he said.
The Government of the Virgin Islands owes more than $31 million for water and electricity services; $23.2 million of that amount is owed by the hospitals.